How To Style Your Favorite Leather Blazer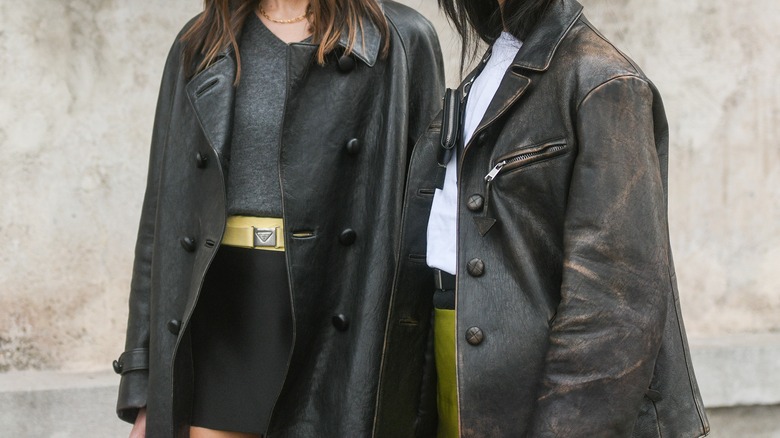 Creative Lab/Shutterstock
TikTok is finding the perfect looks to rock from winter into spring, with versatile and warm leather looks blazing their own trail. In particular, it appears the blazer is making its way from the '90s to the 2020s with a vengeance. In fact, the term "leather blazer" has more than 1.4 billion views and counting on the video-sharing site, showing just how popular this clothing item has become.
Leather blazers aren't the same as leather jackets, which are popular in the bikercore aesthetic. Though the moto look has stuck around for decades with only a few crops and modifications, its ruggedness can be too heavy for some of your daintier looks. This is why leather blazers are such a great alternative. They're softer and more versatile than you could imagine.
Admittedly, leather pieces can be a costly investment that not everyone is willing or able to make, but picking a chic faux option can save some dollars as well as avoiding animal cruelty. Plus, mixing different textures and colors could be the perfect creative outlet for channeling your leather blazer dreams.
Go with the oversized look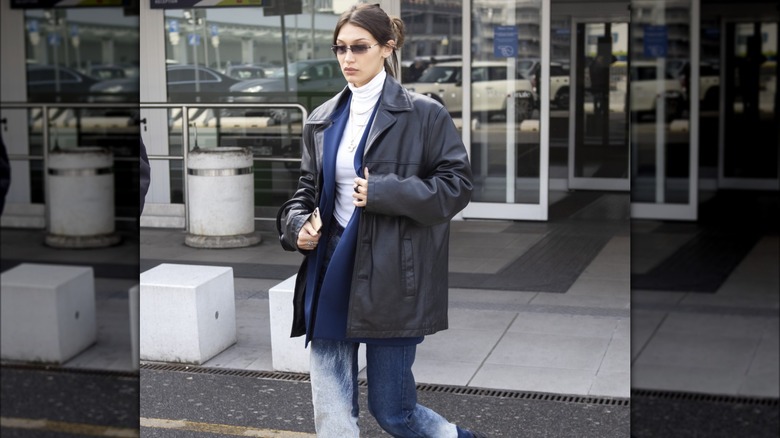 Arnold Jerocki/Getty Images
An oversized black leather blazer is the late '90s/early aughts look of our "Buffy the Vampire Slayer" style dreams, and its versatility can hardly be overstated. You can go for the boyfriend look over a cute mini skirt and go-go boots, a la Buffy, or a more mature off-duty model vibe, complete with Bella Hadid's favorite tiny glasses and a trendy hair clip. The oversized look typically calls for tailored or fitted pants, and paired with your favorite sweater or cardigan, the mysterious leather jacket is on your side.
Mix your browns and blacks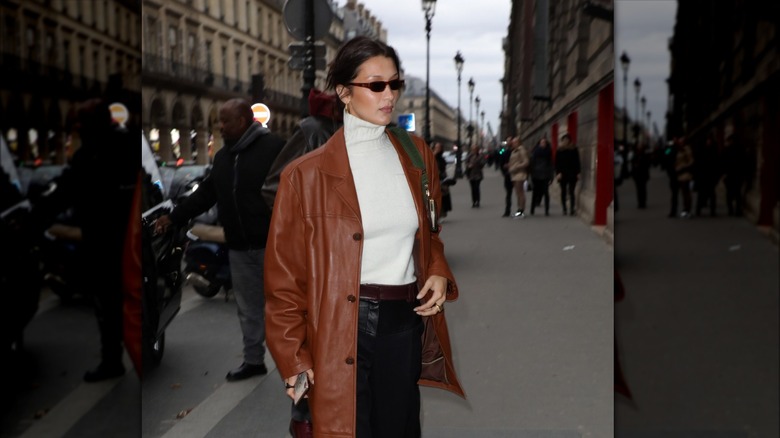 Pierre Suu/Getty Images
At this point, Bella Hadid might be the patron saint of the long leather blazer, and she perfectly exemplifies our next look, which incorporates both brown and black leather. Though Le Chic Street pairs the brown leather blazer with a flattering brown corset, Hadid takes the look in a more classic direction in a turtle neck look for Paris Fashion Week.
Still, a sweet corset under a leather blazer, especially when layering leather on leather, gives you the edge you need to be both vintage and sexy. 
Play around with a long skirt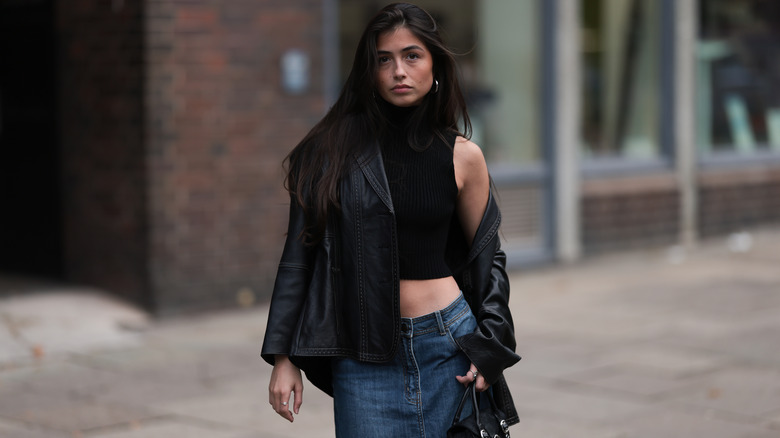 Jeremy Moeller/Getty Images
The leather blazer is a seasonal chameleon and can be paired with your fave denim looks anytime, whether they're jorts, bellbottoms, or an adorable mini, per The Zoe Report. Longer skirts are also perfect to pair with a blazer that ends at your hips, and whether you're into flowy or form-fitting, the soft skirt will make a sweet contrast with the edgy leather on top. A beige mini dress under a black leather blazer is also a great combination.
Pair leather with fringe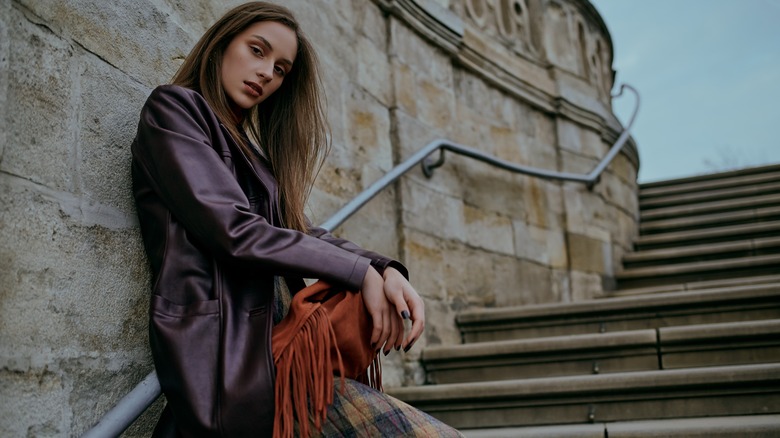 Victoria Chudinova/Shutterstock
Palaleather vouches for pairing plaid with leather looks, and you can achieve your dark academia dreams with a creative combo of both this winter. Adding fringe to an edgier look also provides softness and fun, whether it's via the hem of a playful dress, your bag, or even country-style booties. With full confidence, you can transition your fall looks into winter by taking autumnal tones to their darkest hues, and leather is sure to keep you warm while you do it.
Style leather with denim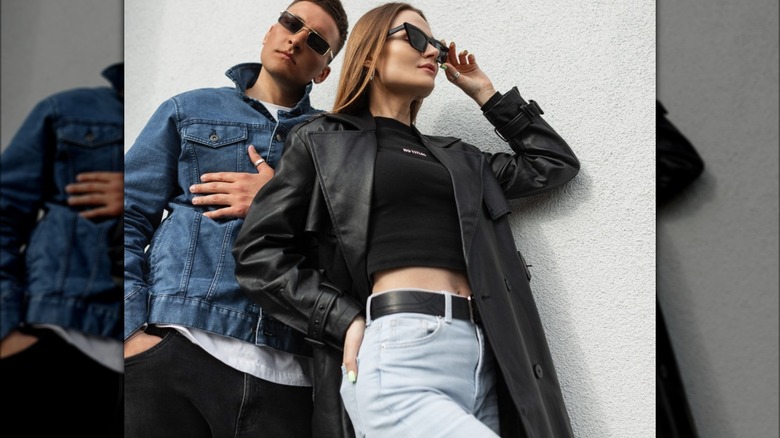 Alones/Shutterstock
Wearing skinny or slim-cut jeans can provide an opportunity to go overboard with your leather blazer sizing, and you can make a major statement with a chunky shoe or knee-high boot to finish the look. The line between a traditional overcoat and a leather blazer may get blurrier with longer pieces, but your blazer should still feel like a sleek addition to your look rather than a random jacket you grabbed running out the door. You want it to boost your overall look rather than detract from it.
Go with the flow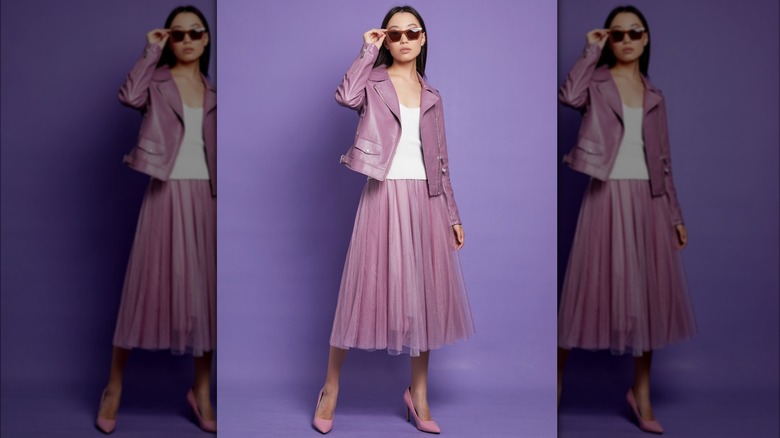 MaxFrost/Shutterstock
Juxtaposing structures within your outfit is a classic way to keep your looks interesting. A sturdy leather blazer pairs beautifully with a flowing skirt, especially one that brings its own pleats to the party. This gives a similar effect as a slip dress beneath your leather, adding volume. Plus, the softening effect of a romantic skirt can add just the whimsy you need to keep your look playful. The combination is classy yet creative, not to mention totally chic.
Stay pretty in pink
Pink deserves its own shoutout for its unexpected versatility, and you're sure to brighten up every room you walk into all winter long when wearing it. A short pink blazer with leather statement leggings is a powerful take on the trend, paired with a cute pair of heels or boots. For more blushing inspiration, The Zoe Report pairs a pink blazer with '60s vibe floral pants, which may just be the perfect look to usher in an early spring.
Get gloomy chic
Whether you're trying to make matching your clothes simple or just tap into your New York chicness in all black, planning your outfit around your favorite black leather blazer will be sure to make you feel cool and covert. You may not be a super spy, but paired with clean slacks and a cute boot, you'll be ready for "Charlie's Angels" level heists. Plus, leather can take even your most basic blacks to the next level with its signature shine.
Color block as you see fit
Whatever your style, you can always add a new color of leather blazer to your rotation. Elle lists some of the strongest options as bright yellow, pink, and green, though neutrals like beige, caramel, and white will always be a safe and flattering look. Especially if you're fond of faux leather, the colorful possibilities are endless, and you won't have to sacrifice vibe or veganism to add the perfect edge to your look. Feel free to be daring!
Dress your blazer up or down
There are some alternative pants styles to offset your typical leather blazer pairings — cargo pants, which Alicia Roddy rocks with a hot pink leather blazer, and even swishing sweatpants are both solid options. Either of these options might feel like a stretch for even your fanciest blazer to dress up. However, if you can channel an off-duty Hailey Bieber with relaxed sweats under your business casual outer layer, you'll stay comfortable and cool all day long.