Nafessa Williams' Thoughts On Playing Whitney Houston's Best Friend - Exclusive Interview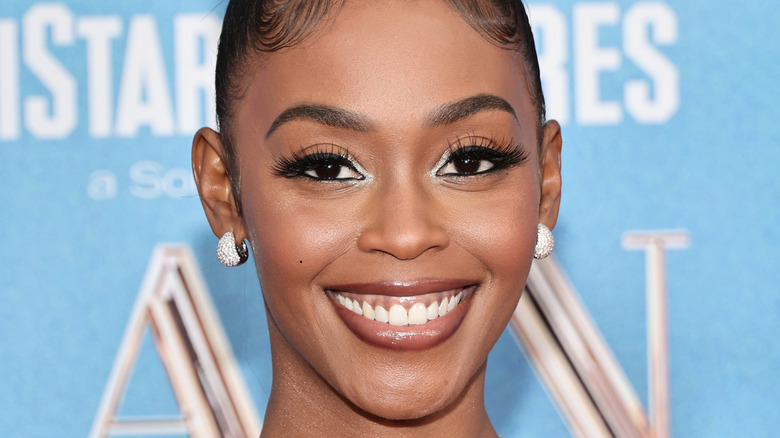 Jamie Mccarthy/Getty Images
When we think of Whitney Houston, we often conjure memories of the superstar singer with the powerhouse voice performing on stage, acting in movies like "The Bodyguard," and releasing hit song after unforgettable hit song. Yet despite her overwhelming fame, there was plenty about Houston's life that many fans may not know about. 
The biopic "Whitney Houston: I Wanna Dance With Somebody," provides a fresh perspective on and emotional insight into Houston's life, including the highs and lows of her close relationship with Robyn Crawford, her long-time assistant and creative director. The movie details everything from Houston and Crawford's first meeting when they were both teenagers, to their romantic involvement before Houston became famous, to Robyn's years of continued loyalty as Houston's professional and personal champion.
Nafessa Williams brings Crawford to life on-screen with confidence and sympathy while conveying the strong connection shared between Crawford and Whitney Houston, who's played by Naomi Ackie. Williams, who's perhaps best known for playing a superhero on the series "Black Lightning," makes it easy to understand why Robyn remained such an important part of Houston's life for so long while ensuring Crawford is often as intriguing as the singer. In an exclusive interview, Williams spoke to The List about what she wanted to express about Crawford through her performance, the palpable chemistry between herself and Ackie, and what Houston means to her.
Williams wanted to show Crawford's loyalty to Houston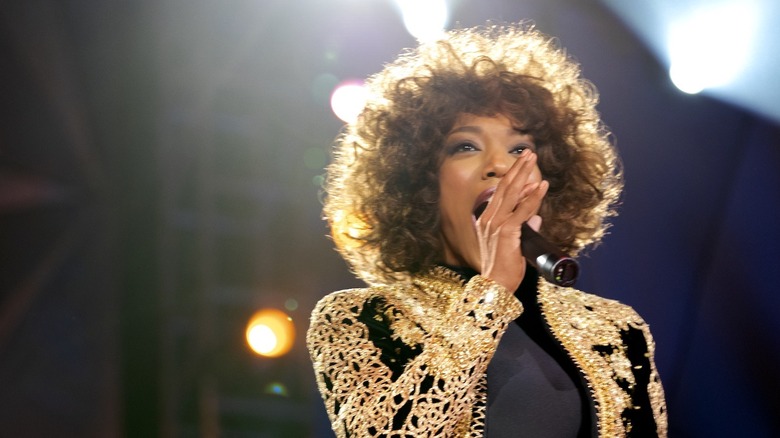 Emily Aragones/Sony Pictures
Your character, Robyn Crawford, is someone who was a key part of Whitney Houston's story, and she's still alive today. Did you have an opportunity to discuss the role with her?
I didn't have an opportunity to discuss the role [with Robyn], and I haven't met her yet, but I had a lot of support from Whitney's family, Clive Davis, [and] a lot of their friends and extended family who worked with them over the years, who gave me a lot of good gems and shared mannerisms and some personality traits of Robyn, and that was very helpful. I was grateful to have that.
Robyn's interesting in that she's at this key point in history where she's witnessing the rise and falling apart of a superstar, but this person's also her best friend. What did you want to bring to the character?
I wanted to show the loyalty that Robyn had [to] Whitney, and I think still has. I think she'll always have it, to a certain extent. Also, [I wanted to show] the love and adoration that she had for Whitney and how pure her intentions were, how much she had her back, how much of her protector she was.
This was a role that was about friendship, respecting the friendship, [and] the responsibility of the friendship. I had a really good time telling the story and sharing this story with fans who did not know this side of Whitney or who weren't able to know fully who Robyn was.
A 'divine' collaboration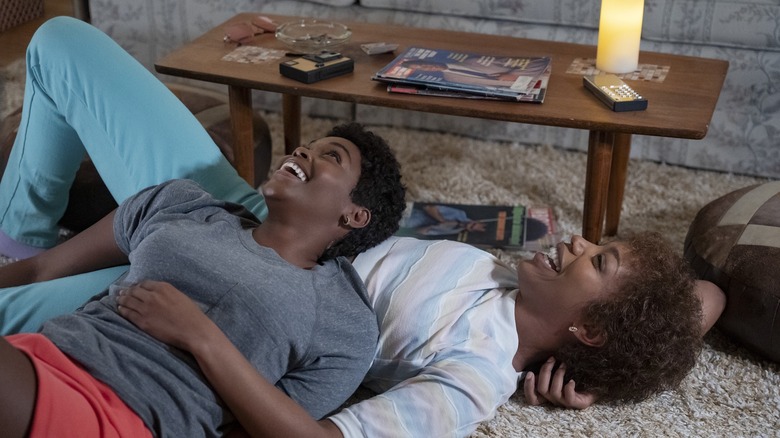 Emily Aragones/Sony Pictures
The dynamic between Robyn and Whitney is the heart of the film, in a lot of ways. How did you and Naomi Ackie collaborate to bring your characters' friendship to life over quite a few decades?
It was so divine. [Naomi has] the same zodiac sign as Whitney, and I'm the same sign as Robyn, so it made a lot of sense for us. When we first met on Zoom for my final audition, which [was] a chemistry read, where you are reading with the other actor to see if you have chemistry and if this job is going to be yours, I could feel it over Zoom. I could feel her cheering me on and wanting me to do well and giving me non-verbal cues, like, "Don't be nervous — you got this." I could feel her energy, and it was a spark. We had a thing. That's what made this really easy to do, [because it was] alongside an actor who you have such great chemistry with. It's [the] goal. It's what an actor prays for, actually.
Having now done the movie, what does Whitney Houston mean to you?
Wow. Well, I was already a diehard Whitney Houston fan. I learned how deep[ly] Whitney loves, and when she believes in something, she fights for it. She's going to do things on her own terms no matter who likes it or not, and there's a strength in that.
I love the authenticity that I was able to find out about her after doing this movie, and [I am] always inspired by the artist that she is and the impact that she's had on the entire world.
"Whitney Houston: I Wanna Dance With Somebody" debuts exclusively in movie theaters on December 23.
This interview has been edited for clarity.