Everything We Know About Days Of Our Lives Star Brandon Barash's Wedding Joy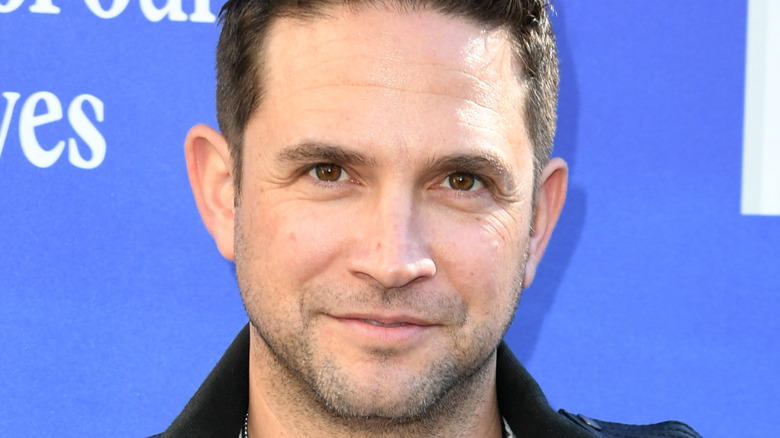 Jc Olivera/Getty Images
"Days of Our Lives" star Brandon Barash made headlines when he and former "General Hospital" co-star Kirsten Storms began dating in real life. In 2013, Us Weekly reported that the two had secretly married. 
Although she initially had trouble becoming pregnant due to endometriosis, the couple soon welcomed a child, Harper. Barash was thrilled, telling Extra, "We made a baby. It feels like a dream, it feels magical." Both agreed that the child was a miracle, and, while Storms jokingly said they would name the girl "Miracle," they settled on Harper. 
Sadly, Barash and Storms' marriage didn't last, and the couple announced their divorce in 2016. According to People, the split was amicable, and they agreed to co-parent their daughter. 
While he and Storms continue to be in their daughter's life — including back-to-school adventures – Barash has moved on in his love life.
Brandon Barash ties the knot for a second time
On Dec. 17, 2022, Brandon Barash remarried, tying the knot with Isabella Devoto at a wedding with a Great Gatsby theme, per People. "Sure, the party's going to be fun and we're going to have a great time dancing and drinking and eating the night away," he said. "But it's standing up in front of everybody I love, including the woman I love, and saying, 'Hey, I got your back for life.'" 
Devoto was previously a Spanish teacher of Barash's daughter, Harper, and he credits her for setting them up. "They had a relationship before we did," he said. "And it was so funny because she was just a little matchmaker and she had really never been like that with anybody." 
Barash had previously posted a video of him proposing to Devoto on Instagram, writing, "How was YOUR weekend?" Harper was moved to tears, and her dad couldn't end the day without giving his daughter her own diamond ring. Amidst tears of joy and screams of happiness, the three had a loving group hug. He later posted a picture on Instagram with the three of them wearing skin-care masks, stating, "#valentines 4 life."
During the wedding, which took place in Thousand Oaks, California, the couple's first dance was "Born to Love You" by Ray la Montagne, and Harper — of course — was the flower girl.