Soap Stars Kirsten Storms And Brandon Barash Share A Back To School Adventure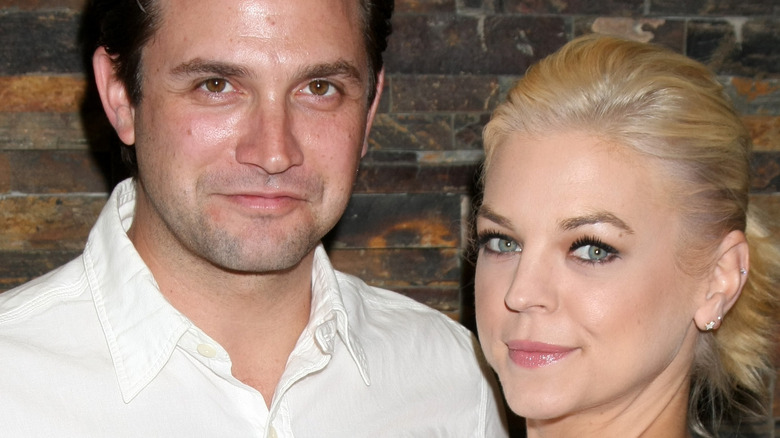 Kathy Hutchins/Shutterstock
As Soap Central reports, "General Hospital" star Kirsten Storms started acting at age 5. Children of the '90s may remember her Disney Channel TV movie from 1999, "Zenon: Girl of the 21st Century." In 2005 she took over the role of Maxie Jones on "GH" and the character has had her share of drama and romance over the years, especially with computer hacker extraordinaire Damian Spinelli (Bradford Anderson), per Soap Hub.
Brandon Barash played Johnny Zacchara — the scion of the Zacchara crime family — on "GH" from 2007 to 2016. Johnny lived a dangerous life trying to battle the Corinthos and Jerome organizations, as well as having relationships with several Port Charles women over the years including Carly Corinthos (Laura Wright), Lulu Spencer (Julie Marie Berman), and Connie Falconeri (Kelly Sullivan). After attempting to kill mob boss Sonny Corinthos (Maurice Benard), he implored Maxie to help him flee Port Charles, and she did (via Soaps in Depth).
While on "GH" Maxie and Johnny never had a romantic relationship, offscreen the two actors fell in love and were married in 2013. The marriage didn't last and People reported that their divorce in 2016 was amicable and that they agreed to co-parent their daughter, Harper. On Maurice Benard's YouTube show "State of Mind," Storms said the reason for their split was that their personalities clashed.
The couple continues to successfully co-parent and recently shopped for back-to-school supplies together.
Kirsten Storms and Brandon Barash do last-minute back-to-school shopping
Kirsten Storms took time from playing Maxie Jones on "General Hospital" to join her ex-husband Brandon Barash and his fiancee Isabella Devoto and daughter Harper to shop for school supplies. Storms posted a video on Instagram depicting them in Target with Harper begging for things that clearly aren't school supplies — including a taco pinata. Storms wrote, "Verified Back to school shopping? Um...sort of. I've spent the last week and a half under the weather (not Covid) and I'm finally starting to feel like myself again, so we took our annual trip to Target for back to school supplies. Yup. We reeeeally waited until the last minute."
The fans enjoyed the heartwarming family moment with one writing, "I couldn't love this more. I know you hear this all the time, but your coparenting is top notch! You're all so lucky!" One viewer joked, "As a teacher, she totally needs a taco piñata to celebrate back to school." A poignant response stated, "...I would love to see my granddaughters parents take a lesson from you." Another post simply wrote, "Hahaha too cute." Most of the responses were happy that the divorced couple could be such successful co-parents with one saying, "You all should do a co-parenting podcast or book!"
While Storms' character Maxie may have lost the love of her life Nathan West (Ryan Paevey), and Storms herself split with husband Barash, the two remain excellent co-parents.