How To Rock The Trendy Baggy Jeans Look In 2023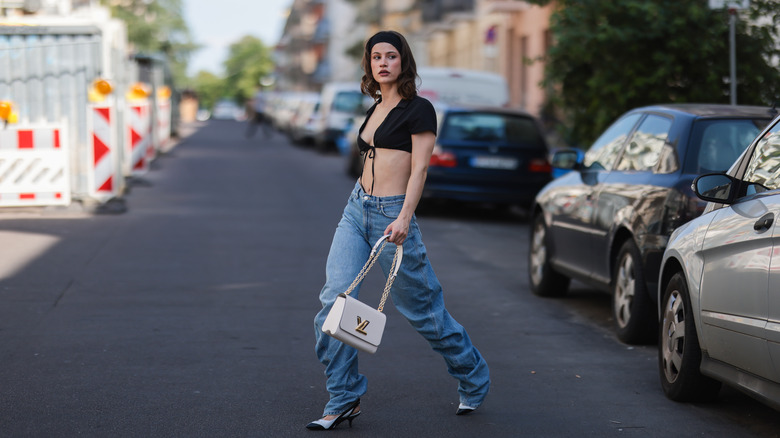 Jeremy Moeller/Getty Images
We may receive a commission on purchases made from links.
The new year is just around the corner, and it's time to start looking into what will be trending in fashion once the ball drops in Times Square. At the center of 2022 fashion trends were everything from wide-legged pants to bomber jackets and of course the Y2K influence (via Buzzfeed).
According to style forecasters, 2023 will look a bit different. One trend that will certainly hit, they claim, will be the baggy jeans look. The skinny jeans from your high school years are out and the boyfriend look is in. It's no surprise, as we have moved on from the tight jeans and slowly into the looser fit with the mom jean trend that 2023 will embrace the idea that not only is bigger better, but baggier is better too (via Elle).
If you're into comfort over style, you won't have to compromise being on trend as loose, comfier jeans become the hottest look for denim in 2023. Here's how you can master the look.
Why baggy denim will be all the rage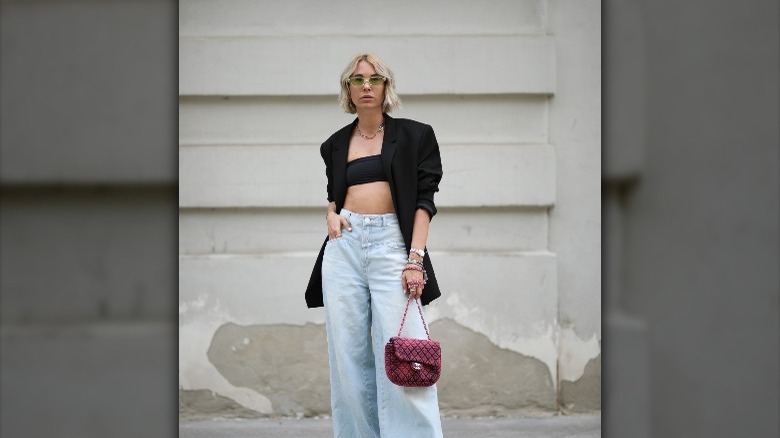 Jeremy Moeller/Getty Images
We will see a few denim trends in 2023, Stylecaster reports. Stylists believe that celebrities have helped bring baggy jeans to the forefront. Most notably, Bella Hadid has been rocking the baggy jeans look for a while. Come 2023, celebrities will not be the only ones wearing baggy jeans.
"Denim utility and cargo style jeans have been trending more due to the huge popularity of cargo pants, and the slouchy low-rise baggy look is becoming even more popular," Francesca Woodman, a Depop seller, told Vogue France.
According to POPSUGAR, the bigger the better is truly the motto for this trend. Not only should your first denim purchase in 2023 be an extremely baggy pair, but it doesn't hurt if they are completely too long for you, too. Style forecasters predict that pooling, baggy jeans will be all the rage and you may want to start shopping for your go-to piece of denim now.
How to style a pair of baggy jeans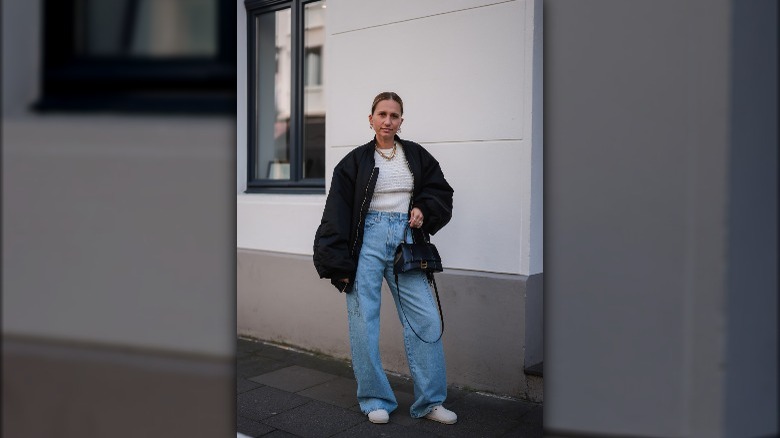 Jeremy Moeller/Getty Images
If you're not used to wearing baggy, oversized denim, styling the latest trend may seem overwhelming. There are many options to style your latest denim purchase.
If you're looking for a more casual look, pairing baggy denim with a relaxed hoodie can be a comfy and casual yet stylish look, per InStyle. Do you want a more sophisticated look? Dress up your baggy denim with a button-up shirt. To make the look come together, even more, tuck in the top for an outfit appropriate for work.
There are a lot of denim brands on the market, so picking out the perfect pair of baggy jeans may be a struggle. Women's Wear Daily recommends picking up a pair from Levi's, especially their Women's 94 baggy style, which you can find on Amazon.
One reviewer wrote that she loves to pair her baggy jeans with a plain white tee, while another gushed, "I have always been skeptical of baggy jeans but I just wanted to try and I am in love!! I have worn it ever since."