The Only Lipstick Color You Need For A Parisian Lip Look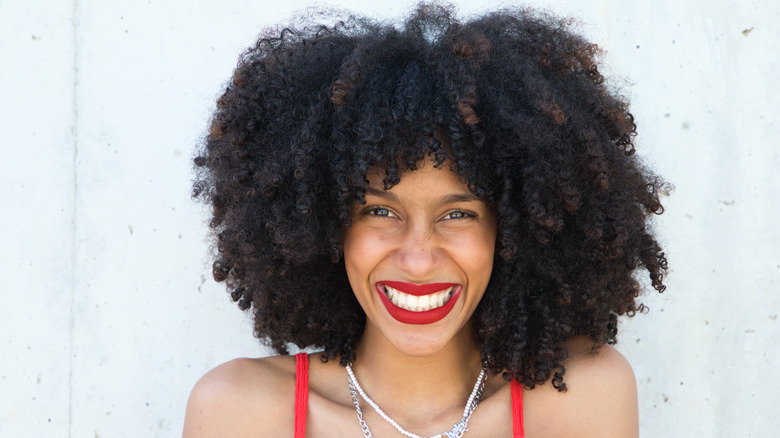 JOSE_ESCUDERO/Shutterstock
We may receive a commission on purchases made from links.
The right lipstick will take you places. A casual swipe of your favorite shade has the potential to simultaneously elevate your mood and up your style game. If you really want to make a statement with your lips and give your pout an extra boost, going bold is undoubtedly better. To pull off a bold lip, you have to be intentional about the formula you choose and prepare your lips beforehand so that your lipstick can glide on smoothly.
For extra allure, the Parisian lip look has all of the ingredients to make you a beauty icon in your own right. Model and author Caroline de Maigret tells Vogue UK that what makes French girl makeup so enticing is the fact that it prioritizes a healthy base first and doesn't require many products to achieve. In addition to the confidence and seemingly effortless nature associated with French girl style, there is one lipstick shade that will catch everyone's attention: red. 
Red lipstick comes out on top every time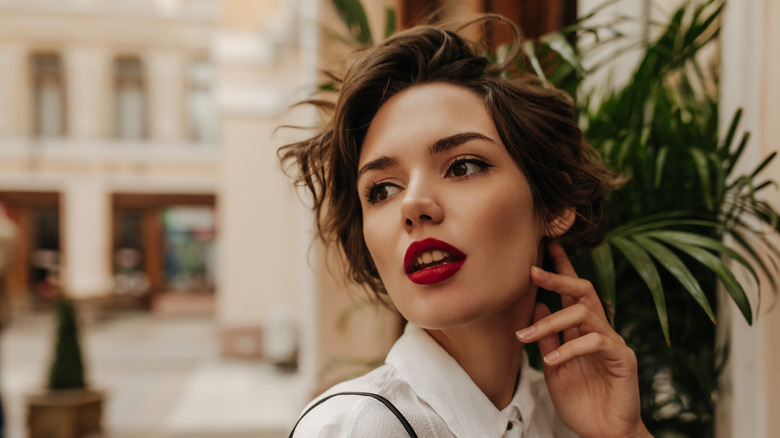 Look Studio/Shutterstock
French women are regularly seen as the connoisseurs of beauty and style, and their expert lipstick choices make it easy to see why. Cherry lips both stand out while never looking out of place. However, French beauty goes beyond simply applying a crimson tint and running out the door. 
Having a set lip care routine in place will make sure your lips are soft and cared for. French fashion magazine Desirer named cult-favorite Nuxe's Rêve de Miel as the quintessential lip balm because of its overall moisturizing formula, praising its inclusion of hydrating honey in particular. The best lip balms contain nontoxic ingredients that target specific issues without harsh side effects.
Before you apply lip balm, you should first prep your lips with a lip scrub to eliminate any dry, flaking skin. Exfoliation is the secret weapon against chapped lips and will result in an even application. Not only that, but hydrated lips retain color better and for much longer.
When it comes to choosing the right red for you, your options are endless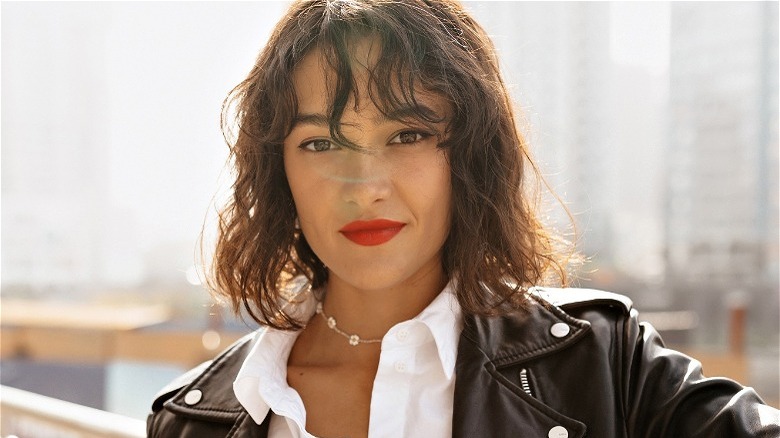 Photo Book Pro/Shutterstock
Gone are the days when you are forced to stick to one type of red lipstick. French makeup artist and beauty editor Violette Serrat tells Glamour UK that you can experiment with different red shades even if they don't fit the traditional mold. While you may have felt limited to specific hues that suit your skin tone, you could be missing out on other shades of red that are just as flattering. 
The beauty expert added that finding the perfect shade doesn't have to be a complicated process. It's 100% okay to choose your lipstick depending on how you're feeling in that moment. "It's great to go on the hunt to work out which red will fit you," Serrat says. "You can have tons of reds and you can just pick the one based on your mood or your outfit, which I love."  
If you're unsure of where to start, Urban Decay's F-Bomb is considered one of the most universally flattering red lipsticks. MAC's Ruby Woo is another classic shade many red lipstick lovers swear by.