The Biggest Mistake You're Making With Tinted Moisturizer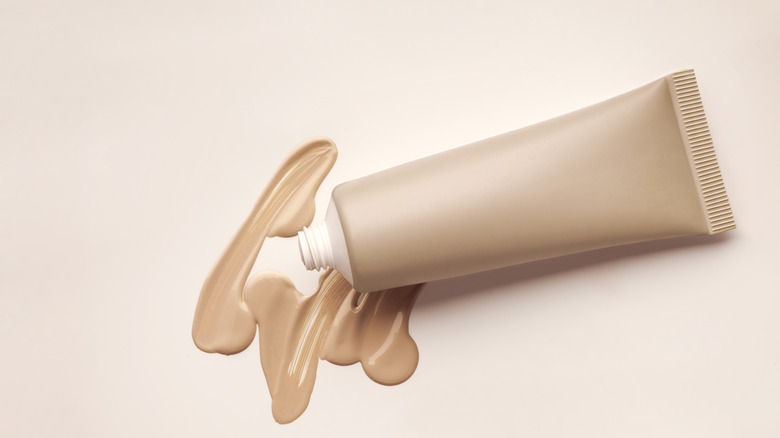 Tanyarow/Getty Images
The act of putting on full glam will forever be a fun experience. However, the time it takes to bake under the eyes while doing a dramatic smoky eye isn't something that's feasible for daily wear. Plus, wearing a lot of makeup every day isn't great for your skin.
In lieu of full contour and high-coverage foundation, many people opt for a tinted moisturizer to achieve a casual, natural look. As makeup giant L'Oreal Paris suggests, tinted moisturizer is exactly what the name implies: a moisturizer that has a tint to it. While it shouldn't replace your daily moisturizer, it can be applied with your fingers just as you'd do with a typical moisturizer. It can also be applied with a sponge or brush, the way you would put on foundation.
Despite the fact that tinted moisturizers are praised for the natural look they give and their ease of use, some people think that they simply don't work for them. If you fall into that category, there is one major mistake that you might be making with tinted moisturizers.
Go easy on the application for best results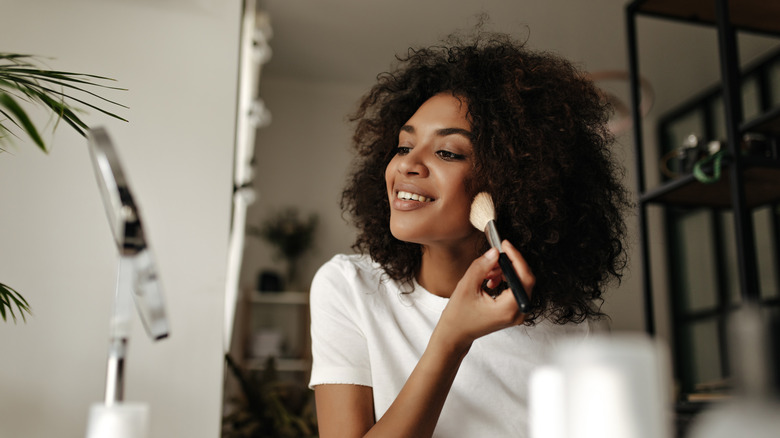 Look Studio/Shutterstock
The purpose of a tinted moisturizer is to provide a natural, sheer look, says Nordstrom. This is in direct contrast with what a full-coverage foundation does. If you're looking to cover spots and pigmentation, it won't do that, no matter how much you put on.
This is where people make the biggest mistake when wearing a tinted moisturizer, explains Woman & Home. Piling on your tinted moisturizer won't get you the full coverage you may be looking for. It will, however, make your face look spotty and textured. Although there's only so much coverage that it will give you, pairing your tinted moisturizer with a concealer or applying it with a brush will definitely give it a boost.
Spot concealing after you've applied your tinted moisturizer will improve coverage and increase the longevity of your concealer, InStyle recommends. Using a lightweight and hydrating concealer like the e.l.f. Hydrating Camo Concealer will let the application spots blend in seamlessly with the rest of your face. Go for a concealer that's your exact skin shade rather than one you use under your eyes.
While tinted moisturizers can be applied with the fingers for a more skin-like finish, you can get a flawless finish by using a brush. A stippling brush is great for tinted moisturizers thanks to the light, silky finish they deliver (via Cosmopolitan).
Tinted moisturizers that offer the best coverage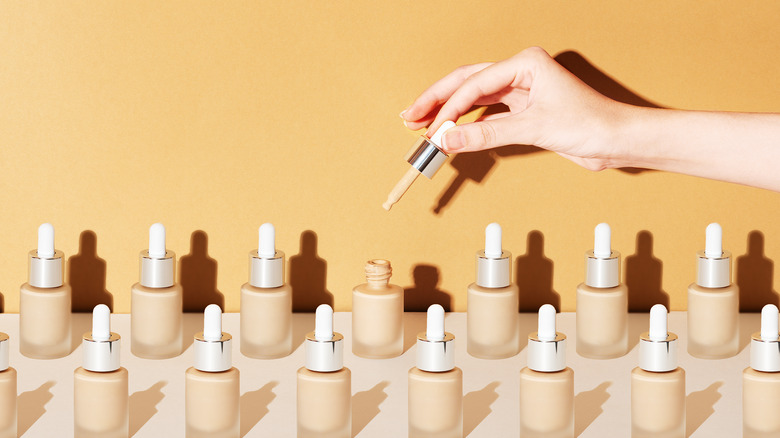 Alice Tsygankova/Shutterstock
The Ami Colé Skin-Enhancing Tint was designed with undertones in mind. Rather than strictly being a muddy brown or a bright red, it takes into consideration the many potential hues of someone's skin. Coming in six shades, the tint has a lightweight and hydrating formula made of baobab, pumpkin seed, and hibiscus extract. It has a satin finish and can be applied easily with the fingers.
For the oily girlies, the Laura Mercier Tinted Moisturizer Natural Skin Perfector is here to give you a glowy, not greasy, base. Coming in 20 shades, the tinted moisturizer offers long-wearing light coverage. The formula has an SPF of 30 and is ideal for all skin types. As macadamia seed oil reduces dryness in the skin, the tamarind seed extract locks in hydration while providing antioxidants.
To get an airbrushed look IRL, try the Fenty Eaze Drop Blurring Skin Tint. With a whopping 25 shades, the Fenty skin tint fits all skin shades and undertones. With buildable coverage, the tinted moisturizer works to blur "imperfections" and spots, smoothing out the skin with an even, natural finish.