How To Achieve Flawless Foundation Coverage Using A Brush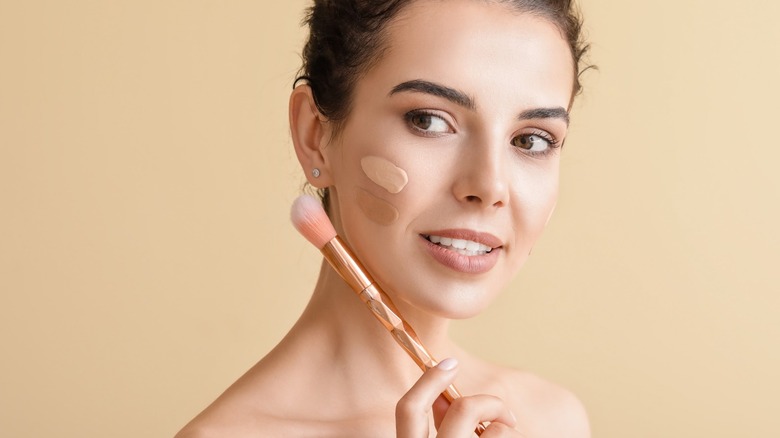 Pixel-Shot/Shutterstock
Foundation brushes are a must in the kits of every makeup lover — professional or not. Like an artist paints her canvas with the finest paints and tools, so too do we paint our faces with the best foundation brushes we can find (within our budgets, of course.) But without the proper techniques, even the most phenomenal brushes and pigmented palettes could go to waste.
While there is still some debate between makeup brushes and beauty sponges when it comes to the best foundation application, we ask: why must they work against each other? The truth is, it all comes down to what works best for you.
Even still, applying foundation with a brush takes skill for a multitude of reasons. One must account for the foundation's formula, the wearer's skin, and the desired look: will it be full-coverage or barely there? Then, of course, the tools: is the brush rounded or flat? And lastly, the application: should the foundation be brushed on in strokes, or dabbed into the skin? Depending on your individual foundation needs, some techniques might work better for you than others. We did some research to find the best methods of foundation application with a brush, so you can achieve the base of your dreams each time.
The kind of brush has an impact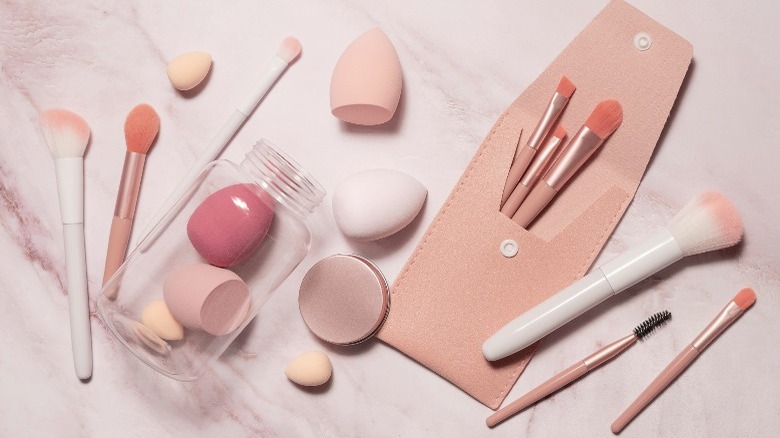 July Ko/Shutterstock
Foundation brushes bring a lot to the table (or vanity, we should say.) Note that foundation brushes are best when used with liquid foundations, celebrity makeup artist Nick Barose told Byrdie. This is because most foundation brushes can be used to finely contour your face with the liquid product. First, you should cleanse and moisturize your face before applying foundation to ensure the foundation leaves your face looking plump and youthful. Then, begin by "dotting" your face with the product. Next, take a brush to smooth the foundation out over your face, says Barose. The brush should not be stroked in one direction, but rather buffed everywhere to avoid leaving streak marks. Should some streakiness occur, use a beauty sponge to blend the foundation further.
The kind of brush used for foundation application will have an impact on how the makeup performs. As a basic principle, the less dense the brush, the lighter the coverage, makeup artist Felicia Tricome told Elle. Synthetic hair brushes are the way to go (natural hair brushes can absorb too much product, like your hair absorbs water), and the bristles should be fine, according to celebrity makeup artist Matin speaking with Byrdie, as thicker hairs can accentuate streaks. One benefit of foundation brushes over sponges is that brushes absorb less product, meaning you can use less overall, and that brushes can be easier to clean, makeup artist Tamekia Greer told Byrdie.
As flawless as possible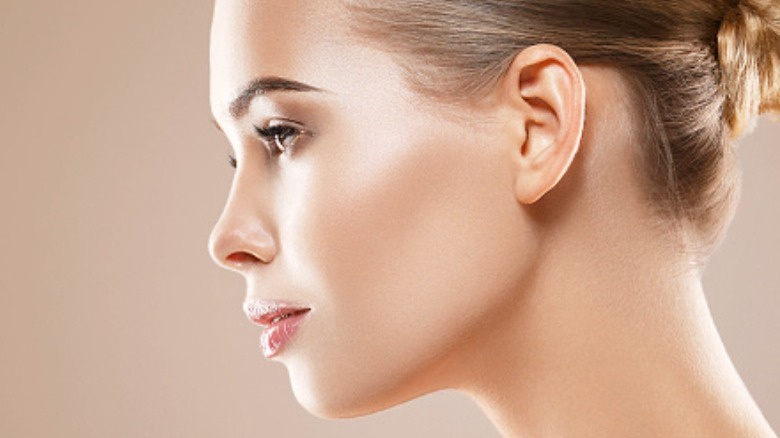 Utkamandarinka/Getty Images
While there are many different types of foundation brushes, flat brushes (like a paintbrush) and fluffy brushes are common. Flat foundation brushes, like this one from MAC, distribute more product onto the face at once, which pairs well for those who wear a tinted moisturizer or sheer foundation, per LiveGlam. Flat brushes are also great for concealing blemishes because of their precision.
Fluffy foundation brushes, like this one from Ulta, are for those looking for a diffused — but no less covered — look, as it is easy to buff in the product with the same brush. You may find that some fluffy brushes are shaped differently than others. There is the kabuki brush, with a density perfect for full-coverage application, or the angled fluffy brush, like this one from Ulta, designed to more naturally contour your face with product.
To ensure that your foundation looks as flawless as possible, look into what a makeup primer can do for your face, and use powder to set the foundation, per Good Housekeeping.