The Best Heat Setting For Healthy Hair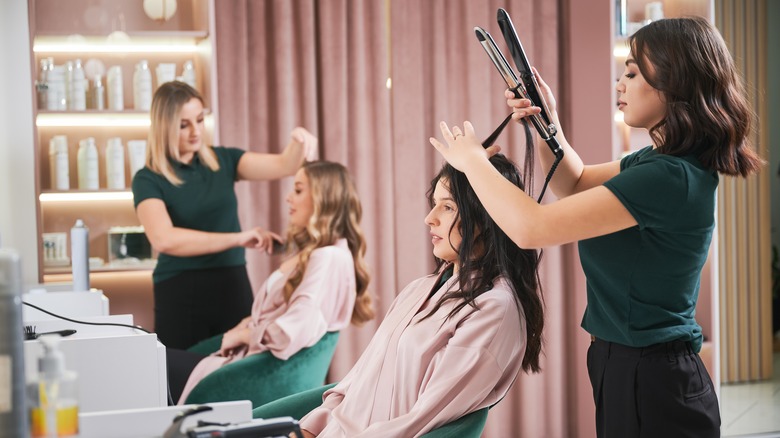 anatoliy_gleb/Shutterstock
Getting salon-perfect hair at home requires a few tools. A curling iron or blow dryer might be in your haircare arsenal. Using heated styling tools can be intimidating, especially with the risk of damage on the horizon. However, sometimes hot styling tools are necessary. Bustle warns going to sleep with wet hair can form an environment for mold and bacteria on your scalp. If you let your hair air dry on a cold day, your strands can dehydrate. As a result, your hair will suffer from breakage.
Most styling devices require heat, even Gigi Hadid's favorite hair tool. When using these stylers, adjusting to the right setting for your hair is crucial. Well+Good suggests that damage is avoidable when you use your styling tool correctly. Ideally, you should not use heated stylers too often or on your hair for too long. But what is the best heat setting for healthy hair?
The lower the heat setting, the better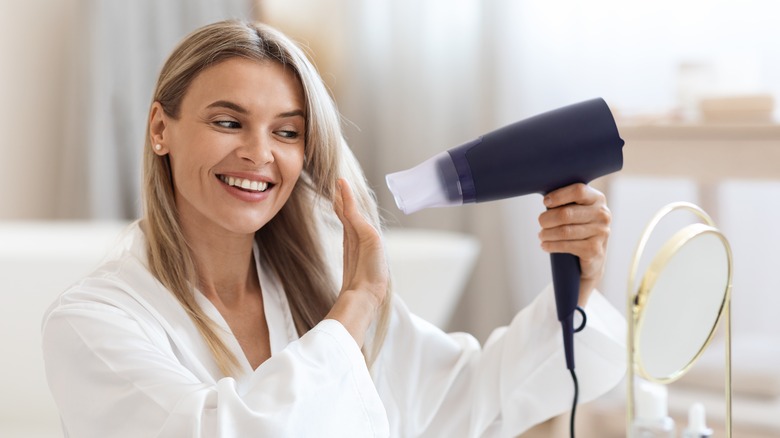 Prostock-studio/Shutterstock
Knowing the right way to use your hot tools is the best method to retain healthy hair. Creative director of ATMA Beauty, Sheenon Olson, told Marie Claire, "Flat irons cause the most damage to hair that I see, beyond anything else." 
The lowest heat setting is always ideal. Fine straight hair and thick curly hair alike should use the minimum setting. Opt for hot combs, styling brushes, flat irons, and curling wands that have heat adjustment or temperature control. Applying a heat protectant like argan oil before any heat styling can also help guard your hair's cuticles.
Blow dry on the lowest setting if air drying is out of the question. Removing as much water as possible from your hair will decrease drying time and your hair's exposure to direct heat. Healthline recommends using a microfiber towel to absorb extra water after washing your hair. With a blow dryer, a minimum of five inches between your hair and the tool is optimal. Although higher heat settings may get the job done faster, it comes with the risk of excessive damage.
The problem with high heat settings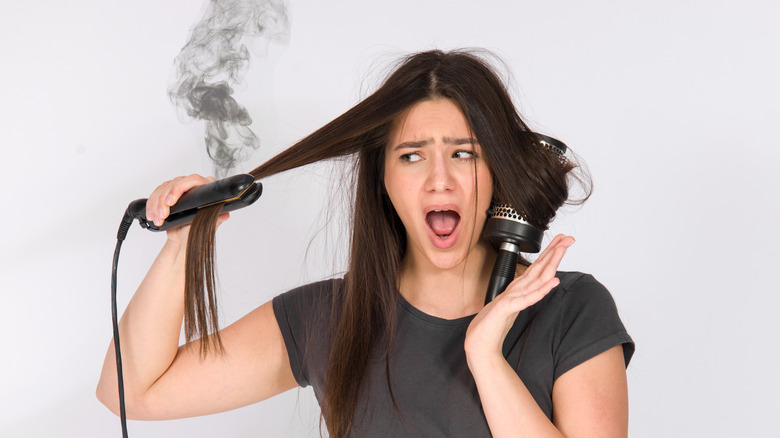 Denis OREA/Shutterstock
Heat damage comes in different shapes and sizes. Dyson explains for curly hair your strands can lose their curl pattern and look dull with excess frizz. Straighter hair will lose its shine and appear lifeless and dry. Temperatures higher than 300 degrees Fahrenheit can change your hair's keratin build. As a result, your hair loses elasticity and strength. The intensity of such heat dries out natural oils and water within the strands, making them vulnerable to breakage.
Hair.com adds that heat damage to your luscious locks is permanent. Since there is no way to reverse the weakened hair, a trim is your number one ally. Cutting away the fried strands will make way for new healthy growth. You can minimize the appearance of split ends and frizz with hair masks, oils, and bond builders. However, preventing heat damage is better than repairing it. The lowest heat setting keeps your styling tools from becoming weapons of mass hair destruction.