The 'Skin Flooding' TikTok Hack Perfect For Dry Skin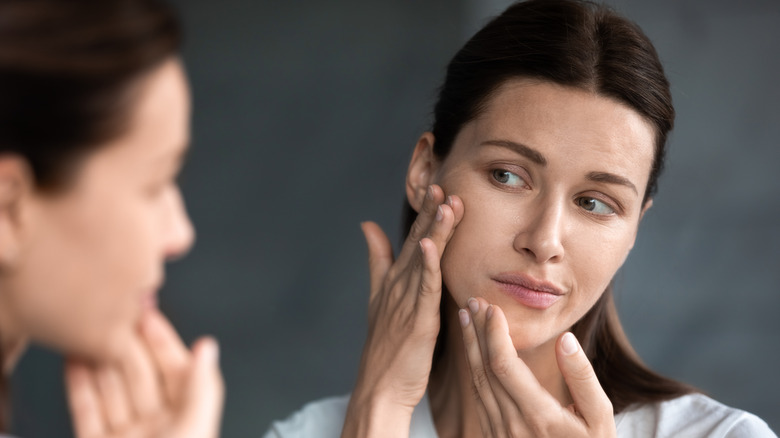 fizkes/Shutterstock
We may receive a commission on purchases made from links.
Itchy skin is just one of the woes of colder weather. As temperatures drop, so do our moisture levels, leaving us with skin crying out for hydration. Medical News Today notes that the sharp drop in humidity coupled with the strong blasts of heat in our homes leads to something called xerosis. Unlike simply having dry skin, xerosis occurs when the skin is dehydrated.
Sensitivity, redness and inflammation, tight pores, and congestion are signs of dehydrated skin. Although these symptoms are typically associated with dry or sensitive skin, all skin types can be dehydrated, even oily. Dehydration in oily skin can look like small dry patches close to the nose and brows, irritation, and skin that wrinkles when pinched (via Dermalogica).
As winter weather approaches, TikTok is here with another skincare trend. After the popularity that slugging received in 2021, skin flooding will take over the internet next year.
What is skin flooding?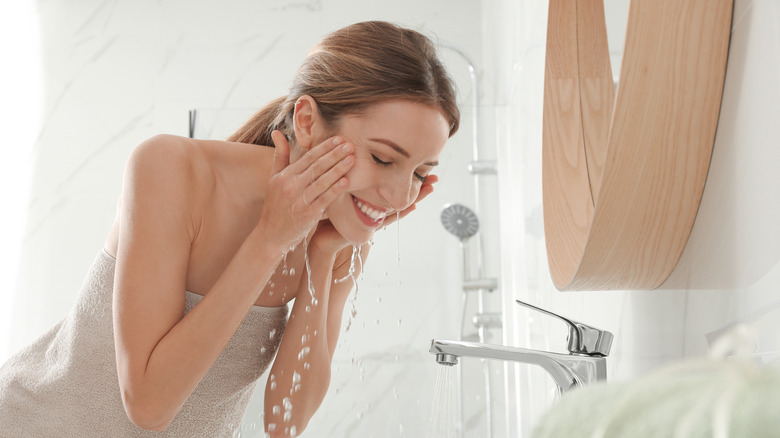 New Africa/Shutterstock
The process of skin flooding is by no means a new trend, reports Beauty Crew. The process involves applying several layers of multiple moisturizing products to achieve hydrated skin. Sandwiched in between spritzes of a face mist, the process is supposed to help the skin with "maximum product absorption," says Beauty Crew.
During skin flooding, after the face is cleansed, a bit of water is left so the products can be applied to damp skin. Ingredients such as hyaluronic acid, niacinamide, and polyglutamic acid are used in the process, according to Refinery29.
While the hydrating benefits of hyaluronic acid are pretty well known, polyglutamic acid is a lesser-known ingredient. The acid is comprised of chains of amino acids. It moisturizes skin by developing higher levels of lactic and carboxylic acid that your skin naturally produces (via Healthline). Known as a pore shrinker and discoloration reducer, niacinamide also boosts hydration, states Paula's Choice, working to prevent moisture loss from the skin.
How to skin flood for hydrated skin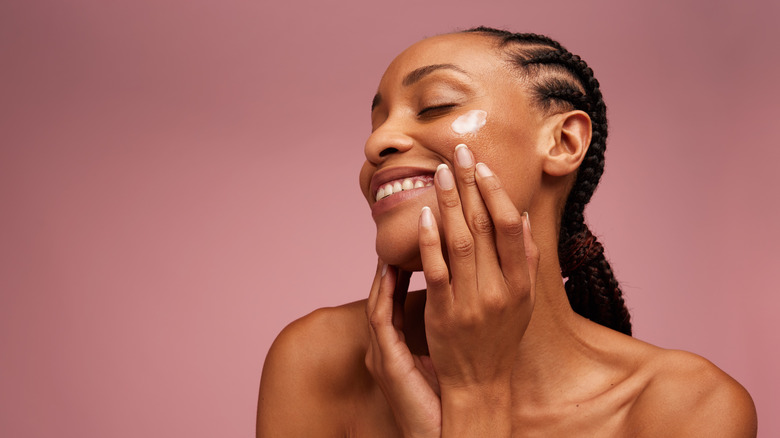 Jacoblund/Getty Images
To properly skin flood, Hypebae instructs to cleanse, mist, apply a hydrating serum, mist again, put on your niacinamide serum of choice, mist once more, then apply a moisturizer and/or occlusive.
For a hydrating cleanse, the Korres Foaming Cream Cleanser has Greek yogurt and seawater to nourish skin, targeting redness and dry patches. Leave a bit of water on the face and spray, using a mist like the Cocokind Rosewater Facial Toner. Simple and relatively affordable, the spray contains rose hydrosol and can double as a toner and setting spray.
With the face still damp, apply either hyaluronic acid or polyglutamic acid serum. The Inkey List Polyglutamic Acid Hydrating Serum adds moisture while plumping the skin and reducing fine lines. After application, spritz again and add a niacinamide serum. For a bonus of glowy skin, use the Glow Recipe Watermelon Glow Niacinamide Dew Drops. The serum is formulated with watermelon and moringa seed oil and delivers bouncy, hydrated skin in an antioxidant-rich formula.
For the final steps, a no-frills moisturizer like the Cerave Moisturizing Cream will do the trick. Packed with ceramides, the non-comedogenic cream will seal in all the moisture you just flooded your skin with. During the day, finish off with the Innisfree Daily UV Defense Sunscreen, a moisturizing SPF that doesn't leave a white cast. At night, use Vaseline or Aquaphor to seal in everything you've applied.