Signs You Have Dehydrated Skin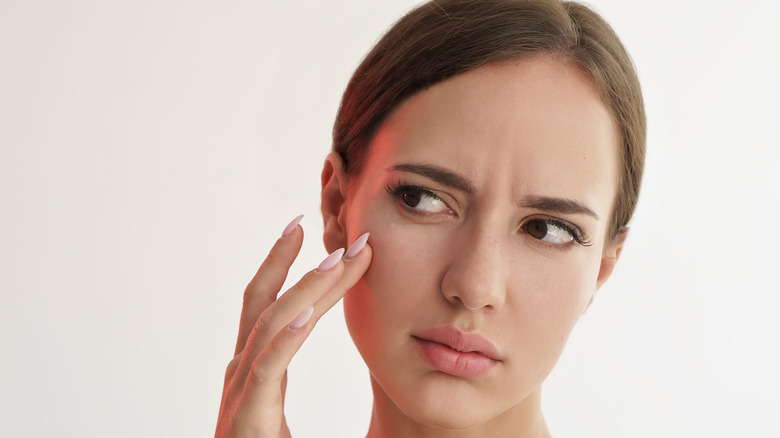 Shutterstock
During summer, the last thing you may think about is dehydrated skin when you're sweating from high temperatures. But with some regions facing heat waves and extremely dry conditions, like the Southwest region of the U.S., it's more important now than ever to stay hydrated, and that includes your skin (via USA Today and NPR). According to Arizona Dermatology, dry heat can be a major factor in causing dehydrated skin by diminishing the water content in your skin. Allure cites temperature and humidity changes as major causes of dehydrated skin.
It's especially important to remember that you don't have to have dry skin to have dehydrated skin. Dry skin is a skin type and is caused by a lack of sebum, or natural oils (via Healthline). Dehydrated skin is considered a skin condition, which unlike dry skin, is caused by a lack of water. So you can have oily skin, and still have dehydrated skin. According to Healthline, itchiness, dullness, dark undereye circles, sunken eyes and the appearance of fine lines are all signs of dehydrated skin.
Kate Somerville, a paramedical aesthetician who founded Kate Somerville Skincare, told Allure, "Common signs of dehydrated skin include redness, lots of congestion, and inflammation." Dehydrated skin most often occurs in the winter because the cold, dry air can cause cracked skin, tightened pores and reduced sebum production. But, there are other significant contributing factors that can also cause dehydrated skin any time of the year, like the environment and lifestyle choices.
Key lifestyle changes can treat dehydrated skin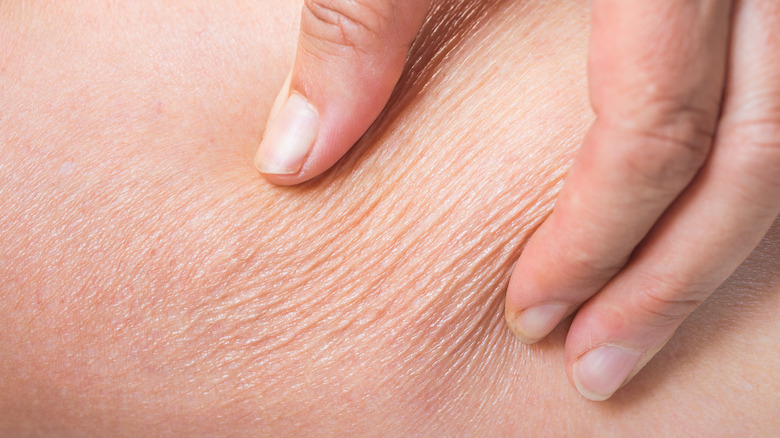 Shutterstock
A simple test to help determine if you have dehydrated skin is to gently pinch the skin in your cheek area (via Healthline). Skin that wrinkles or doesn't bounce back after releasing your skin could be signs of skin dehydration. If you're still unsure whether you have dehydrated skin, you can always consult with a dermatologist. Luckily, dehydrated skin is easily treatable through lifestyle changes. The best way to treat dehydrated skin is to start drinking more water per day — try eight glasses of water a day. Another way to increase your hydration is to eat fruits and vegetables with high water content like celery and watermelon. "When hydrated, our skin cells swell, and this can be a great thing. It minimizes the appearance of fine lines and wrinkles, and generally makes us look less tired," dermatologist Ross C. Radusky told Allure.
It helps to cut down on alcohol, caffeinated beverages and to abstain from smoking (via Healthline). Other things that can help you tackle dehydrated skin include regular exercise, sleep, and eating more plant-based food. It's also important to drink water at least every 20 minutes during a workout and to drink plenty of water after a workout. Francesca Fusco, assistant clinical professor of dermatology at Mount Sinai's Icahn School of Medicine, told Allure, "Consider putting a humidifier in your office or home to keep the air adequately humid so your skin doesn't release moisture to the air."
Skincare ingredients that can help treat dehydrated skin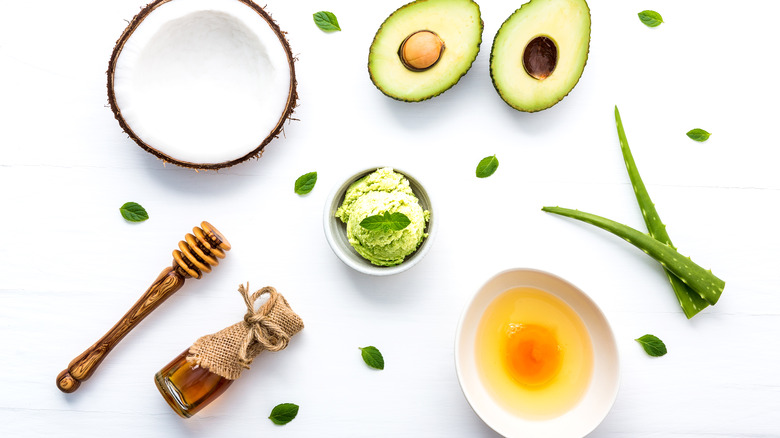 Shutterstock
Healthline also recommends putting a refreshing facial mist in your handbag to use every few hours. Allure recommends the Herbivore Botanicals Rose Hibiscus Coconut Water Hydrating face mist, while Healthline suggests a DIY fix — filling a spray bottle with rosewater. Two main hydrating staples to include in your skincare routine are hyaluronic acid, which is a humectant, and ceramide, which helps strengthen the skin barrier (via Healthline). Humectants help draw moisture to the skin from the environment, and strengthening the skin barrier can help seal in hydration.
Other ingredients to be on the look for in your skincare products include lactic acid, citric acid, snail mucin, honey, aloe and glycerin. Radusky told Allure that he recommends layering a serum with hyaluronic acid first and then a thicker moisturizer. He also recommends products with avocado peptides, as they can also increase production of hyaluronic acid in the skin. Allure also suggests applying a moisturizing mask once a week for a deep, hydrating treatment.