Former Head Of Royal Protection Concerned About Harry And Meghan Attending The King's Coronation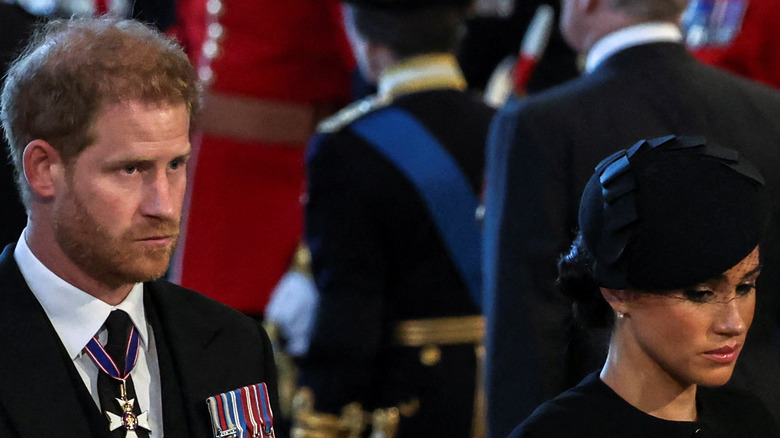 Wpa Pool/Getty Images
It's safe to assume that King Charles III's coronation will be one of the most highly watched events in recent history. Per L'Officiel, the coronation is set to occur on May 6, and King Charles III will be taking over for Queen Elizabeth II after her 70-year reign. Of course, this is a massive, history-making moment for the UK, as a whole, and the royal family, in particular. As a result, we would expect to see all of the royals in attendance. Yet, recently, there has been speculation as to whether or not Prince Harry and Meghan Markle, the Duke and Duchess of Sussex, will be present for the historic event.
Since the docuseries about the royal couple, Netflix's "Harry and Meghan" premiered, there has been plenty of buzz surrounding Harry and Meghan and their strained relationship with the rest of the royal family. Seeing the couple left out of an important royal event would certainly put more of a wedge between the pair and the other royals. Yet, the main reason that the couple may not be in attendance is actually about safety.
Will security concerns keep Harry and Meghan away from the coronation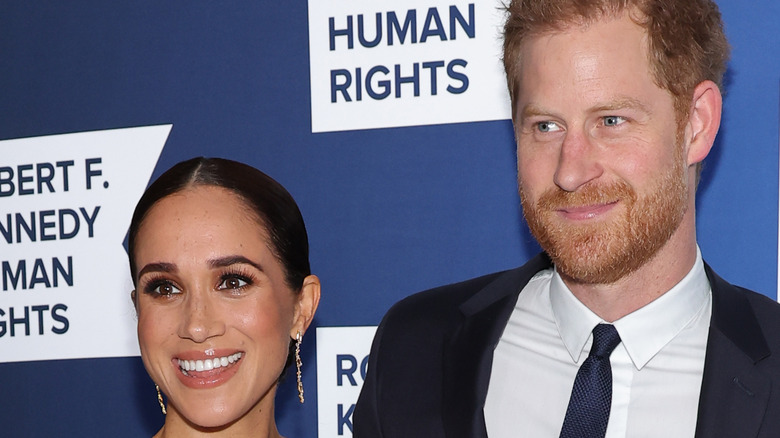 Mike Coppola/Getty Images
Prince Harry and Meghan Markle's presence at King Charles III's coronation may actually cause a major security issue. In fact, it was suggested by the former head of royal protection, Dai Davies, on Sky News Australia that it would be best if the couple didn't attend. Davies said, "Would I invite them to the coronation? Certainly not. From a security point of view, it would be all about them. In my opinion, there are nutters out there who could cause harm to not only the royal family but also to those in America."
He went on to say, "I went to Los Angeles years ago to discuss this ... there are literally thousands in America ... that are doing nothing to support their safety or their cause. Their moral compass has gone skew-whiff in my opinion, and I don't mind saying so to anyone ... they're going to get harmed if they carry on like this." It's clear that the widely differing opinions on Harry and Meghan could put them at a much higher security risk. Ultimately, it's safe to say that we all hope precautions are put in place to make the coronation as safe as possible.