The Edgy Heavy Boot Trend We'll See Everywhere In 2023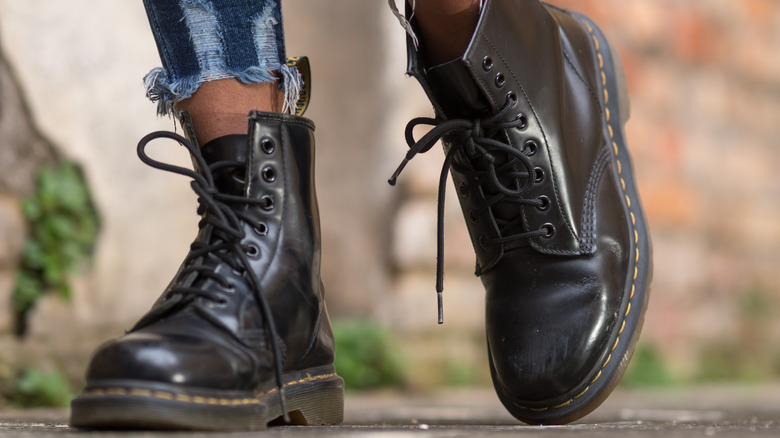 Cineberg/Shutterstock
Doc Marten girlies, it's our time to shine! Just as all fashion trends change with the seasons, so does what's "in" in terms of our footwear. The year 2023 is sure to bring us some new styles to try, and what we'll be wearing on our feet is likely to get an upgrade as well. One upcoming shoe style is already on our trend radar, and suffice it to say, being "light on your feet" probably shouldn't be your 2023 New Years' resolution.
It's time to pull your heaviest shoes out of the closet; yes – we literally mean "heaviest." Per Elle, heavy, chunky boots are stomping onto our list of style staples for 2023, and whether you've already got a pair of these bad boys in your closet or not, we have a feeling you're going to want to start rocking this trend. At the mere mention of heavy boots, you may be thinking that punk and grunge just aren't your style and that chunky boots don't fit in with the 'fits you plan to be sporting in 2023. 
If this sounds like you, we invite you to open your mind to the wonderful world of big, heavy soles and plenty of room for heavy socks. Believe it or not, we actually think this trend is versatile enough to work for pretty much everyone; it's all about how you execute it.
Why heavy boots are the perfect footwear trend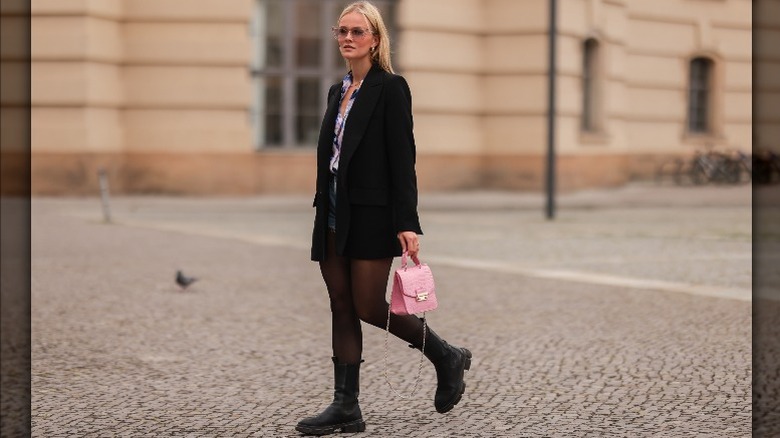 Jeremy Moeller/Getty Images
The heavy boot trend is a trend for everyone. Heavy boots add a little bit of edge to every outfit, and whether you're a pop punk queen like Olivia Rodrigo or a preppy princess like Meghan Markle, adding just a pop of punk-inspired pizzazz to your 'fit is likely to give your style some depth and interest (via Elle). While the edginess of the look works with the popular trendy grunge aesthetic as well as it does the Y2K style renaissance we're all experiencing, that's actually not what we love most about heavy boots being the ideal shoe for 2023. 
Chunky boots come in many shapes and sizes, from classic lace-up combat boots to Chelsea boots, ankle booties to knee-high boots. You can opt for a huge platform or something skinnier. From classic black to white and even pink, while your heavy boots will always add a little coolness to your outfit, there are so many different ways to rock the trend that it's easy to tailor to your style.
Heavy boots are comfortable and durable. In fact, Doc Martens are some of the most famous heavy boots there are and were initially popular as a work boot. Consequently, rain or shine, long walks or nights out, heavy boots are up for whatever challenge your feet may throw at them.
How to rock the heavy boot trend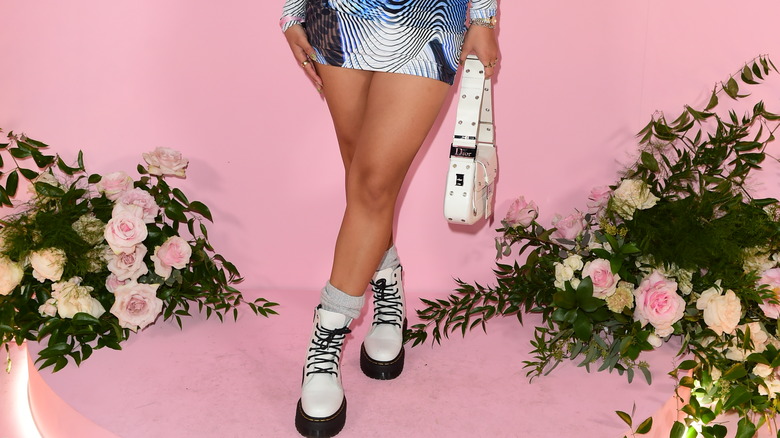 Vivien Killilea/Getty Images
It's clear that, unlike stiletto-based shoe trends of years past, heavy boots are actually a footwear style that's here to make your life easier. Still, if the tough, punk look isn't your go-to aesthetic, you may be wondering how to incorporate this into your own wardrobe for 2023. According to The Zoe Report, chunky combat boots actually pair perfectly with a puffy-sleeved dress for an unexpected juxtaposition. Tall clunky boots add edginess and warmth to midi-length skirts or dresses. Pairing your clunkiest pair of boots with a miniskirt or mini dress is a classic choice, regardless of the weather. Black boots with black tights and a minidress is utterly chic for the winter months, and pairing a pair of white chunky boots with your sundress will be a perfect transition look as spring 2023 rolls in. 
Heavy boots aren't just a way to elevate your look. As we've mentioned, they're also comfortable, warm, and sturdy, making them the perfect throw-on shoe for the cooler months. Per Fustany, don't be afraid to pair chunky boots with your fave leggings or even a pair of sweatpants. Not only are your heavy boots warmer than your go-to sneakers, but they'll give your pared-down, casual look a bit more interest. It would be quicker to try to discover what outfits heavy boots don't complement than what they do. So, don't be afraid to invest in a sturdy new pair of boots and do some style experimenting.