The Reason Princess Anne And Timothy Laurence Couldn't Get Married In England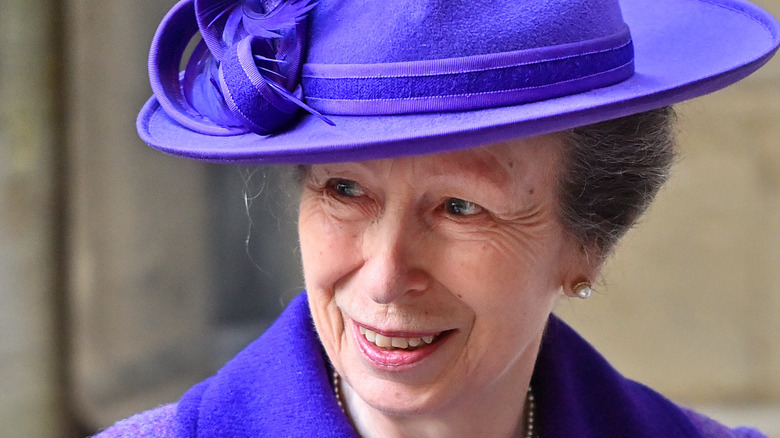 Pool/max Mumby/Getty Images
On December 12, 2022, Princess Anne and Sir Timothy Laurence celebrated 30 years of wedded bliss. Per Hello!, the couple first met in 1986 when Laurence, a Royal Navy Commander, was serving as Queen Elizabeth II's equerry (via Town & Country). As explained by Metro, equerries are members of the military who accompany the monarch at royal events for a three-year term of service.
Although Anne was married to Captain Mark Phillips at the time, she and Timothy got to know each other well during these three years. Anne even asked Timothy to become a third trustee for her royal charity, per Radio Times. The couple's relationship became public in 1989 after the theft of private letters from Timothy to Anne, and various outlets hinted at romantic content, but the letters were never published. While one of the letters is addressed to "darling," a source told People in 1989 that the letters "are very boring and ramble on," describing them as "thoughts about life and rather philosophical." That same year, Anne and Mark separated, ultimately divorcing in 1992.
1992 was infamously referred to by Queen Elizabeth as her "Annus Horribilis," since three of her four children's marriages ended that year, per Time. However, the horrible year did end on a happy note, with Princess Anne marrying a second time. But unlike her 1973 wedding at Westminster Abbey (via U.K. Parliament), which was a national holiday and a televised event, Anne and Timothy couldn't get married in England.
Anne was divorced, and the Church of England prohibited remarriages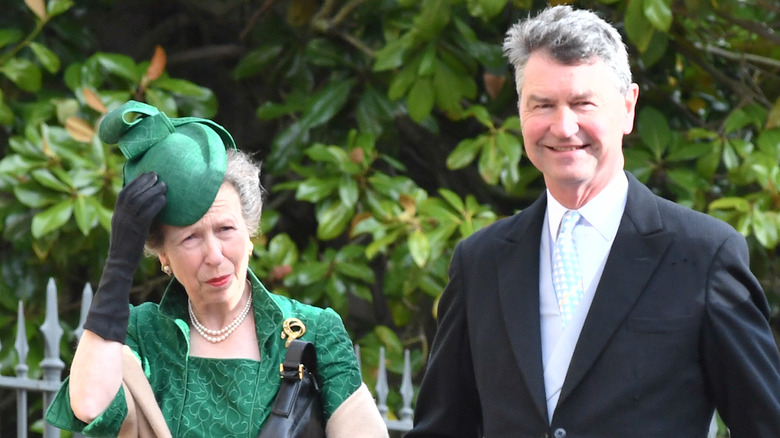 Wpa Pool/Getty Images
When Timothy Laurence and Princess Anne got engaged, her ring broke royal protocol. According to The Crown Chronicles, Anne's ring features a cabochon sapphire with three diamonds sparkling to the left and right of the brilliant blue stone. When planning their wedding, the couple also stepped away from royal tradition since they were limited in their choice of venue. While it was Timothy's first marriage, Anne was divorced. As The New York Times reported in 1992, the Church of England didn't recognize marriage after divorce while the previous spouse was living. "Historically the Church of England's position was that divorce was okay, but remarriage was not," Arianne Chernock, a Boston University associate professor of history, told History.
Instead, Anne and Timothy chose Crathie Kirk in Scotland for their ceremony, per Hello! magazine. At the time, the Church of Scotland did not have the same restrictions. As a bonus, this church has special significance for the royal family, since it is near Balmoral Castle, one of the late Queen Elizabeth II's favorite vacation spots. The queen and her family often worshiped at Crathie Kirk, as noted by the Church of Scotland.
Like her mother, Anne has a special affection for Scotland. After the ceremony, Anne and Timothy spent their honeymoon at Royal Deeside in Aberdeenshire. According to The Telegraph, Anne once said, "Scotland is such a beautiful country with such passionate people, who could fail to want to be a part of it?"
Anne's second wedding was intended to contrast with her first ceremony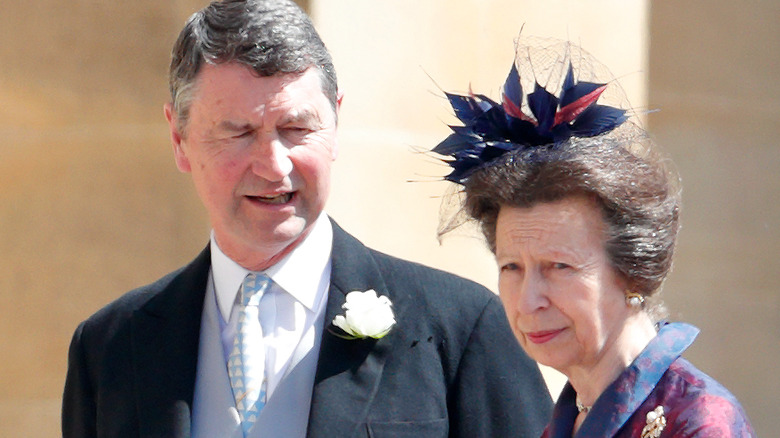 Max Mumby/indigo/Getty Images
According to Hello!, Princess Anne and Timothy Lawrence's Scotland wedding was an intimate affair with 30 guests. While Timothy wore his Royal Navy uniform, Anne opted for a knee-length white dress rather than an elaborate gown.
Body language expert Judi James believed Anne aspired for contrast between her two weddings. "Anne had done her Disney Princess wedding to Mark Phillips and this second marriage was kept deliberately quiet, in a small chilly church with only a handful of bystanders waiting outside," James told Express. Looking at photos from the celebration, James said, "[Anne] looked mindful of the fact that some traditionalists would be shocked by her second marriage but her smile suggested why she had to do it." She described Anne's expression as "softened by signals of delight and love."
For his part, Timothy was smitten from the start. "Tim never stopped thinking about Princess Anne from soon after their first meeting," a friend of Laurence said, according to People in 1989. "Anne has treated him as her closest confidant for some considerable time."
Over the years, the princess and Timothy have lived a comfortable life at their Gatcombe Park home. The couple also continues to maintain their ties to Scotland. In 2021, the royal family posted an Instagram photo of Anne and Timothy enjoying a Scottish rugby game in their living room.