How Princess Anne's Stunning Engagement Ring Broke Royal Tradition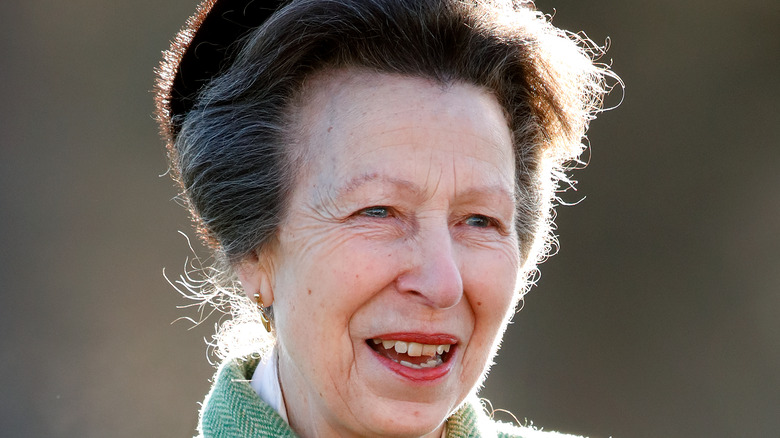 Max Mumby/indigo/Getty Images
Anne, Princess Royal, has been married twice, and both of her engagement rings were quite unique.
Most of the time, wedding rings feature diamonds, as pointed out by The Knot, and several notable members of the royal family have followed this tradition (via Brides.com). The stones on Queen Elizabeth II's are from a tiara that belonged to Prince Philip's mother, Princess Alice of Greece. Meghan Markle's was designed by Prince Harry and includes diamonds that belonged to Princess Diana.
When it comes to Anne, though, Queen Elizabeth II and Prince Philip's second child and only daughter, a different stone was chosen, as reported by Express.co.uk. In fact, this particular stone was the pick when she married Captain Mark Phillips in 1973, as well as in 1992, when she divorced her first husband and tied the knot with Timothy Laurence. The end result, according to jewelry experts, led to rings that are "beautiful," "unique," and "meaningful."
Princess Anne's selected stone is 'often linked to people who are respectful, loyal, hardworking, and honest,' expert says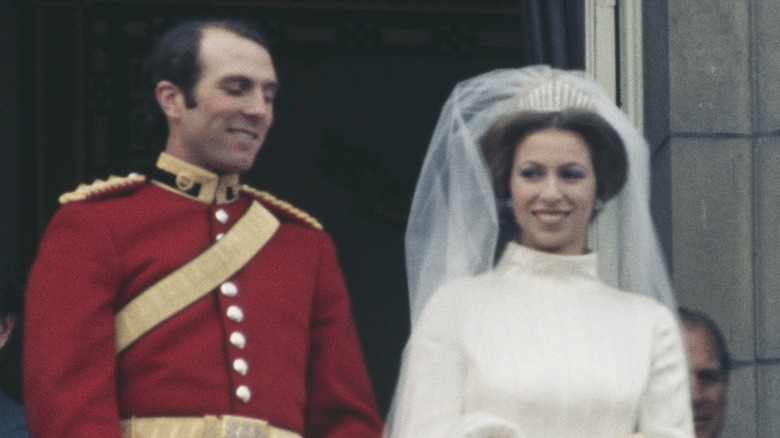 Fox Photos/Getty Images
Both of the engagement rings that have belonged to Princess Anne have not diamonds in the center, but sapphires. Her current one, specifically, is an oval cabochon-cut blue sapphire.
"It's interesting that Princess Anne received sapphire engagement rings rather than traditional diamond rings," Max Stone, leading engagement ring specialist at Steven Stone, told Express.co.uk. "Blue sapphires are often linked to people who are respectful, loyal, hardworking, and honest, which only makes these rings even more special."
Princess Diana also had a blue sapphire in hers, and the 12-carat, oval-shaped Ceylon stone now belongs to Kate Middleton, as reported by Brides.com. "Meanwhile, the Queen is frequently seen sporting the gemstone on her famous brooches," Stone continued. "It's clear the royal family are huge fans of sapphires, a stone which is traditionally believed to attract abundance and blessings. Historically it has been used to protect against negative energies, as well as calm the mind, strengthen intuition, and invite spiritual clarity, so it's no wonder the royal ladies love them."