The Young And The Restless' Eric Braeden Shows Strength During Knee Surgery Recovery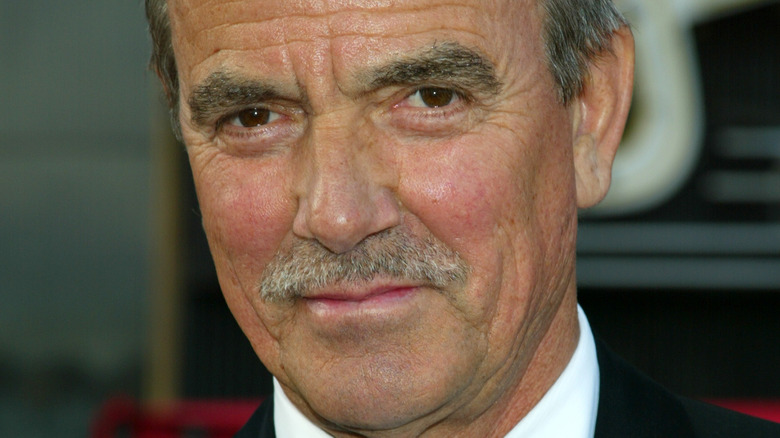 DFree/Shutterstock
Actor Eric Braeden grew up in post World War II Germany and went on to become one of the most celebrated soap stars playing Victor Newman on "The Young and the Restless." The unyielding Victor has fought his enemies over the decades since 1980, and protected his family. After a real-life altercation with Peter Bergman, who plays Victor's nemesis Jack Abbott, Braeden told Soap Opera Digest that their brawl was, "[S]omething that obviously I wish one could have avoided, and also [it shows] how it is possible to get beyond something like that and develop enormous respect." Braeden continues to show real-life strength of character.
The actor recently had knee replacement surgery and Braeden wasted no time updating his fans about his recovery. On Twitter, he posted a picture of himself standing in the hospital post-surgery, with his fist in the air. Soap opera reporter Michael Fairman responded with, "ERIC! You got this! Sending healing vibes for your post-surgical recovery." Likewise, co-star Sean Kanan responded saying, "Eric wishing you a speedy recovery and a fantastic holiday. You will be back to your full bad*ssery in no time."
Braeden surprisingly responded to almost all of his well-wishers, and now, the acclaimed actor returns to social media to continue illustrating his amazing progress.
Eric Braeden enjoys the support of his fans
In a show of incredible strength and endurance, "The Young and the Restless" superstar Eric Braeden recently posted a video of himself on Twitter regarding his post-knee replacement surgery. Braeden sat at the edge of his bed throwing punches. The post was captioned with: "Going crazy after [five] days of doing nothing. Recovering from a knee replacement." In the video he states, "I can't run after anyone, because my knee was just replaced. But, if they come close...," to which the actor continued to throw incredible punches, adding, "Feels so good to exercise."
Braeden continued saying, "Five days without working out. I hate it," after which he blew a kiss to fans and held a fist up as a sign of strength. Fans continued to wish him a fast recovery, with one writing, "So happy to see you doing so well." A longtime viewer replied, "You look great! It must be hard but I hope you aren't going too stir-crazy. You don't want to push too hard and have a setback. And I very selfishly need to see you back in [Genoa City] as soon as possible!" One fan posted a gif of Braeden's character, Victor Newman, boxing, writing, "[Five] days and you're already doing that?!! You will be back at it [in] no time! I wish you a speedy recovery Mr. Braeden!" Braeden replied, "Old habits die hard!!"