The Luxury Brand That 38% Of People Say Has The Best Yearly Advent Calendar - The List Survey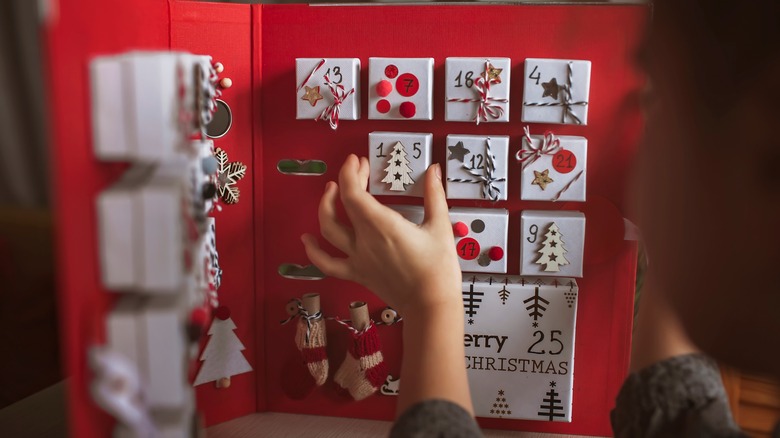 Maria Symchych/Shutterstock
According to Christianity.com, an advent calendar is a calendar that counts down to Christmas. While many advent calendars are simple and reveal things like a picture or even a piece of chocolate, as of late brands have entered the space and made advent calendars more of a trend. Per Today, there are calendars for kids, adults, beauty advent calendars for makeup lovers, ones for coffee aficionados, and more. However, there are also uber-expensive calendars created by some of the world's biggest luxury brands.
These luxury advent calendars don't come cheap — and for good reason. The Dior advent calendar features 24 days of their best items, from makeup to perfumes. It may even be better than some of the best makeup gift sets for the holidays. The William Sonoma calendar is for the chef in your life and has a ton of coveted items, like cookie cutters, sugar shakers, and spatulas. There is also a Diptyque calendar, a Jo Malone London calendar for fragrance lovers, and a La Mer calendar for those who crave the best beauty and skincare. But which one is a favorite? The List conducted a survey of 602 people to find out.
The winner of the best luxury advent calendar is...
Of course, your advent calendar choice depends on what you love. If you are really into food, you may be hoping to be gifted one that opens up a piece of chocolate each day. If you are a toddler, you'd likely squeal in delight to get a playdough-based advent calendar or one you can create yourself. However, if luxury is your thing, you may have snatched up a few of the most expensive and coveted calendars of the year.
According to over 600 people, the best yearly advent calendar from a luxury brand is the Dior calendar. In fact, people love this calendar so much that 38% of the survey users chose Dior as their go-to yearly advent. It makes sense why. The calendar has 24 items, all of which are luxurious and expensive on their own. According to Dior, the calendar has beauty and fragrance items like J'adore Eau de Parfum, Sauvage Eau de Toilette, Rouge Dior 999 velvet finish, Diorshow Iconic Overcurl 090, Dior Prestige Intensive Repairing Creme, Capture Totale Super Potent Serum, Gris Dior Body Creme, and even an array of their beloved candles. 
It's not just the interior contents that have people flocking to the calendar, too. The outside of the calendar is gorgeous as well with celestial artwork done by Pietro Ruffo. There's no better way to bring in Christmas than with a touch of Dior.
The runners-up of the best luxury advent calendar are...
The Dior calendar may have been a fan-favorite, but the other survey items were popular as well. Coming in second best was the Williams Sonoma advent calendar, which took 35% of the votes. Their holiday baking calendar is not only adorable with a Parisian storefront as the design, it also contains everything you need for baking your favorite holiday cookies. You open each day to find cookie cutters, icing bags, spatulas, and more. If baking isn't your thing, the brand also released a popcorn advent calendar, which has different flavored kernels and seasonings, and a hot cocoa calendar with a variety of cocoa flavors.
The List survey also revealed that people loved the Diptyque (10%), Jo Malone (9%), and La Mer (8%) advent calendars, all of which included a ton of beautiful products like an Iconic limited-edition Sapin/Pine Tree Scented Candle from Diptyque, full-sized colognes from Jo Malone, and the Lifting & Firming Mask from La Mer.