Fantasizing May Be Healthy In A Relationship. Here's Why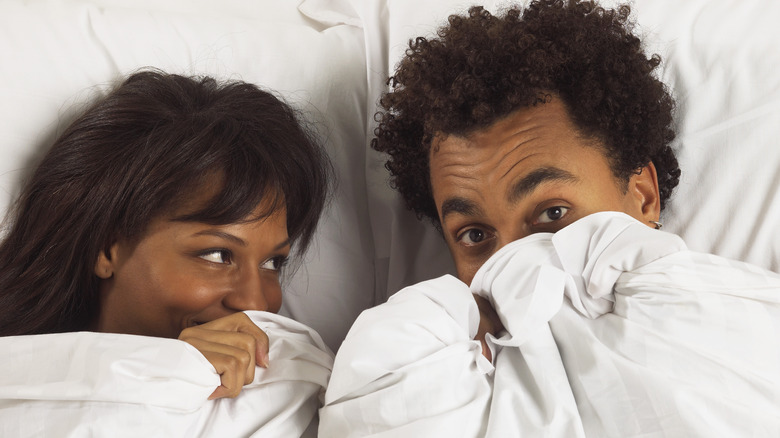 Jupiterimages/Getty Images
Sipping on your morning coffee, your mind wanders to the movie you saw last night — how romantic the lead was, and how hot the bedroom scene was. Your mind takes a delicate turn, and suddenly, you're fantasizing about someone bringing you flowers, and devoting hours to your satisfaction between the sheets.
Maybe that someone is an unnamed face, a popular celebrity, or even your partner — because, yes, you are in a committed relationship. In fact, should you even be having fantasies at all? You're in love, and everything is perfect. Right?
Certified sex counselor Kimberly Atwood shared with SELF Magazine that, "Sex generally begins with the mind ... which often means fantasies." And, sexologist and relationship counselor Tanya Koens told ABC Everyday you are definitely not alone if your daydreams are turning to the sexy side. "We are all sexual beings and nearly all of us have fantasies. They serve to create desire and arousal and in some cases ... they can be inspirational."
Here's why fantasizing may be healthy in a relationship.
Fantasies can refresh your sex life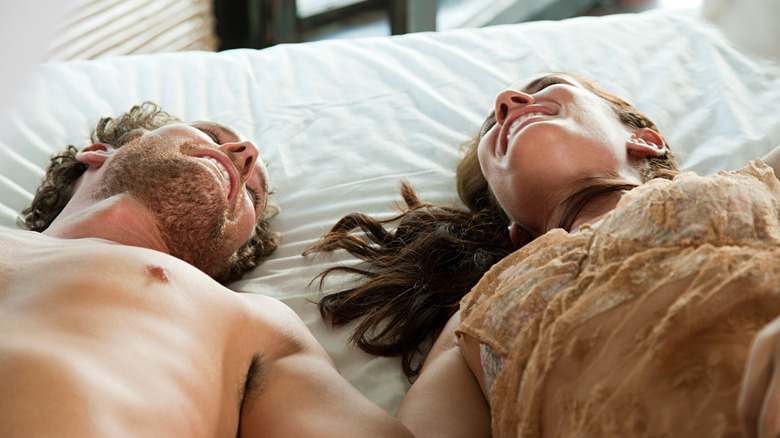 Image Source/Getty Images
While most of us have fantasies, very few of us are sharing them with our special someone — no matter how much we want to. In fact, according to Healthline, even though 77% of us want to act out our fantasies, less than 20% of us have ever brought it up with our partner.
"The truth is a lot of couples lack creativity in the bedroom and often feel that things become boring, so their sex life dwindles down," notes psychologist and sex therapist Dr. Christopher Ryan Jones in Brides. He says he encourages his clients to share and act out their fantasies, allowing them to "feel the sense of excitement and exploration that they did earlier in their relationship."
To broach the subject of fantasies with your partner, clinical sexologist and certified sex counselor Ava Cadell, PhD shared with Women's Health that it's best to keep things light and fun at first. "Playfully tell your partner that you have fantasies you would like to share with them." She said if they're open to the idea, start with the "mild ones," like making out in public, or doing a little dirty dancing.
Fantasies can improve your relationship with your partner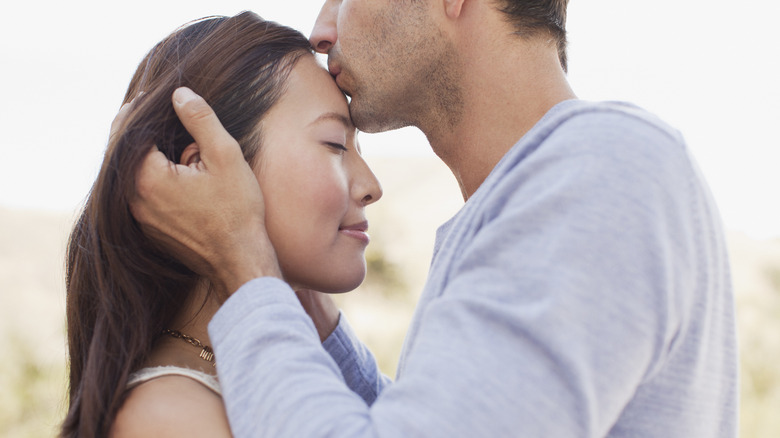 Sam Edwards/Getty Images
While Brad Pitt may make an appearance here or there, most of us are quite familiar with our fantasy partners, which is a good thing. Psychologist Justin Lehmiller, with the Kinsey Institute, did a study about fantasies and shared his findings with CNN. "My results suggest that the one person who is most likely to appear in your sexual fantasies is — believe it or not — your current romantic partner."
In Psychology Today, Gurit E. Birnbaum, PhD, said fantasies about your partner can lead to favorable changes in your relationship. In a study she and her colleagues conducted, they found, "when participants fantasized about their partners, they viewed the relationship in a more positive light and acted more nicely the next day, engaging in behaviors that improve a relationship," citing affection and compliments.
Sharing your fantasies with your partner can be an intimacy booster, as well, as it takes a level of trust and vulnerability to reveal your deepest desires. "When we [open up], we often find that intimacy grows deeper and our connection to our partner becomes stronger," shares sex and relationship therapist, Dr. Tammy Nelson. "Even if we never enact any of our fantasies!"