What You Need To Know About Silk Nail Wraps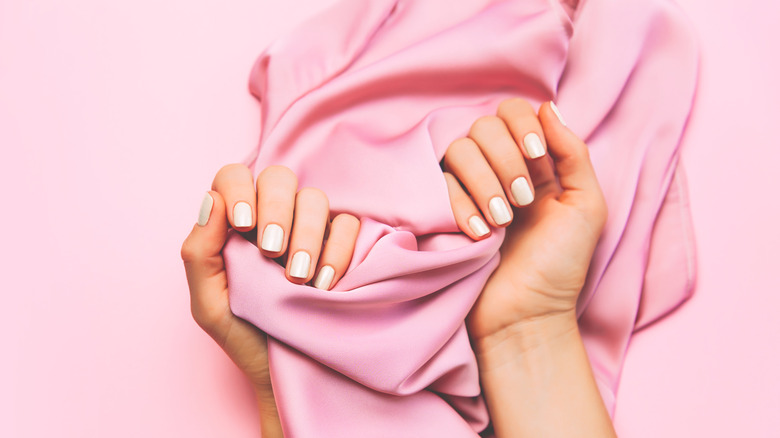 Nadin Panina/Shutterstock
Just like hair and beauty trends, nail trends are constantly changing. Those who love a good manicure may find it hard to keep up with what's in style. This year, the biggest nail trends made a statement, with everything from stiletto nails (think long, pointy nails) and nails adorned with bling to neon french tips, animal prints, and nail art. But there are also a ton of outdated nail trends that are coming back, including square-shaped nails and silk nail wraps.
A silk nail wrap is a process of wrapping silk around the nail to help strengthen the nail and add beauty, per Nail Art Gear. And if you have heard of silk nail wraps before, it's because they once gained mega popularity in the 1980s before acrylics came into play and became the hot nail trend. But now, silk nail wraps are making a huge comeback. Before you head to the salon and ask for this treatment on your nails, here's what you need to know.
Why should you choose silk nail wraps over other methods?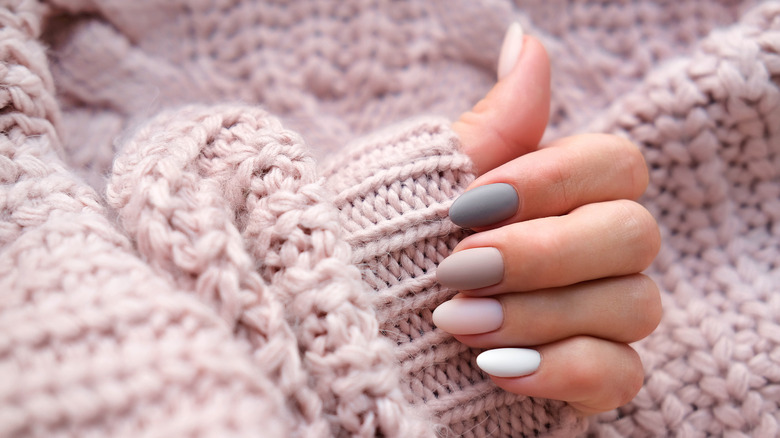 Irina Tiumentseva/Getty Images
Anyone can ask for silk nail wraps at the nail salon, but the technique is best used for those who experience weak or brittle nails, as Nail Art Gear reported. Popular nail methods, specifically gel manicures, can damage nails, and those who already have thin, soft nails may have issues with gel making matters worse. Silk nail wraps combat that issue, giving you a beautiful, shiny look while also working to strengthen your nails.
According to PopSugar, this process is also great for people who may have a broken or torn nail. In fact, many nail salons only use silk nail wraps on certain nails, rather than all the nails, to help fix tearing. And while silk nail wraps are great for repairing damage, they may limit your nail style. If you are hoping for the stiletto nail made popular in 2022, silk nail wraps aren't for you. Instead, those who love a shorter, simpler nail should consider this method.
The cost and application of silk nail wraps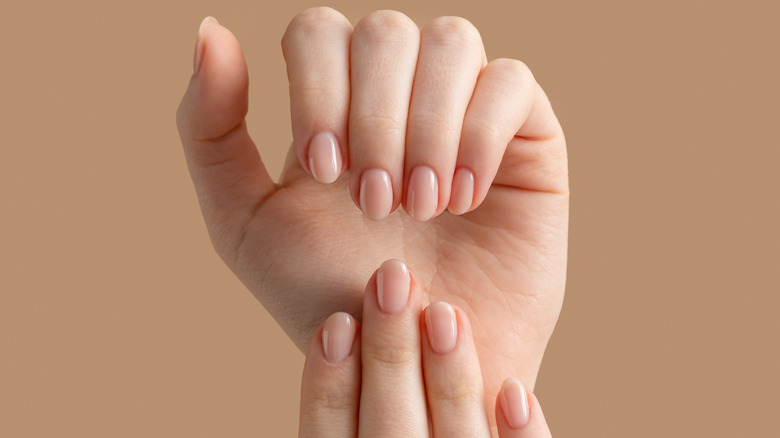 Mariia Kokorina/Getty Images
Many nail salons have silk nail wraps on hand for broken or torn nails. But for those who want to embrace the trend and have it on all their nails, the process is actually quite simple. PopSugar reported that, as you'd probably guess, it requires a nail technician to wrap a piece of silk around your nail. It is a peel-and-stick method that attaches to the nail through an adhesive. Nail glue is applied to the top of the nail to keep it in place and then the manicurist will buff out your nail to make it look natural. You can then have your nails painted on top of the silk. 
According to We Heart This, you can expect your silk-wrapped nails to last about two weeks, a similar timeline to gel manicures. But, the cost of silk nail wraps is usually much less than a gel or similar manicure option. While the actual price will differ by nail salon, Nail Art Gear confirms that due to its simple application and the small amount of material used, it is usually a much cheaper option. So if you are concerned about your brittle nails, ask your salon for a silk nail wrap and watch your nails transform.