Everything You Need To Know About The Art Fashion Trend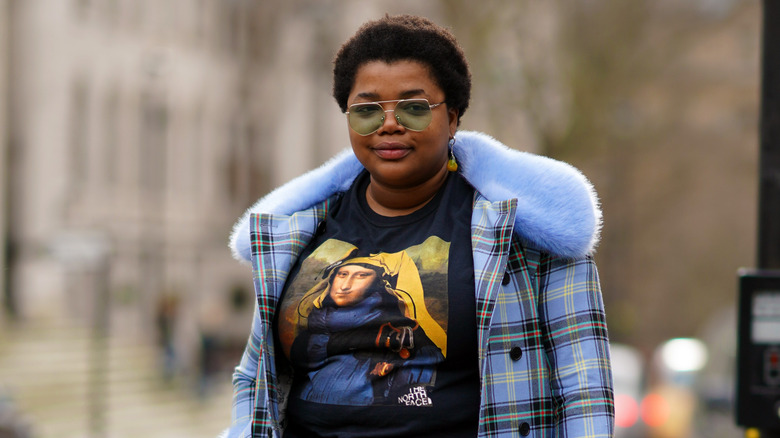 Edward Berthelot/Getty Images
We may receive a commission on purchases made from links.
Paris Hilton, the favorite pop culture princess of the early '00s, was known for her party girl persona, her penchant for little dogs, and a collection of memorable graphic tees. In 2001, the heiress debuted her infamous "got blow" tank top paired with another Y2K style staple: low-rise bottoms (via W Magazine). In 2003, she posed in a shirt that read simply, "Queen of the Universe." Hilton later explained to Vogue, "[Y2K fashion is] really about just being as extra as possible." The tabloid icon played into her public image with statement pieces like an "I heart shoes bags & boys" top.
Though graphic tees are making a steady comeback along with other early 2000s staples — you can buy Britney Spears' famous "Dump Him" shirt on Amazon and super low-rise pants at Urban Outfitters – other splashy styles have become similarly popular. Notably, the art fashion trend is a modern way of highlighting your personality without relying on pithy statements like "Don't Be Jealous" or "Dude, Where's my Couture?" (via i-D). High-profile designers like Jean Paul Gaultier and Dior have experimented with the style, but you can also see the combination of fashion and art on Target's shelves or even on the set of Netflix's "Emily in Paris." How can we forget Mindy's Maison J. Simone embellished maxi from the very first episode of Season 3? Here's everything you need to know about the art fashion trend before dawning a Van Gogh-inspired dress yourself.
Artists and fashion houses are joining forces
In the words of Ida Petersson, womenswear buying director at Browns in London, "Our customers respond incredibly well to pieces that tie into the art world." Perhaps most importantly, art fashion supports painters and illustrators beyond the confines of a gallery or museum. Notably, Prada collaborated with eight female cartoonists in their Spring 2018 collection, debuting comic book-inspired bags, blazers, and tops (via Who What Wear). You can buy similar pieces like Reformation's newsprint pants or Dolls Kill's Archie Comics skater skirt.
Celebrities like Emily Ratajkowski and Ariana Grande have also worked to popularize the trend. The "Blurred Lines" star debuted a Carrie Bradshaw-style newspaper-print dress at 2022's New York Fashion Week, and Grande's Michelangelo-inspired Met Gala dress will always be one of her top looks, per Glamour.
In recent years, designer Paloma Lanna, founder of Paloma Wool, has worked with visual artists like Sophronia Cook and Jacopo Pagin. As she explained to Who What Wear, "I was as interested in art as I was in creating clothes, so I decided to focus less on typical fashion concepts and more on artistic exploration." Similarly, Stella McCartney joined forces with Japanese artist Yoshitomo Nar in 2021 to create a memorable gender-neutral collection (via Harper's Bazaar). And even more recently, ​​Louis Vuitton collaborated with Yayoi Kusama, a renowned contemporary artist known for her use of polka dots.
Fashion breathes new life into famous paintings
"Wearing art is a way of showing that you're in the know," Ida Petersson told Who What Wear. However, it's also a way of highlighting your personality — just like a Y2K graphic tee. As professional stylist Sandra Okerulu predicts for Insider, art-inspired fashion will only grow in popularity throughout 2023, whether you're looking for a "Starry Night" tee shirt or "Girl with a Pearl Earring" pearl earrings. Nearly a decade ago, Vogue reported on the "Art Sock" trend, a fad that isn't showing signs of slowing down. Nowadays, you can buy famous painting-inspired socks everywhere, from Walmart to Etsy, or even upgrade to a designer "Birth of Venus" corset top on Wolf & Badger. Want to wear a Renaissance painting on your pants? Look no further than Cider.
Similarly, designer Ariel Adkins incorporates centuries-old paintings into her handmade styles. "I have always loved clothes and consistently spent a lot of time putting my outfits together, so it felt natural to say, 'Well, I love art, and I love clothes, so why not combine the two?'" the Artfully Awear founder said to The New York Post. "I also do commissions," she explains. "Usually, the client chooses a work of art that's meaningful to them."