What's The Lifespan Of Lip Fillers?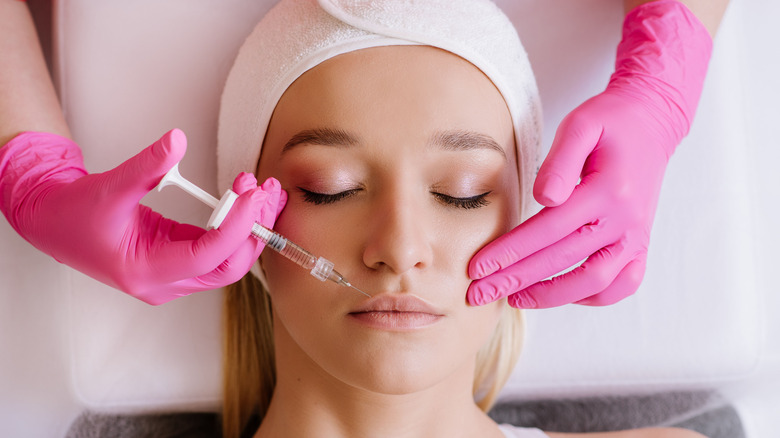 Bolyuk Studio/Shutterstock
Before Kylie Jenner announced that she had lip fillers in 2015, the idea of injecting your face was often something left to the uber rich and famous. But as injectables have gotten safer and easier to come by, more and more people are opting to change things up a bit with a syringe.
When we think of injectables, we often think of Botox in the forehead to prevent wrinkles, but other types of filler have gained popularity in the past few years. According to Artisan Clinics, dermal filler is used for everything from the jawline to the eyes, but the most popular use of dermal filler is for the lips. 
Whether you are looking to plump your lips or want to fix an asymmetrical pout, a small amount of filler can do that for you. And while lip fillers are now being seen everywhere, it's important to know what to expect before getting it, mainly how long they actually last.
Lip fillers may not last as long as you think
Marina Demeshko/Shutterstock
The decision to get lip filler is a big one. While the process is actually quite simple, it is not only expensive — per Care Credit, you can be looking to pay anywhere from $400 to $1400 on lip fillers — it is also a procedure that has a risk of side effects like swelling, bruising, infection, and bleeding and can lead to more dangerous things like loose lips, asymmetry, and even blindness.
Overall, though, the procedure is quite safe. If you have found the right injector and feel good about your decision to plump your lips, you should know how long it will actually last. According to Self, the average duration is anywhere from six months to a year, with many people reporting that their filler lasted a bit longer, up to 18 months. For some, lip filler dissolves quicker than others, which many doctors think points to your metabolism (a higher metabolism = a quicker fade). 
But the longevity of your filler will also depend on the size of your injections and other unknown factors. There is also the idea that many people believe their filler has faded simply because they have gotten used to seeing their lips plump, causing many people to run back to their injector before they really need to.
What to expect from lip fillers
Prostock-studio/Shutterstock
If you are ready to make the commitment to lip filler around once or twice a year, it's important to know what the procedure actually entails. But fortunately, if you are weary about needles or pain, lip fillers are actually quite easy and painless. According to Self, the entire procedure only takes about 30 minutes and the majority of that time is waiting for the numbing agent to kick in. Once the actual injections start, it is simply a few pokes on your lips and viola! You will instantly have plump lips.
According to Cleveland Clinic, before you can go in for your appointment, you will likely meet with a doctor or healthcare provider to discuss your needs and wants and ensure you are healthy and do not currently suffer from cold sores or canker sores, which can be made worse by the injection. After the procedure is done, you should expect to experience swelling for up to 48 hours, but it may take a full two weeks before your lips are completely done swelling, and you will likely be encouraged to ice and massage your lips.