The Makeup Product You Need For Nailing The Trending Graphic Eyeliner Look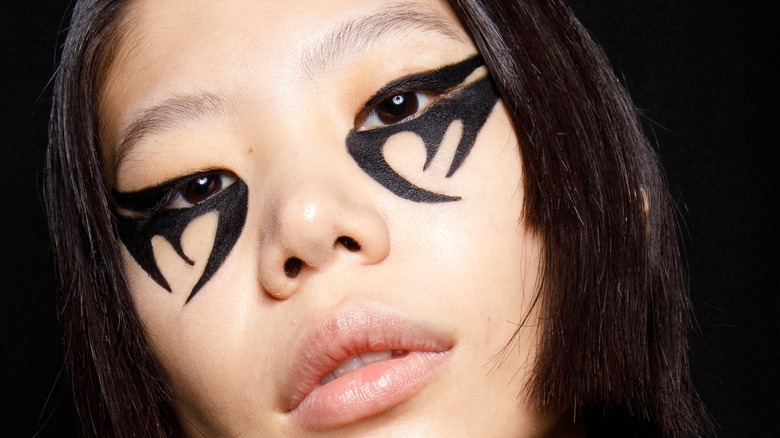 Rosdiana Ciaravolo/Getty Images
If you plan on going more graphic with your eyeliner, it's time to join the club. Per PopSugar, bold, artistic eye looks will be taking over in 2023. According to the director of artistry and education at Kevyn Aucoin, Nick Lujan, "Graphic eyeliner uses striking geometric shapes and pops of color to draw attention to the eye." 
From bright colors to intricate designs or even just the perfect cat eye, there isn't just one way to do the graphic eyeliner trend right. There is, however, one way to execute your graphic liner look of choice to perfection. The trick is in the product — though, of course, a very steady hand doesn't hurt, either.
As makeup trends progress and change, so do the methods folks use to improve their beauty routines. With graphic eyeliner on the rise, products that will make sharp, precise lines and saturated, vibrant pigment are going to be all the more necessary to getting the look you want. CTZN Cosmetics co-founder, Naseeha Khan, told Byrdie, "Many of the trends we can expect to see in the new year will focus on the eyes, and with that in mind, it makes sense that we're beginning to see different products and methods of doing eye looks start to emerge." 
One of the most popular ways to make the graphic eyeliner trend your own is a little something called water activated eyeliner, and you're going to want to get your hands on this stuff.
What is water activated eyeliner?
Chances are, water activated eyeliner is very different than the eyeliner you're used to. On the other hand, according to Cruelty-Free Kitty, if you've painted with water colors, you know how water activated eyeliner works. Water activated eyeliners, which you may have also heard referred to as "cake liners," look more like eyeshadow than eyeliner, since they come in pots or palettes. In order to transform them into eyeliner or, as the name says, "activate" them, they need to be mixed with water. Dipping a damp liner brush into the liner does the trick, and then you can paint around your eyes just like you did with water colors as a kid.
Naseeha Khan told Byrdie, "It's great because it's easy to use and very pigmented, so you don't need to add multiple layers to get a strong color. It also dries matte, so if you want to add other colors, they won't mix or blend in if you wait for them to fully dry." 
With bold pigment combined with the precision that you can get with an angled eyeliner brush, this liner is ideal for graphic liner looks. If you're thinking that water activated and waterproof are opposites, you're right. Shedding a tear during your rewatch of "The Notebook" or forgetting your umbrella at home on a cloudy day could spell disaster for your graphic eyeliner. Luckily, a little setting spray does wonders, and watery eyes aside, water activated eyeliner is actually smudge-proof.
Using water activated eyeliner for graphic makeup looks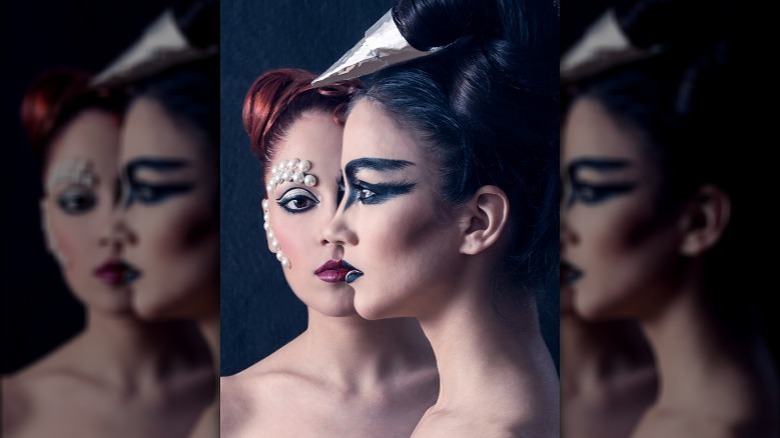 Alexiszernescu/Getty
Eyeliner you need to "activate" may feel like it adds steps to your makeup routine if you're used to simply swiping a pencil liner across your lids. In reality, though, using water activated eyeliner is way easier than it looks. You can dip a damp eyeliner brush right in, or per the tutorial by makeup artist, @yvaexpressions, you can add water straight to your eyeliner and mix. Then, swatch the liner on your arm to make sure you've achieved the perfect consistency. From there, apply your liner in whatever shapes your graphic liner-loving heart desires. You'll be amazed at how much control a brush will give you over an eyeliner pencil, and you don't need a sharpener for precise lines. 
Water activated eyeliner isn't just for complex looks. Naseeha Khan, told Byrdie, "If you want to achieve a traditional wing, simply start by dragging your brush across your top lash line, starting from halfway to ¾ of your inner eye. When you get to the outer corner, drag the brush slowly out in a small 'flick' motion and fill in as desired." 
You can actually turn any waterproof eyeshadow into a water activated liner by adding water to it. Per Khan, "One common mistake is not fully mixing the water into the product, or over/under watering it," so swatch your homemade eyeliner to ensure your mixture is right.