This Graphic Eyeliner Trend Isn't For The Faint Of Heart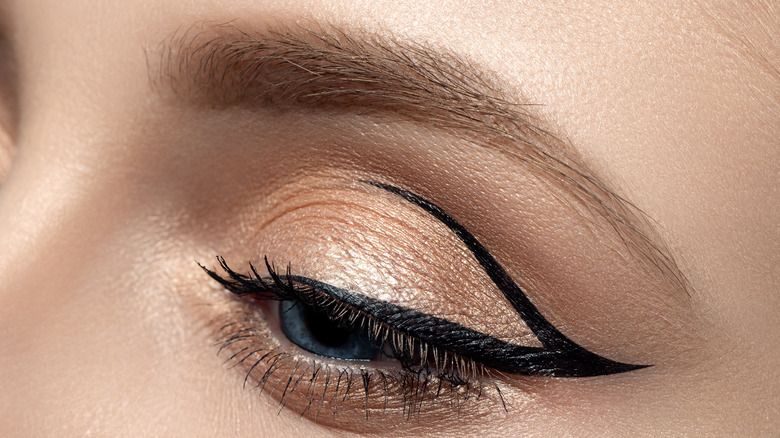 Shutterstock
Creating the perfect eyeliner look can be tricky. Sure, it is bold, makes a lasting impression (or at least an impression), and is fun to experiment with. But in reality, applying any type of makeup so close to our eyes can result in looking less cat-eyed vixen, more hot streaky mess. Luckily, there is a makeup trend involving eyeliner that is just as bold, but doesn't require us to get up close and personal with our tear ducts. The look is called graphic eyeliner. But just because it's trending doesn't mean it's for everyone. 
Makeup artist Katie Jane Hughes likes to describe the graphic eyeliner trend as the "floating crease." "It's this graphic, Twiggy-like line between your lash line and brow," she explains. "It's different from a cut crease in the way that it's graphic and simple, rather than heavily blended and layered" (via Refinery29).
We sure do enjoy when makeup is simple. And apparently, many others are jumping on the simple yet graphic eyeliner bandwagon as well. But if you're going to try it out, make sure you're ready to be noticed.
Graphic eyeliner is bold and dramatic
"I think some people crave that simplistic look because much of Instagram is the opposite," muses Hughes, adding, "I like to use a freshly sharpened pencil and etch the line bit by bit, then use a pointy cotton swab to clean it up" (per Refinery29).
Still feeling gun shy? Or should we say, pencil shy? We get it. Oftentimes, the simplest looks are the hardest to achieve since there is little to no room for error. Trend reviewer Phoebe Avison explains her tried and true method to creating the look. "At first, I felt intimidated by the boldness of this look, but I realized I could break it down by drawing myself a stencil of sorts," she says. "I used a lighter colored eyeliner to roughly mark out where I wanted to draw next, before going in with a black kohl eyeliner" (via Bustle).
We have to say we're intrigued by this eye makeup trend. It is original and bold, and carries less risk of the streaky mess that other eyeliner looks can sometimes (or oftentimes) turn into.