Days Of Our Lives Star Peter Reckell's Poignant Tribute To Late TV Dad John Aniston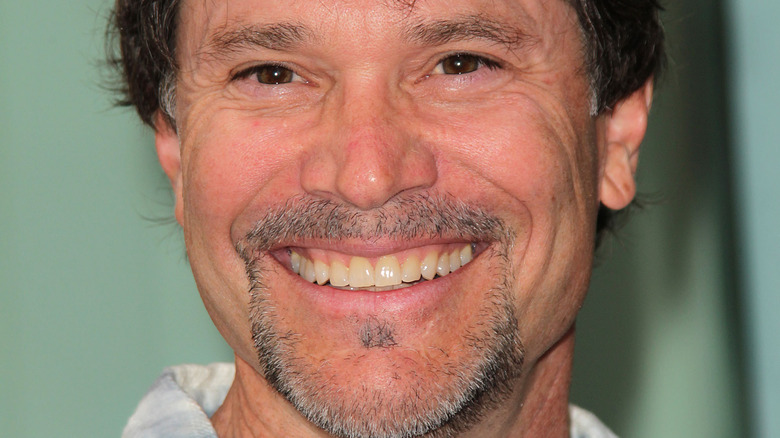 Frederick M. Brown/Getty Images
For nearly 30 years, Peter Reckell has been a fan-favorite playing Bo Brady on "Days of Our Lives." Throughout his life, Bo thought Shawn Brady Sr. (Frank Parker) was his dad, but eventually learned that ruthless villain Victor Kiriakis (John Aniston) was actually his biological father. When Bo learned of his paternity, he secretly worked hard to take down Victor's criminal organization — while Victor simultaneously tried to get his son into his nefarious business. Bo's mother, Caroline Brady (Peggy McCay), asked Victor to stay out of Bo's life. At her behest, Victor created fake documents claiming he wasn't Bo's father due to sterility. He then disowned Bo who ended up leaving Salem with his wife, Hope Brady (Kristian Alfonso), per Soap Central.
Down through the decades, Bo and Victor have clashed. As Soaps in Depth reported, Victor even tried to kill Bo at one point, but accidentally injured Carly Manning (Crystal Chappell). Victor later had a change of heart, tasking Dr. Daniel Jonas (Shawn Christian) with curing Bo's pancreatic cancer. Victor would eventually start to soften and change his criminal ways. Years later, Bo would ultimately succumb to a brain tumor. However, Reckell recently returned as Bo to the streaming mini-series, "Days of Our Lives: Beyond Salem," much to the delight of the viewers.
Aniston died on November 11, and Reckell recently warmed the hearts of "DOOL" fans by reminiscing about his late co-star.
John Aniston gave Peter Reckell jokes and wisdom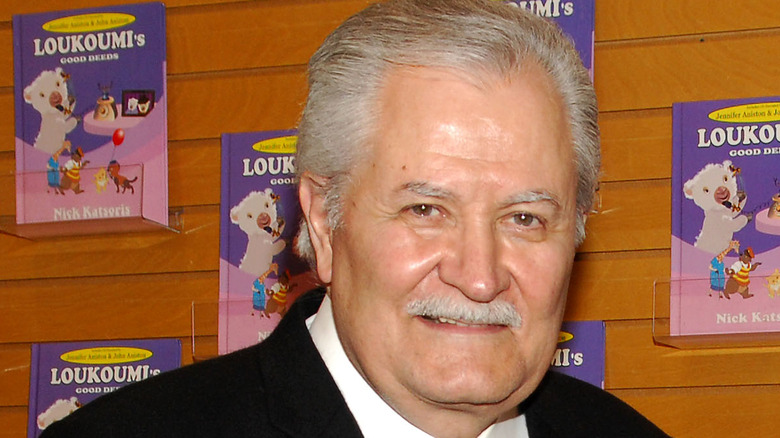 Rob Loud/Getty Images
"Days of Our Lives" posted videos of the show's actors paying tribute to the late John Aniston on Instagram. In Reckell's video he reminisced that before their work days would begin, he would go to Aniston's dressing room where, "I was always greeted by at least two or three jokes and some wisdom." Aniston's advice ranged from stock market tips to how to navigate rush hour traffic. Reckell tearfully cited the fact that he and Aniston did some amazing work portraying father and son. He added that one important thing the veteran actor taught him was to, "Never get caught acting. ...Whenever I looked at him when we were working, he was just my dad. And I'm gonna miss him a lot." Fans were touched by his sentiment.
Reckell also retweeted a post on Twitter that announced Aniston's final "DOOL" episode, writing, "Adding John to the cast of DOOL added so much to the show. He brought many different colors and depth of emotion not only for his character but to many storylines. The humor, strength, vulnerability, and passion was evident in everything he did."
While several fans admitted to crying during the tribute, another affectionately replied, "I loved your story with him. Y'all were great and so natural together. Nothing like the s/l [storyline] of 80's and 90's." Echoing the heartwarming thoughts, one viewer wrote, "You will truly missed and loved by all!!! R.I.P. John Anistion."