How To Ace The Celeb-Approved 'Puppy' Liner Look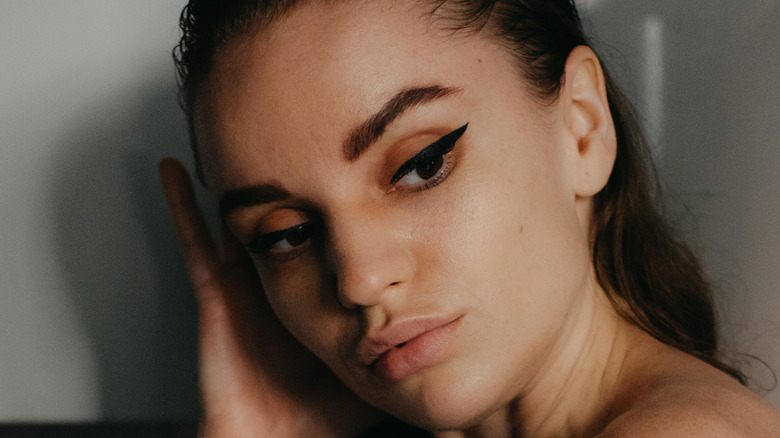 Iryna Imago/Getty Images
If you haven't heard of puppy liner before, this may be the first time, but it definitely won't be the last. This eyeliner look is taking the beauty world by storm. Not only is it the newest trend, but it's actually going to turn lot of our eye makeup routines upside down –– literally.
Puppy liner was featured on Vogue's list of weirdest beauty trends of 2022. We all know that sometimes yesterday's weird is today's hottest trend, and we have a feeling puppy liner is the perfect example of that. It seems that makeup trends, like many others, come and go, and many of them are simply add-ons to our daily beauty routine — which many of us spend less time on than you'd think. 
What makes puppy liner different, though, is that it makes a major change to one of makeup's most classic, lasting staples. Puppy liner modernizes classic eyeliner, and it does so with one ever-so-subtle change.
What is puppy liner
Pretty much anyone who's ever applied makeup knows about cat eye eyeliner. According to Vogue, the classic cat eye has been around since all the way back in ancient Egypt. Unlike most trends, this one persisted, and some version of it has almost always been in style. These days, though, trendsetters are giving up the feline style eye for something a bit more canine-inspired.
Per Allure, the puppy liner trend started in Korea, and now not only are stars like Billie Eilish sporting the look to their birthday parties, but #puppyliner has earned itself over 30 million views on TikTok. What makes this makeup trend special enough to get that much attention is that it's a subtle change to your makeup that packs a big punch. Puppy liner is meant to follow your own eye shape. Yep –– the concept is actually that simple. Rather than flicking upwards at the outer corner of your eye, it continues downward. Byrdie says to achieve the look, add bottom liner that meets your top liner at a point. The look is finished by doing a bit of liner smudging to make the lines look softer and less precise.
How to perfect the puppy liner trend
If you typically include a cat eye in your makeup routine, puppy liner will be a breeze for you to accomplish. Per Byrdie, start either with a gel eyeliner or a pencil liner. This is key for a look that's designed to look a bit smudgier, rather than graphic and sharp. Apply the liner as you would normally to your upper lash line, but slope downward, rather than up. According to Allure, you should make sure that you're following your eye's natural line and not creating a downward line that's too exaggerated. 
The next step is lining your lower lash line. Makeup artist, Dema Jaber, recommends a kohl eyeliner for this step. She told Byrdie to "bring it out to meet the gel liner by smudging it out giving a soft smokey effect. The kohl gives a softer look for everyday wear and you can build it up and make it more of a dramatic smoked-out puppy eye if you want." If you're looking for extra drama, finish by outlining the lines you've made in liquid liner.
In her YouTube tutorial, makeup artist, @ByJeannine mentions how much easier this eye look is for those of us with naturally downturned eyes or hooded eyelids. For folks who are used to struggling to make an upwards flick fit with their eye shape, this look will totally change your eyeliner game. Thanks to puppy liner, there can be puppy dog eyes for all –– no crocodile tears required.