Over 40% Of People Spend Less Time On Their Daily Beauty Routine Than You Might Think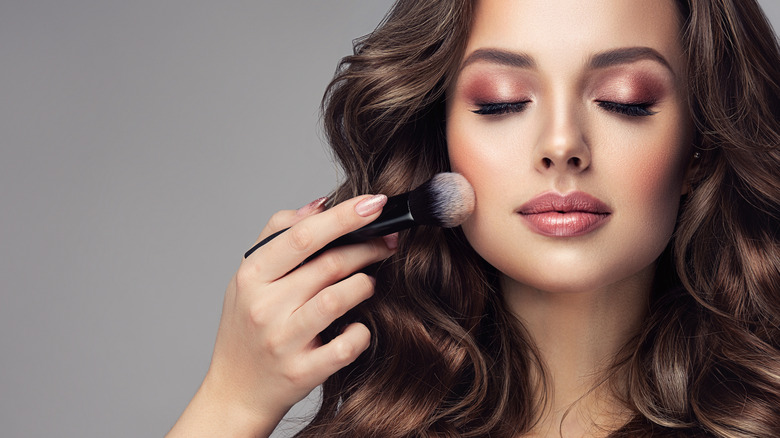 Sofia Zhuravetc/Shutterstock
The benefits of a daily beauty routine can be long lasting and varied. According to Cosmetics Design, the lockdown at the start of the ongoing COVID-19 pandemic inspired people to think of beauty as a form of self-care. Video chat services, a focus on health, and the urge to feel good about our personal appearances and the skin we live in led to certain people turning to the beauty industry in a time of need. Of course, we already know that there are benefits to wearing makeup and taking care of our skin and hair.
Kosmetik Beauty noted that beauty products serve a variety of purposes. For example, they can provide a self-esteem boost and might even serve as a protective layer applied atop your skin. More subliminally, there's something exciting about playing with makeup and being creative. For some people, a beauty routine might be just that — a checklist that you work through in the morning. Others view it as an opportunity to feel better about themselves and express their creative side.
So how much time do you need to block off in your day to reap all the benefits of a daily beauty routine? If your days are already packed, get ready to breathe a sigh of relief. The List surveyed 573 people about their daily routine and found that these good habits can be completed in a surprising amount of time.
Shorter beauty routines save time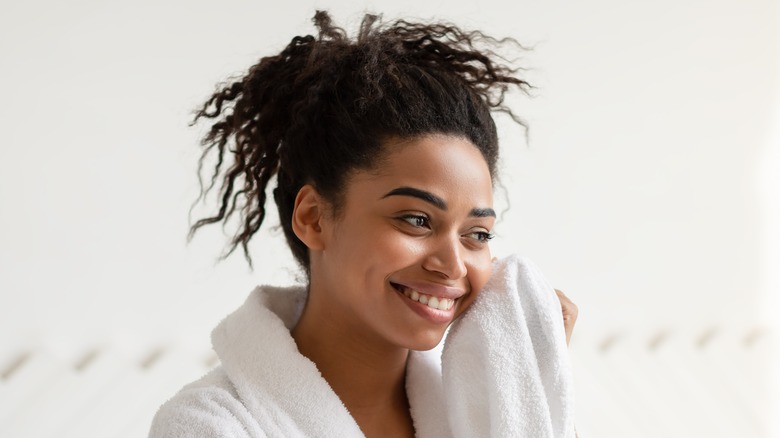 Prostock-studio/Shutterstock
It looks like living in the era of the "clean-girl" beauty trend and minimalistic skincare might be changing how long people spend on their daily beauty routine. The List discovered that over 40% of people surveyed spend less than 15 minutes on their routine. The second-highest group spent between 15 and 30 minutes on a daily beauty routine. On the other end of the spectrum, only a little over 2% of respondents spent between one and a half and two hours or over two hours on a regimen.
These numbers differ sharply from a 2016 study conducted by the U.K.'s Superdrug, which found that women were spending 40 minutes on a routine that featured a whopping 27 steps, per Yahoo! Life. Two years earlier, Women's Health reported that the average number was even higher — 55 minutes a day, which translated to a full two weeks of beauty prep each year. Believe it or not, 2022's survey results are more in line with the amount of time people spent getting ready in 2006. 
Times have clearly changed, which is welcome news for people who want to use their time on other pursuits. What caused the difference? We can't say for sure. But more minimalistic trends are now ascendant. The "clean-girl" aesthetic, for example, focuses on five steps instead of 27. Women's Health shared some tips on how to speed up a routine such as combining steps or finding products that answer multiple needs all at once. 
Shave time off your beauty routine using these tips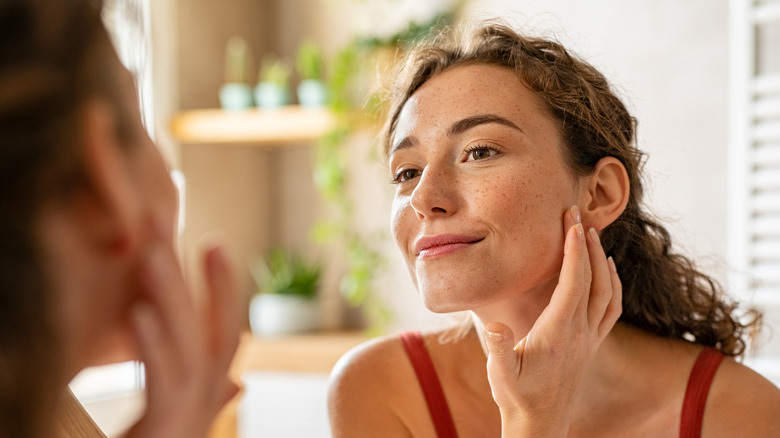 Rido/Shutterstock
If taking some time off of your beauty routine is a goal, then you're in luck. Aside from Women's Health, there are a multitude of tips online that will help you pick up the pace. For instance, Oprah.com came through with a variety of ideas that will make your life easier. They range from putting all of your tools and brushes out on display (which makes it easier to find exactly what you're looking for) to skipping mascara on your lower lash line (which can often get a little messy). 
For those who want to expand the idea of a daily beauty routine, West Coast Aesthetic offers a five-step program. This routine includes washing away makeup at day's end, daily moisturizer and sunscreen, heat protecting products for hair, and lip balm for added moisture. L'Oréal Paris also offered a couple of ideas to bring into your routine if you are looking to use beauty as a form of self-care. Of course the staples are always welcome, but you shouldn't underestimate how restorative it is to use a face mask or to bring out your jade roller from time to time. 
Just make sure that whatever is part of your routine makes you feel good!