The Trending Layered Curve Cut Is The Perfect Low-Maintenance Hairstyle For 2023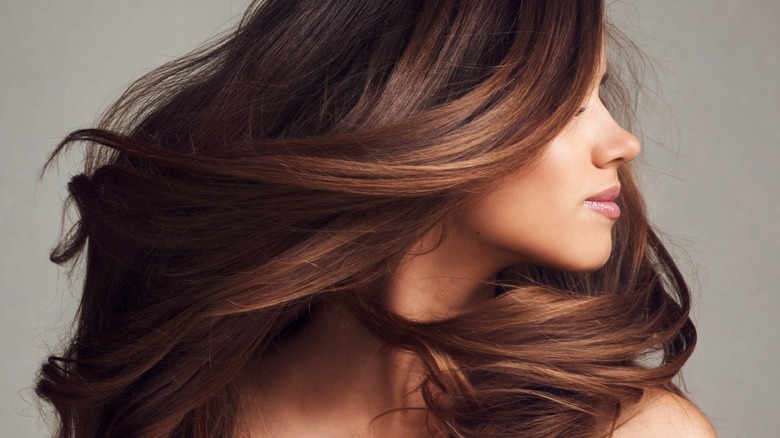 PeopleImages.com - Yuri A/Shutterstock
As we enter 2023, the time is nigh for "new year, new me" transformations. And while the temptation to chop off all of our hair or go for a brand new color is real, sometimes having a low-maintenance haircut means one less thing to keep up with as we work on our larger resolutions.
When it comes to hair trends, think of them as a kaleidoscope of possibilities rather than a measure of what is hot and what's not. Finding the right haircut is all about what suits your face and hair needs best, and of course, what makes you feel beautiful. And while we absolutely appreciate a well-maintained mane, hairstylists believe that one low-maintenance cut in particular will be popular next year, per Allure: the layered curve cut.
As its namesake suggests, this cut is defined by a typically long length, long layers, and swooping ends that add movement to the hair. Dakota Johnson's long locks at the 2022 Met Gala come to mind. She luxuriated in long layers and sported slightly grown-out bangs, giving the style an effortless feel. Blake Lively has also been known to rock the long, layered look with her signature bleach-blonde tresses. If you'd like to try the layered curve cut yourself, here's what you need to know.
How to get the layered curve haircut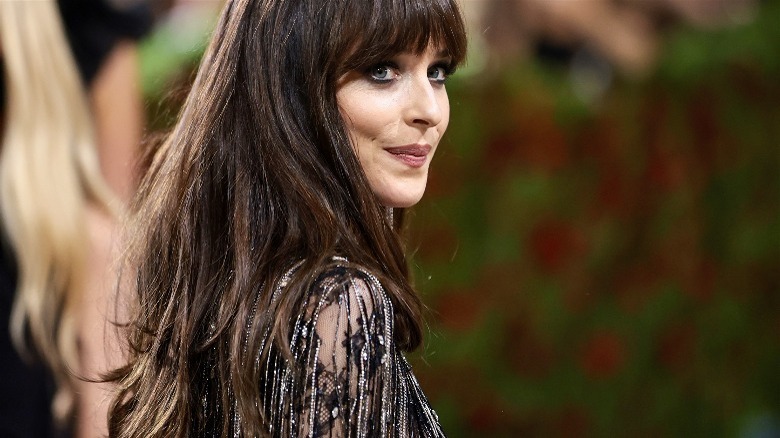 Jamie Mccarthy/Getty Images
To achieve the layered curve cut of your dreams, it is important to use a few specific terms when consulting with your hairstylist to get what you're after. First, you must specify that you want long layers. Technically speaking, your hair does not have to be long to have long layers. Instead, the length refers to the lengths between your hair, where long layers are typically about 2 to 3 inches apart, per Living Gorgeous. These long layers can work wonders for those with dense and thick hair, as they promote movement.
Next, detail the shape you'd like the cut to take. When it comes to layers, there are several cut techniques that produce various shapes to the hair when it's laid on your back, the most popular being U-shape layers, V-shape layers, or a straight line. U-shape layers feature a rounded shape to the hair, and layers are typically more uniform in length. V-shape layers have slightly more dramatic variation in hair length and culminate in a point. Both feature hair that is longest in the back and shortest in the front. Hair that is cut straight across can still include some layering but will likely not produce the same level of movement that U or V-shape layers would. It all comes down to personal preference. 
How to style the layered curve cut
The "curve" part of the hairstyle is mostly achieved by styling; that signature swoop effect is all in the blowdryer. First, make sure you have a large, round brush that can be used for heat styling. The Wigo Large Wood 100% Boar Round Brush from Ulta is gentle on the hair and distributes heat well. It's also wise to use some sort of heat protectant on your hair or an anti-frizz product of your choice. 
Next, divide your wet hair into small sections, about 2 inches each. Take the section of hair, wind it up on your brush (away from your face), and put on the blowdryer facing the same direction. Then, gently pull the brush down your hair with the blowdryer in tandem until you reach the ends. When you release the hair, you should see a nice swoop. This video by Cynthia Dhimdis on YouTube offers a simple visual guide, and here's more on how to blow out your hair at home. 
You can also achieve a swooping effect on your ends using a flat iron. Clamp the flat iron to the ends of a small section of hair, and as you bring the straightener down, curve the tool inward to make a half-circle. Your ends should be swooped without creating a complete curl. This video by Anna Li on YouTube offers a quick tutorial.