This Is How To Blow Out Your Hair At Home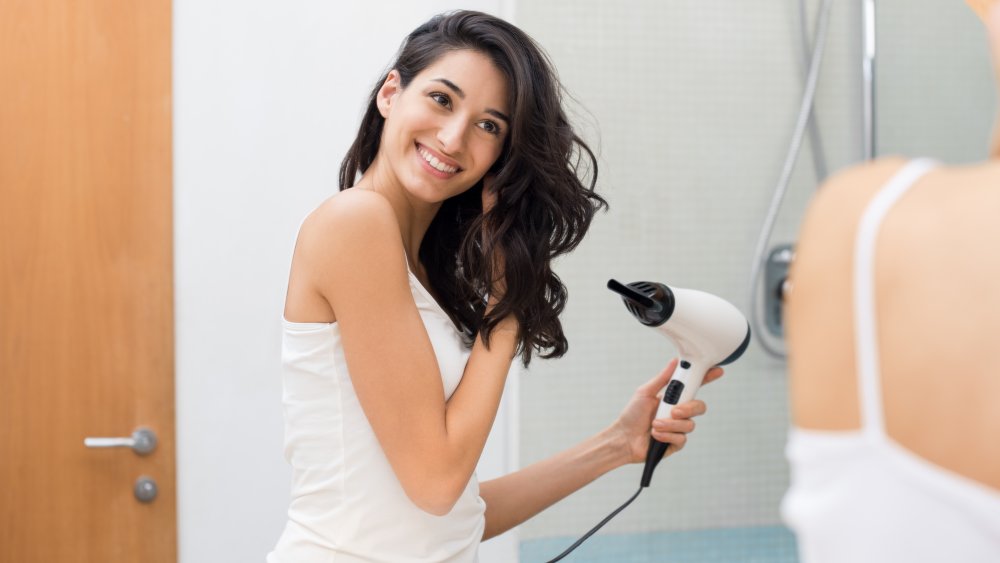 Shutterstock
Whether you have a big day at work (even via Zoom), a fancy dinner, or plans to grab drinks with your friends, a blowout gives you the ultimate confidence boost for whatever lies ahead. With shine and volume, your blowout can help you stand out from the crowd — and you don't even have to leave your home to get one.
The first step involves preparing your mane for its new level of bounce. Start by washing your hair, but avoid towel-drying afterward to minimize possible frizz (via Goop). Instead, blot your hair dry with a microfiber towel or even an old t-shirt. Then, apply your favorite heat protectant and volumizing products and get ready to create your blowout (via Byrdie). 
From here, use a blow dryer gently until your hair is about 70 percent dry (via Allure). The trick is to tease your hair using a bristle brush while you blow-dry at this stage. Then, section your strands using hair clips to make styling and drying more manageable. Hairstylist Halli Binova tells Byrdie, "By sectioning your hair, you're making your blowout a lot more manageable — you can focus on one area at a time and not get overwhelmed or frustrated." 
Then, make sure you have a paddle brush and a round brush ready to go.
Always blow out your hair in a downward direction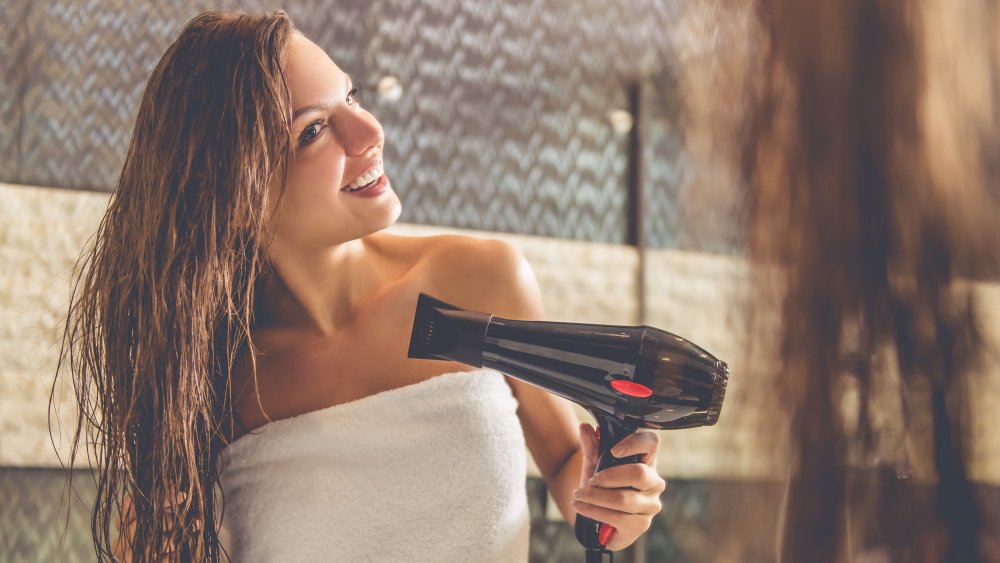 Shutterstock
By ensuring that your hairdryer nozzle faces downwards, you help to smooth the hair cuticle and thus make your hair shinier and more manageable (via Byrdie). Now that your hair is about 70 percent dry, you can get started with your round brush (via Allure). Remember to choose your barrel size wisely when using a round brush, knowing that the bigger the barrel, the larger the curl size. If you're looking for tighter-wound curls, a smaller barrel will work best. 
Start at the front of your head by rolling sections of hair into the brush and applying heat by blow-drying in a downward direction. Keep the round brush in place until the section of hair cools to make your bounce long-lasting (via Allure). Continue this process around your crown as you aerate your strands and add bounce. Using a slightly lower heat setting may be beneficial as well since heat can minimize volume.
Once you've finished, add a finishing spray or cream to keep your blow out in place. This process may take some time to get down pat, but soon you'll be showing off a near-perfect salon look.