Is Your Hair Gel Causing Hair Loss?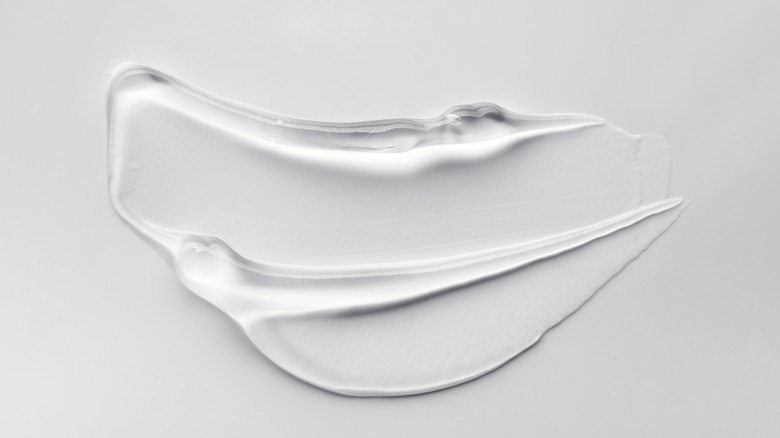 fotaro100/Shutterstock
From mohawks styled by Gorilla Snot to sleek clean-girl beauty buns and ponytails made with Eco Styler, artsy baby hairs created with Got2Be Glued and wash and go's formed with Aunt Jackie's, hair gel is a staple product for people of all hair types and lengths. Whether our hair defies gravity or grows downwards to form long, flowing locks, we use it to construct hairstyles that seem impossible without it.
Throughout time, using a gel-like consistency to style the hair has been a common practice. According to Vitaman, Ancient Egyptians would use fat-based hair gels to do their hair, while Europeans from around 300 BC were found to have used tree resin for gel. In the 19th century, modern hair gel was derived from a household cleaning company in 1929. However, its popularity skyrocketed in the 1960s when the wet hair look was popular for men (via LEAFtv).
Gel is still commonly used to slick hair down, creating a polished look. Yet, the repeated act of brushing down hair too hard can result in hair loss, warns the Chicago Hair Institute. Now, research shows that not only can brushing too hard cause damage, but the hair gels themselves can potentially result in hair loss.
How can hair gel cause hair loss?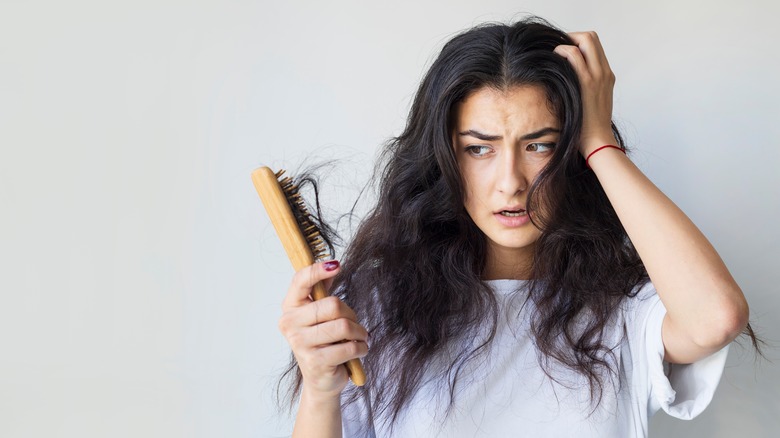 Hazal Ak/Shutterstock
Alcohols are commonly found in hair gels because they evaporate quickly, leaving polymers that hold the hair in place, states weDo Professional. They are also beneficial when it comes to detangling hair. There are two types of alcohol in hair products that serve different purposes and have differing effects.
Short-chain alcohols, says Naturally Curly, dissipate, reducing hydration in the hair as it goes. This increase in dryness can lead to breakage in the hair. Short-chain alcohols are found in styling products to smoothen out the product.
Long-chain alcohols are considered "good" alcohols since they are hydrophilic, thicken products, and make detangling easier. These alcohols are made from fat found in oils. Yet, as weDo Professional mentioned, alcohols found in gel are the ones that dry out the hair, which can eventually lead to breakage, reports Healthline.
Silicones are also commonly found in hair gel, and they behave similarly to alcohols. They help with detangling and hydration and give hair its luster (via Shape). Water-soluble silicones, like long-chain alcohols, don't react poorly to water. They don't cause build-up and can be washed or rinsed out of the hair easily. As for non-soluble silicones, they can build up easily, block out moisture, and can only be removed with a clarifying shampoo. Although a slow process, using non-soluble silicones in your hair can eventually lead to hair loss due to the hair being weighed down, loss of hydration, and harshness of a clarifying shampoo, says SheFinds.
Products to use instead of damaging hair gels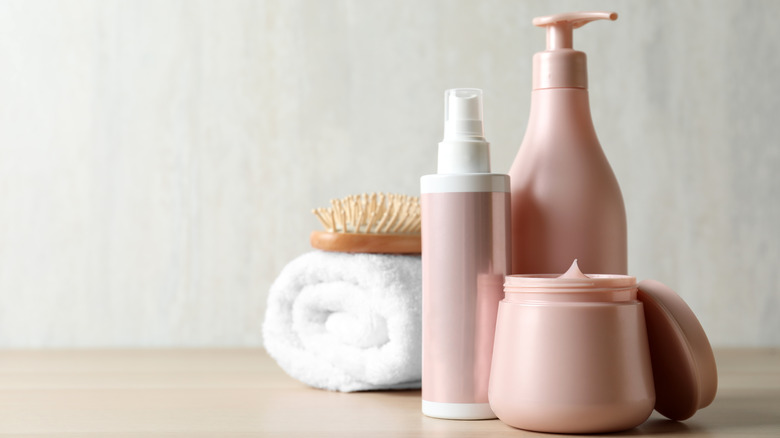 New Africa/Shutterstock
Rather than using a drying hair gel, Bold Kulture Beauty thinks you should switch to a botanical gel. Plant-based and water-soluble, these gels hydrate the hair and keep it in place without causing build-up. The Prose Custom Hair Styling Gel is versatile enough for all hair types because it's customized based on your needs. After a series of questions about your hair type, moisture levels, desired hold, and more, Prose will create a custom gel made from ingredients like red algae, sea moss, and aloe vera.
To tame flyaways and create a sleek bun, try the OUAI Matte Pomade. Made with beeswax and kaolin clay, this alcohol-free pomade banishes frizz and holds hair in place without leaving a dry, crunchy feeling. With a light, floral scent of violet, musk, and gardenia, the pomade can create texture or slick down hair.
The Doux Mousse Def Texture Mousse is a great multi-use product for defined "wash n' go" looks and flyaway-free ponytails. Made with aloe vera and silk amino acids, the mousse creates beautifully defined curls without hardening the hair or leaving it feeling crispy. It provides a gentle yet powerful hold and can be used for twist-outs, buns, and even on the edges.