Are Steam Flatirons The Solution For Healthier Straightened Hair?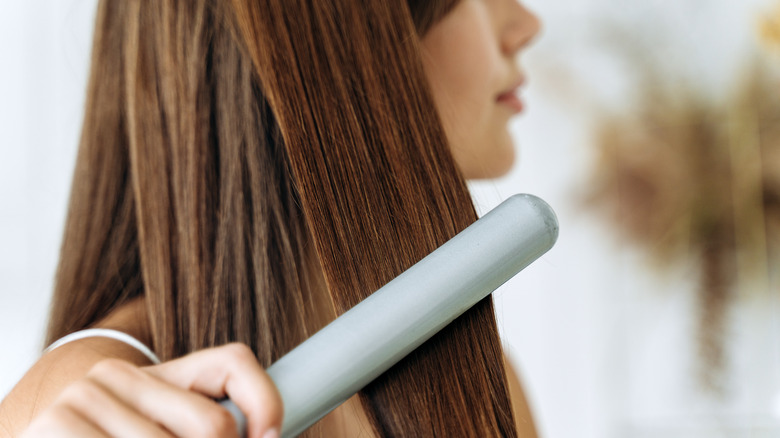 Sklo Studio/Shutterstock
We may receive a commission on purchases made from links.
One of the most popular tools for obtaining stick-straight tresses has to be the ever-dependable flatiron. A flatiron is an easy way to straighten even the curliest of hair. Its wand and flat design gives it a one-up over other hair straightening tools because you can easily twist in bouncy curls if you want to change up your hairstyle, says haircare brand Paul Mitchell.
But there are some who are concerned over the practicality of using a flatiron every day. Per Evergreen Beauty College, straightening hair using a flatiron with a heat setting exceeding 347 degrees is likely to cause damage. Heat damage triggered by prolonged exposure to high temperatures can even lead to hair loss.
Because of these fears, many people are turning to a well-known method of straightening hair: steam straightening. You may have thought steam straighteners were a thing of the past, but the method is once again making headlines as modern steam flatirons hit the market. Since these newer steam straighteners tend to be somewhat expensive, it's good to arm yourself with the knowledge of what they are before you decide that steam really is the key ingredient to healthier straightened hair.
How does a steam flatiron work?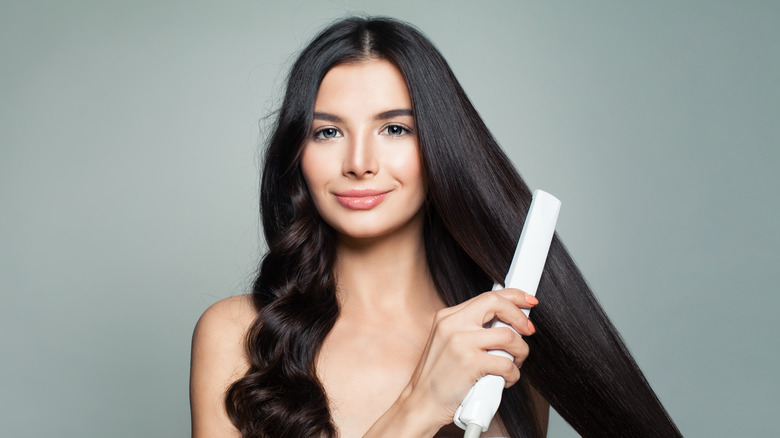 Jnemchinova/Getty Images
Steam flatirons look very similar to their ceramic-plated cousins, so it's easy to get to the two mixed up. What sets the steam flatiron apart is that it is usually built with a water tank, like Le Vapour Infrared Steam Flat Iron comes equipped with. It must be filled before the flatiron can be used. When the flatiron is plugged in and powered, the water inside the chamber is heated and steam begins to generate. As soon as you see steam, the iron is ready to be used.
You may notice that the traditional flatiron can have varied results when it comes to straightening your hair. The L'Oreal Professionnel Steampod promises that steam technology works to give users "consistent flow and smooth, even results." This is achieved by the multiple slots in the flatiron's ceramic plates which allow steam to flow out. When the hair is clamped between the plates, the steam is injected directly into the hair shafts.
Are steam flatirons better for your hair?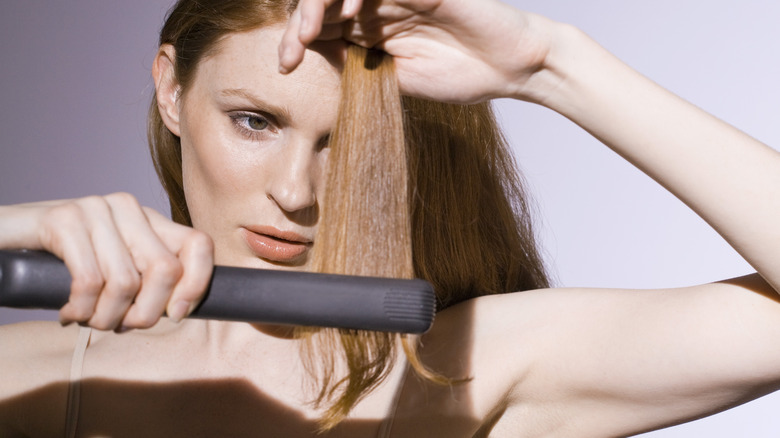 Jupiterimages/Getty Images
Although the steam flatiron and traditional flatiron both have ceramic-plated surfaces, that's where the similarities end. The experts have weighed in, and it turns out that steam flatirons are much better to use for straightening your hair. Tippi Shorter, an artist with L'Oréal Professionnel, explained to Well+Good that steam flatirons are among the best hair straighteners. "The addition of steam to a traditional iron [allows it to] work more delicately on the fabric of your hair," the hair expert stated. "It adds shine, keeps hair softer, and straightens and smoothes faster with less direct heat."
If you have naturally dry hair, a steam flatiron has even more to offer than a regular flatiron. In an interview with Woman and Home, award-winning hairstylist and salon owner Michael Van Clarke broke down why standard flatirons are can be a bit lackluster, stating that "Dry heat tools take a little of this moisture when styling, so they leave the hair vulnerable." On the other hand, steam flatirons give your hair an added boost of hydration that is locked in by your hair's natural porosity (via Hairtoolsy.com). The moisture will help your hair stay silky and smooth all day instead of brittle and dry like a regular flatiron tends to leave it.