15 Best Hair Straighteners Of 2022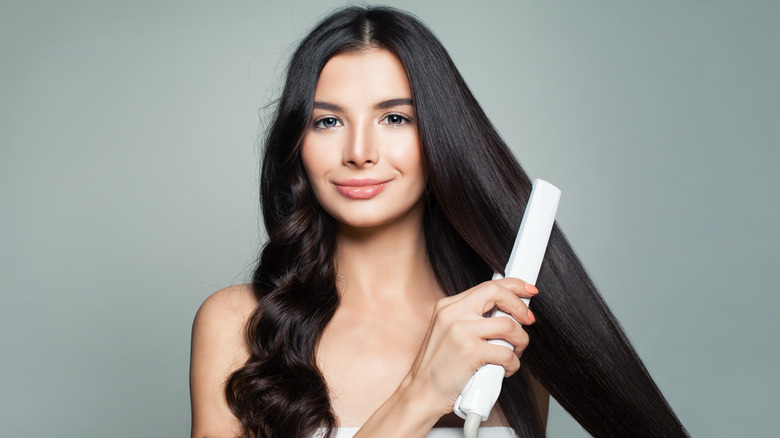 MillaF/Shutterstock
We may receive a commission on purchases made from links.
If you haven't invested in a hair straightener since you were getting ready for junior prom, trust us when we say you're not alone. While you've been holding on to a straightener that's holding on for dear life, hair technology has come leaps and bounds. 
Luckily, there's no need to get overwhelmed by all the options that are out there because we've compiled a list of the best straighteners on the market today. Whether you've got thick hair, frizzy hair, or straight and fine hair, there's an option on the list that's designed for you. There are also choices that fit any kind of lifestyle or hairstyling need — from flat irons that travel well to those that take your hair from wet and tangled to dry and silky smooth. Plus, if you're worried about finding an option that won't break the bank, we've got options at all price points — even under $30. 
How we selected products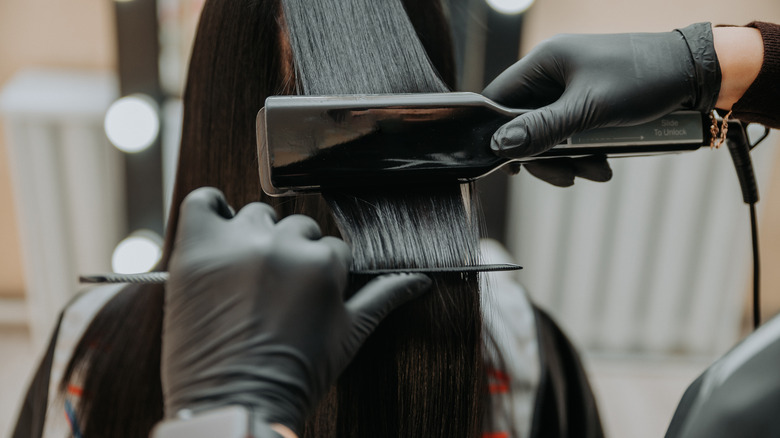 Palchik Kseniya/Shutterstock
When it comes to our hair, we all have very different needs. That's why there's not a single best one-size-fits-all hair straightener. To curate the perfect list of top straighteners, we identified reviewers' favorite flat irons to address each of the most common problems, wants, and needs.
When investing in a beauty tool that you use frequently, it's important to cut through all the marketing and advertising and hear real folks' opinions on the different options that are out there. We checked out real-life user reviews and scoured all the tiny details to narrow down the real best of the best. No matter your hair type, style aspirations, and price point you may have, we've got the straightener that will work best for you.
Best overall
In a world of hairstyling where the Dyson Airwrap is king, it's probably no surprise that Dyson's flat iron is also something for your hair to write home about. There are plenty of pros to the Dyson Corrale Flatiron — from its 30 minutes of cordless usability to its "flight-ready" option that allows you to take this straightener anywhere you go (via Dyson). Yet, as we've come to expect with the best of the best, there's one glaring con: that $500 price tag. 
Still, if you use your flat iron every day, or even most days, opting for a well-made option is a smart investment. This straightener's plates actually mold around your hair, which gives you the ability to create smooth styles with way less heat. And as we all know, less heat equals way less damage. Half the damage, to be exact — at least according to a Dyson hairstylist (via YouTube). 
You can invest in the Dyson Corrale Hair Straightener for $495 on Amazon.
Size: 11.5 x 1.61 x 1.77 inches | Heat Settings: 3 settings up to 410°F
Best for dry, frizzy hair
Many of us have hair that's on the dry side, and this hair type can be difficult to straighten without creating unwanted frizz. As you can tell from its name, the Amika The Confidante Moisture Maintenance Styler is designed to help your hair maintain moisture (via Love Amika). Its metal plates are made to move with your hair, rather than fighting against it, and this prevents the pulling that causes frizz. 
This option also has longer metal plates, which are designed to make your styling time fly by faster than your average flat iron. In fact, one user left a five-star review that says, "Absolutely love this straightener. So easy to curl or straighten with one swipe."
The Amika The Confidante Moisture Maintenance Styler is available on Amazon for $150.
Size: 12 x 1.5 x 2.25 inches | Heat Settings: up to 450ºF
Best for long-lasting style
If you're looking for a straightener that will keep your hair smooth between washes without needing touch-ups, Sephora has the pick for you. What the Sephora Tame: Infrared Heat Flat Iron has going for it that others don't is its use of infrared heat, which allows it to keep your hair moisturized while gently restyling and smoothing (via Sephora). This flat iron will work on any hair type and aims to keep you free from flyaways for longer. 
The Sephora Tame: Infrared Heat Flat Iron is available for $85 at Sephora.
Size: 1-inch plates | Heat Settings: up to 450°F
Best for all hair types
CHI
If you're someone who finds yourself styling other peoples' hair and sharing your beauty tools — whether as a hobby or as a bona fide hair stylist — this might be the option for you. According to CHI, it works the most consistently for the largest group of people. So no matter what type of hair you, your friends, or your clients have, this CHI straightener will get it smooth and styled. 
It's also a breeze to turn on and off. Not only will it reach its desired temperature in only 30 seconds, but it also automatically shuts off after an hour, which is truly a blessing of a feature for those of us with chronic "did I leave my straightener on?!" worry.
You can snag the CHI for Ulta Beauty Titanium Temperature Control 1" Hairstyling Iron for $119.98 at Ulta.
Size: 1-inch plates | Heat Settings: 6 settings up to 410°F
Best for touch-ups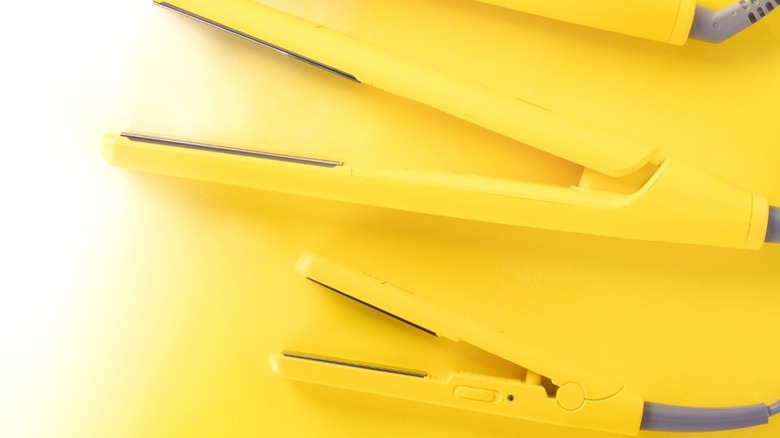 Drybar
If you're someone who often finds yourself wanting to give your hair a quick touch-up, the Tiny Tress Press Detailing Iron from Drybar is a match made in hair heaven (via Drybar). "Tiny" is in this flatiron's name, and at only 6" long, it's extra easy to get to those areas that are usually harder to access, like the back of your hair or your roots. This tool's size also makes it ideal for anyone with bangs, short layers, or consistently pesky flyaways.
This option is also easily packable and comes with a matching carrying case that's designed for you to stick under the hot flat iron to protect surfaces if you're doing touch-ups on the go. Making it even more travel-friendly, this product has universal voltage, meaning you can take it overseas without needing to pack a converter.
The super popular Drybar Tiny Tress Press Detailing Iron frequently sells out, but you can grab it for only $49 at QVC.
Size: 6 x 3/4 x 3/4 inches | Heat Settings: up to 400°F
Best for big volume
When it comes to straightening hair, it can often be difficult to achieve the smoothness we crave without compromising on volume. Luckily, there's a great option if you're looking to get that silky smooth look and feel with big bouncy volume.
The Instyler Freestyle Max looks way different from your average straightener. It's a bit like a flat iron with built-in brushes (via InStyler). Due to its multiple functions, YouTuber Hannah Uebele claims this bad boy takes up "way less counter space" and will get you "perfect beachy waves." You can use it normally as a straightener or clamp it closed to use it like a round brush. Use both components together, and voila: You've got salon-style volume that actually came from a straightener. 
The Instyler Freestyle Max is available on Amazon for $59.99.
Size: 1-inch barrel | Heat Settings: 4 settings up to 400°F
Best for going from wet to straight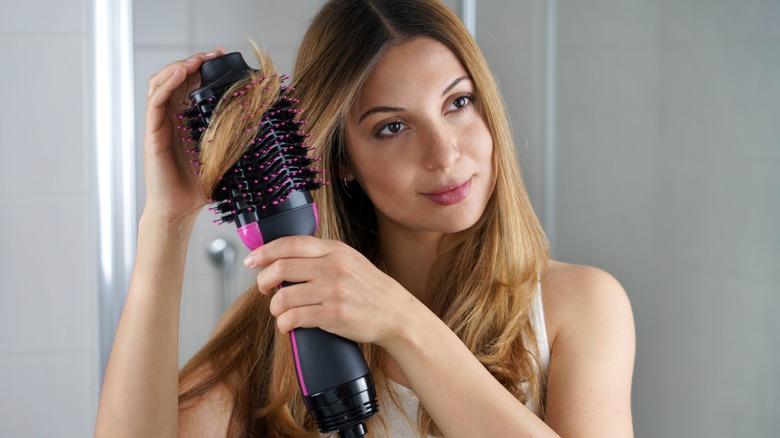 Zigres/Shutterstock
Being able to go right from washing your hair to having perfectly styled locks is like the white whale of hair styling: We're all trying (and often failing) to achieve it. In many ways, this straightener is the closest technology has gotten to streamlining the hair drying process.
If you've seen the Revlon One-Step Hair Dryer and Volumizer in any of its many TikTok cameos, you probably noticed that this is not your average straightener. Instead of metal plates, it's more like a hairdryer inside of a round brush. This allows you to blow dry and brush all at once, giving you a blowout so smooth it will look like you just stepped out of the salon. If you're thinking that you might like to try this option but aren't sure how it'll work for you, then it may help to know that despite its internet fame, this tool is one of the least expensive on our list.
You can get the Revlon One-Step Hair Dryer and Volumizer on Amazon for only $32.49.
Size: 4.4 x 11.6 x 10.2 inches | Heat Settings: cool, low, and high
Best for cutting down getting ready time
No matter how short your getting ready time is, it could probably always be shorter — especially if you lead a busy life. If you're looking for a straightener that will get the job done well and in a flash, the Hot Tools Pro Artist Black Gold Dual Plate Salon Flat Iron is a great option (via Hot Tools).
This futuristic-looking flatiron is super customizable; you can even choose a different temperature for either plate. This means you can tweak the flatiron to work best with your hair and to let you alternate between sleek, straight looks and loose waves. One reviewer said, "I regret not trying a quality flat iron like this sooner because it would have saved me money at the salon and saved me hair damage from the over hot tools at the salon and at home."
The Hot Tools Pro Artist Black Gold Dual Plate Salon Flat Iron is available on Amazon for $77.21.
Size: 13.62 x 5.67 x 2.44 inches | Heat Settings: 30 settings up to 455˚F
Best for preventing damage
For the hair health obsessed among us, L'Oréal has the answer to an age-old problem: We know it's not good to squish our hair between two pieces of burning metal, but nothing else quite does the trick. Enter the steampod. This straightener uses steam and a comb to make your hair smooth and straight, and it's designed to prevent breakage that is caused by a normal straightener (via L'Oreal Professionnel). In fact, L'Oreal claims that its technology causes 91% less damage than a regular flat iron. 
This approach to hairstyling is similar to Dyson's, and while it's still on the pricey side, it's not even half the price tag of the popular Dyson option. Who doesn't want healthy hair and a healthy bank account? Plus, even if your hair normally has curls, this option will work for you. One reviewer said, "I have naturally curly hair and makes my hair smooth & straight and cuts my styling time in half. Definitely worth it."
Grab the L'Oréal Professionnel Steampod for $227.53 on Amazon.
Size: 13.19 x 1.78 x 2.13 inches | Heat Settings: 3 settings up to 410˚F
Best budget
There's a pretty wide range when it comes to prices of straighteners on the market, and our list is reflective of that. If you're looking for a straightener that isn't a huge investment, though, that doesn't mean you're going to end up with something that doesn't work well. 
The Flower Beauty Travel Iron is compact, versatile, and under $30 (via Flower Beauty). This flat iron is designed to be light and easy to travel with, so don't be afraid to put that $200 you saved opting for this pick toward a plane ticket.
We know that how cute your straightener is probably isn't high on your list of needs, but if it were, this would absolutely be the perfect pick. This little cutie (that just so happens to be designed by Drew Barrymore, herself) will let you curl, straighten, or wave your hair in style. It's tiny and lightweight, which makes it easy to throw in your bag and give your hair a touch-up anywhere. 
As desirable a feature as that is, this little powerhouse isn't just for touchups. As Shakespeare once wrote, "though [this adorable hair straightener] be but little, she is fierce." In other words, you can get a super smooth look with just a small styling tool. We will forever thank Drew Barrymore for expanding her cruelty-free beauty brand to include styling tools!
The Flower Beauty Travel Iron is available at Flower Beauty for only $29.99.
Size: .75-inch plates | Heat Settings: up to 400°F
Best for travel
If you spend a lot of time traveling — whether it's due to a passion for globetrotting or just a long commute to work — this is a great on-the-go option. While there are a few cordless straighteners on the market today, the Lunata Cordless Styler Pro works for an hour between charges and then takes only 90 minutes to recharge (via Lunata Beauty). Not only can you walk around freely without being tethered to the wall while you're styling, but you can also free up your outlets for your hairdryer or other tools.
With this handy little tool, you can take your straightener with you and touch up your hair in the car between work and happy hour or on the train to an event. With 25 different temperature options, you can customize your styling to fit your varying needs. It even comes with a protective sleeve that makes it safe to throw into your bag while it's still warm.
The Lunata Cordless Styler Pro is available for $187.50 at Lunata Beauty.
Size: 1-inch plates | Heat Settings: 25 settings between 200°F and 450°F
Best for humidity-proof style
Who among us hasn't painstakingly styled our hair only to have it hit the outside air and poof up within minutes? Well, here is a straightener that's made to prevent that unpleasant yet common occurrence. 
There are a few things that make this straightener stand out from the crowd. First of all, while it may look like your average straightener, it's actually a whole lot more. It's designed to give you whatever kind of style you're looking for (via FHI Heat). Whether you're feeling waves, curls, or sleek and straight, you can get whatever you're in the mood for that day. In addition to being an iron of all trades, this pick uses what they call "HydraHeat," which basically means that it's designed to keep humidity and moisture out and frizz at bay. And, if you still weren't sold, this particular tool has the world's most coveted review: It's Beyonce's straightener of choice. There's really no better endorsement than that.
You can get the FHI Tourmaline Ceramic Professional Hair Styling Iron on Amazon for 90.58.
Size: 1.25-inch plates | Heat Settings: up to 450°F
Best de-tangling
If you have tangle-prone hair, you're probably used to extra knots forming when you're styling. The T3 Edge Heated Smoothing & Styling Brush will let you brush and straighten all at once to prevent tangling. Basically, this heated brush is easy to use and creates style that lasts. 
Plus, not only can you ditch your old flat iron when you have this brush, but you can probably get rid of your blow dryer and maybe even your hair brush as well. One Amazon reviewer said, "If you want smooth and/or straight hair with a natural yet polished look, this is a genius product that can eliminate the need for a flat iron."
The T3 Edge Heated Smoothing & Styling Brush is available for $149.99 on Amazon.
Size: 11.25 x 3 x 1.8 inches | Heat Settings: 3 settings
Best for thick hair
If this list isn't your first stop on your search for the most renowned hair straightener, you've probably heard ghd mentioned once or twice. Ghd claims this product is "loved by beauty enthusiasts, endorsed by stylists," and whether or not that's true for everyone, it's definitely a beloved brand.
If you have thick or coarse hair, this straightener won't fail to smooth your locks. Take it from one reviewer who said, "Bought this as a birthday gift for daughter in law. She has really thick curly hair and said this cuts down tremendously on the time it takes to straighten her hair." Furthermore, in recent years, we've seen more and more people opt to use a straightener to curl hair instead of switching back and forth between hot tools when you want to sport a different style. This option is perfect if you like to achieve different styles all with one tool. You can also snag this one in some very cute color swatches.
The ghd ​​Gold Professional Styler will cost you $229.00 on Amazon.
Size: 11 x 7 x 1.5 inches | Heat Settings: sensors maintain 365ºF
Best for shorter hair
This pick is certainly a fan favorite. Speaking of fans, this straightener has one built in, so it can actually cool your hair as you style it. That makes styling your hair in the hot summer months a breeze (no pun intended).
It also has five different heat settings. According to the L'ange website, folks with hair on the shorter side (aka just below your shoulders or shorter) are the best market for this option, so if you're considering giving your hair the big chop, do yourself a favor and invest in this new straightener. Just take this Ulta reviewer's word for it: "I have short hair for the first time in forever so my ancient tools needed an update and this thing was perfect- it replaced a straightener and my wide curling iron and let me splurge on a hair dryer (which is what matters most imho)."
You can head to Ulta to grab the Le Duo 360 Airflow Styler for $89.00.
Size: 10.4 x 1.4 x 2.1 inches | Heat Settings: 5 settings from 280ºF to 460ºF