What Barbara Walters Was Doing In Her Final Years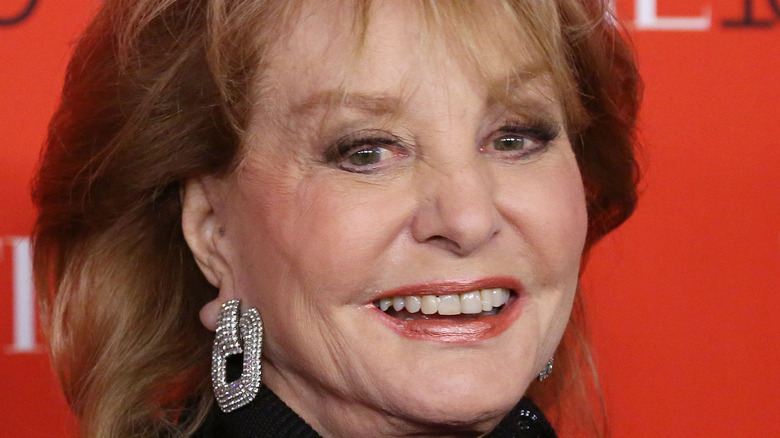 Taylor Hill/Getty Images
Prior to her death at the age of 93, Barbara Walters lived one of the most exuberant and visible lives of anyone in her line of work. From her time on "The View," "20/20," and "Today" to her end-of-the-year specials highlighting the most fascinating people, she was everywhere. Walters was synonymous with the news and being "in the know" throughout her storied career.
In 2014, the journalistic juggernaut retired from her position at "The View," only going on to make a handful of special TV appearances following her exit. Per Page Six, her final year at "The View" was plagued with multiple personal challenges which led to her leaving her career behind. In a short span of time, she not only suffered a fall but also contracted chicken pox, something that could have fatal implications for someone her age.
By 2016, Walters had entirely disappeared from public view, surprising the millions of fans who had watched her groundbreaking interviews over the years. Then came the announcement on December 30, 2022 that she had "passed away peacefully in her home surrounded by her loved ones" (via People). Although the details of her death are still forthcoming, there are reports that, far from basking in the glow of Walters' legacy, her last years were very isolated (via YourTango).
Walters ended her career on a high note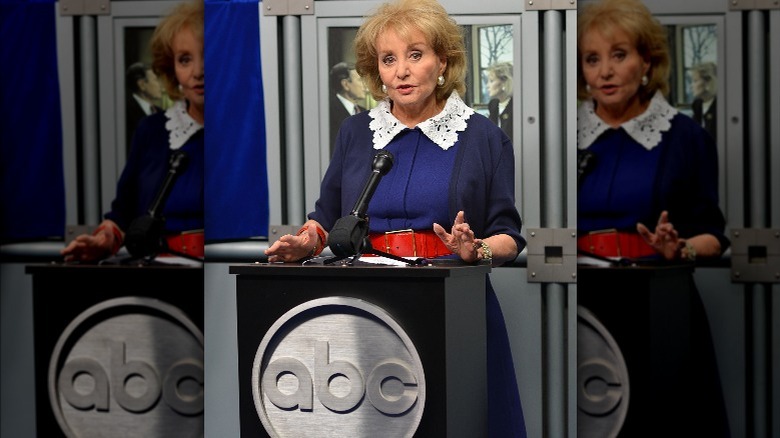 Slaven Vlasic/Getty Images
Barbara Walters ended her historic career on her own terms when she announced her retirement in 2014. She said at the time (via NBC News), "I do not want to appear on another program or climb another mountain. I want instead to sit on a sunny field and admire the very gifted women — and OK, some men, too — who will be taking my place." ABC, which had been her home for so many decades, honored the journalist by dedicating its news building to her (via "Good Morning America"). At the dedication ceremony, she recalled that she first met Bob Iger, now chief executive of The Walt Disney Company again, when he was just a page at ABC. "And I am so glad that I was nice to him, otherwise they would be naming a loading dock after me," Walters joked.
In September 2021, the hosts of "The View" paid tribute to Walters' 92nd birthday, sharing memories and thanking her for creating the all-woman forum (per People). Insiders also told Radar Online that Walters allegedly wanted to throw a birthday party for herself at the time and invite some of her closest friends. "Barbara had a burst of energy and wanted to make plans, but by the next day, it was forgotten," a source told the outlet. The reason behind those canceled plans is a sad one indeed.
Barbara Walters allegedly suffered from dementia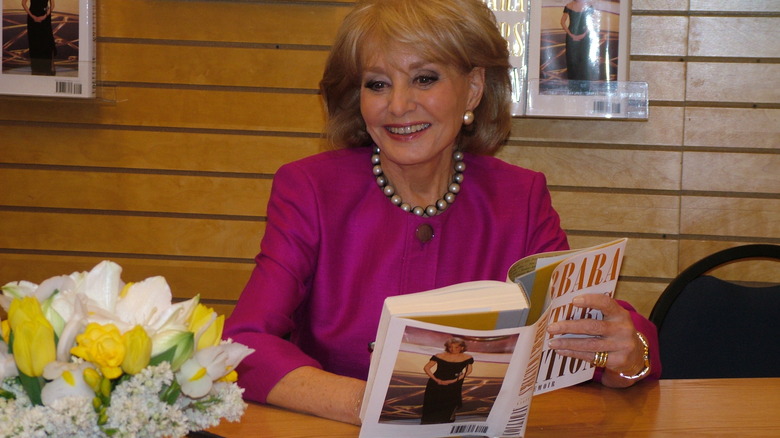 Mary A Lupo/Shutterstock
The final years (and days) of Barbara Walters' life were reportedly vastly different from her many decades as a TV powerhouse. Per TMZ, Walters hadn't been seen publicly since 2016, just two years after her retirement. Then, in 2019, Radar Online made the startling allegation that the journalist was suffering from advanced dementia that kept her a virtual prisoner in her New York apartment. The outlet claimed that Walters was experiencing severe memory loss; when Whoopi Goldberg came to visit, Walters allegedly didn't recognize her. As for the 92nd birthday party Walters wanted to throw, it was apparently a rare moment of semi-lucidity. (The guests she wanted to invite included people like Elizabeth Taylor, who had died years ago.)
In September 2022, Radar Online once again claimed that Walters was a mere "shadow" of her former self. Sources said that her caretakers had to keep her away from the TV, because Walters reportedly would fly into an uncontrollable panic if she thought there was a news story she needed to cover.
However, as of this writing, an official cause of death has not been announced for Barbara Walters, and her spokespeople have never confirmed the dementia rumors. Her fans can only speculate at this point on the truth about her health. The one thing we do know is that Walters' final years were spent away from the camera — a stark contrast to the vibrant and talkative television personality whose life never featured a dull moment.