Light Up Any Room With TikTok's Viral LED Eyeliner Look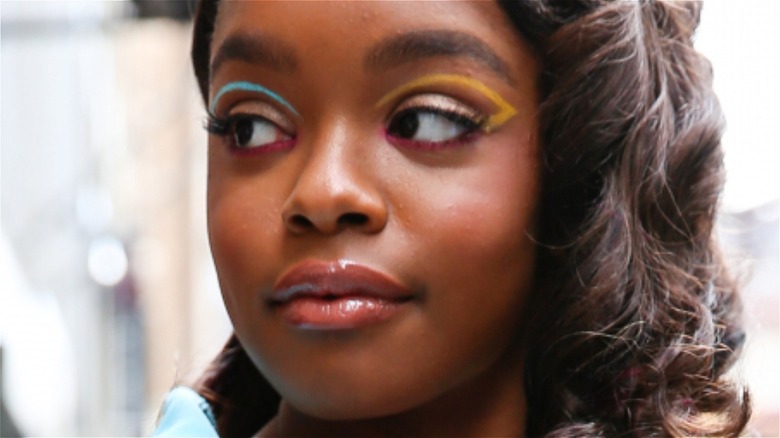 Donell Woodson/Getty Images
Eyeliner has officially graduated to another level. TikTok's beauty page has been taken over by bursts of color. While beauty lovers experimenting with brighter hues isn't anything new, the way they've begun weaving these bright shades into their makeup look is revolutionary. In fact, neon eye makeup is seeing a resurgence on the social platform in the form of the LED eyeliner trend. It doesn't involve actual lights, but rather the appearance of your liner popping out from your face because of its glow. 
Actress Marsai Martin is the ambassador of the LED eyeliner trend. Her luminous makeup look at New York Fashion Week in 2019, which matched her innovative custom Christian Siriano pantsuit, deserved its own show. Her electric blue and dazzling yellow liner were the highlights of her entire look and really lit up her face. While attending the BeautyCon Festival in New York that same year, Martin rocked the look again, per Just Jared Jr. She's clearly a fan, and now it seems everyone else is catching on.
If you're curious about trying the LED eyeliner trend yourself, you can with just a few makeup products. 
Shine bright with the LED eyeliner makeup look
What makes the LED eyeliner look stand out is its white base. In almost every TikTok post featuring this trend, using a bright white liner base to create contrast and really make the neon shades pop is a must. This simple base is also what gives your liner the illusion of lighting up, while lending a more pigmented look and feel to the overall look. However, that's not the only approach you can take.
TikTok makeup influencer Monica subverted the viral trend by using a black eyeshadow base first when creating the LED eyeliner look. In her tutorial, the beauty guru first applied the dark eyeshadow to her entire lid to create a cat eye. This shape formed the basis of her final result. She then used the white liner to define her cat eye. If you're on a constant search for the best eyeliners for creating the perfect cat eye, Stila's Stay All Day Waterproof Liquid Eye Liner in Snow has more than earned its cult favorite label.
Your choice of pigmented eyeliner will elevate your look
In Monica's viral TikTok tutorial, she was very intentional about her color placement and layering. The makeup expert was adamant about applying multiple layers of her neon orange, green blue, and purple eyeliner shades in the same exact place. This technique made her makeup appear much bolder and resemble actual LED lighting. Monica's decision to incorporate both a black and white base also worked wonders for the finished product.
While she repeated the action twice and also made sure to highlight the corners of her eyes, you can choose how many layers you want to do depending on how bright you want your look to be. For maximum precision, be sure to blend the line with an appropriate brush. An angled brush is versatile, can make lines of various shapes and sizes, and also work well with different textures, per StyleCraze.