The Best Ways To Prevent Acne Flare-Ups During Fertility Treatments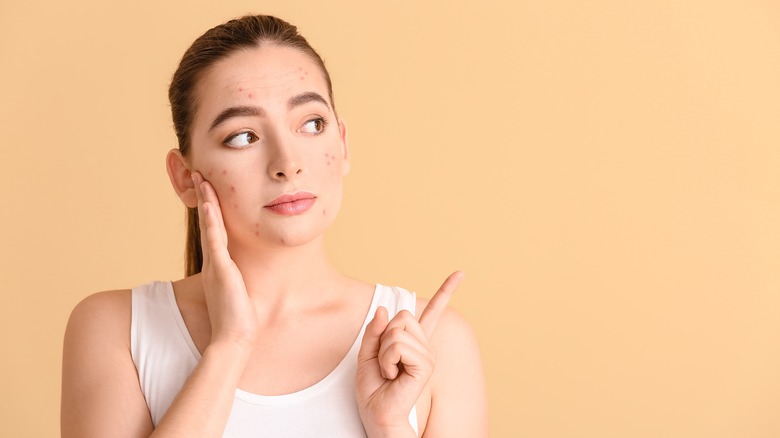 Pixel-Shot/Shutterstock
We may receive a commission on purchases made from links.
According to Medical News Today, about 12 percent of women in their child-bearing years have issues getting pregnant. If you are just starting out on your pregnancy journey, it's important to note that most doctors won't seek fertility treatments until the mother cannot get pregnant, or has multiple miscarriages, for a full year. Women over the age of 35 usually start treatments after around six months.
There are several different options available. Very Well Family notes that you can take an oral medication like Clomid or an injectable, both of which will be determined by your doctor. And while these drugs can be miracle workers when it comes to getting and staying pregnant, they also come with a lot of negative side effects. These can include everything from bloating to hot flashes, dizziness, and mood swings. 
But the influx of hormones being pushed into your body can also do a disservice to your skin. Thankfully, if you are about to embark on a fertility journey, or you're already in the middle of one, there are ways to prevent acne flare-ups during your treatments. 
Fertility treatments can wreak havoc on your skin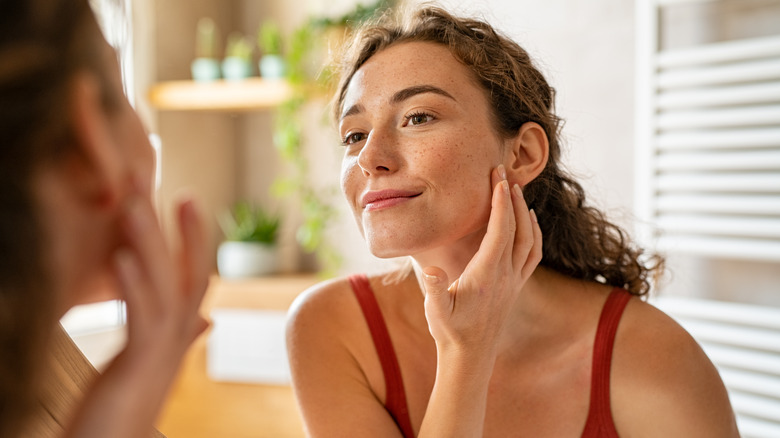 Ground Picture/Shutterstock
According to Well + Good, the most effective fertility treatments involve estrogen and other hormones, which can cause skin flare-ups like hives and acne. Women undergoing IVF may notice more changes to their skin than those doing a less-intensive form of fertility treatment, such as IUI. Still, though, any type of treatment has the potential to affect your skin. Plus, the stress that comes along with infertility also plays a huge role in how healthy your skin is. 
But before you start loading up on acne medications, there are a few things you can do to help prevent breakouts from occurring. Getting off birth control is enough to shock your system, but starting fertility treatments on top of it can wreak havoc on your body. To help avoid that havoc showing up on your face, Fertility Tips recommends eating a balanced diet, loading up on vegetables, and lowering your dairy and carbohydrate consumption.
Sozo Aesthetic Clinic also advises cleaning your face twice per day, exfoliating a couple of times a week, avoiding picking at your skin, and using the right moisturizers and beauty products accordingly. 
The best skin products to use during treatment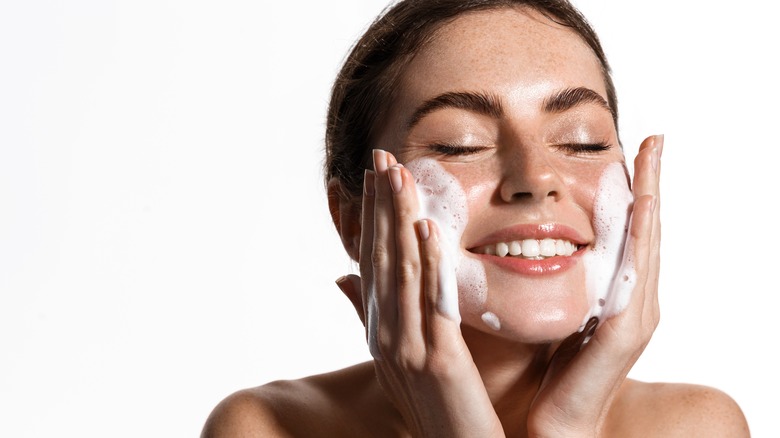 Lyubov Levitskaya/Shutterstock
Whether you are still trying to conceive naturally or about to start fertility treatments, there are certain products that should be avoided while working to get pregnant. According to Very Well Family, you shouldn't use any skin treatments that contain certain ingredients, like retinol, which have the potential to negatively affect the growing fetus. You'll also want to avoid Botox and fillers, alongside the super-strong acne medication Accutane. 
Further, you should consult with a doctor before using other ingredients such as benzoyl peroxide and salicylic acid. As for what's safe to put on your face during this time, The Skin Care Clinic recommends a routine devoted to keeping your skin as healthy as possible. This includes cleansing followed by an antioxidant serum, a moisturizer, and sunblock. They also suggest using a face mask, like this Bamboo Glow Mask, once or twice a week. 
Very Well Family also advises using a Vitamin C serum, which is safe and effective during pregnancy, while Byrdie recommends this Drunk Elephant C-Firma Fresh Day Serum. Products containing AHAs (Alpha Hydroxy Acids) can help prevent acne and keep your complexion glowing, too. Self points to the L'Oréal Paris Revitalift Derm Intensives Glycolic Acid Face Serum, an affordable option that is fragrance-free and contains aloe to help soothe irritated skin.