Nelson Mandela's Granddaughter Blasts Prince Harry And Meghan Markle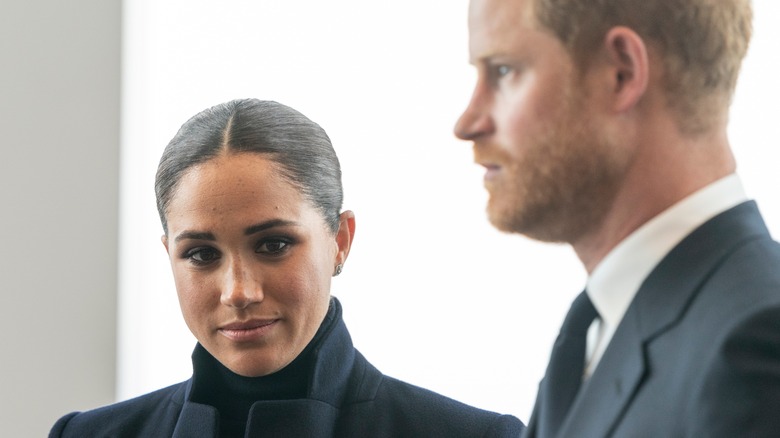 lev radin/Shutterstock
There were plenty of surprising revelations from Prince Harry & Meghan Markle's Netflix docuseries to unpack after the debut, and consequently, there's been a wide array of reactions from the public. In the wake of the never-before-seen moments Harry and Meghan shared during "Harry & Meghan," the Duke and Duchess of Sussex have released a new, very different documentary. As much as the subject matter of their new documentary, "Live to Lead," may differ from that of "Harry and Meghan," it's shaping up to be equally controversial. According to Netflix, the royal couple's newest documentary, which debuted on December 31, has seven parts, each of which focuses on one leader who has dedicated their life to making change.
The documentary was co-produced by The Mandela Foundation, per The Telegraph. Prince Harry was quick to quote Mandela, as well as using his foundation's relationship to the project to bring in not only viewers but also interviewees. Among the controversy surrounding the Duke and Duchess' Netflix projects is criticism from Ndileka Mandela, Nelson Mandela's granddaughter (via The Telegraph). It seems that Ndileka is not too pleased about her grandfather being used as an attention-grab, and she's not afraid to air out her feelings.
What Ndileka Mandela had to say about Harry and Meghan
Since the premiere of "Live To Lead," writer, activist, and granddaughter of the late, former South African president, Nelson Mandela, Ndileka Mandela, spoke out about her feelings regarding the documentary, per The Telegraph. She called the Duke and Duchess of Sussex's swiftness to use her grandfather's legacy for their own gain "upsetting and tedious" in an interview with The Australian. She went on to say, "I know the Nelson Mandela Foundation has supported the initiative but people have stolen grandfather's quotes for years and have used his legacy because they know his name sells — Harry and Meghan are no different from them."
While Harry and Meghan say that Nelson Mandela "inspired" the documentary, it seems that Ndileka doesn't entirely agree with this sentiment (via The New York Post). "Harry needs to be authentic and stick to his own story, what relevance does grandad's life have with his?" Ndileka explained. As The New York Times noted, Ndileka said she "admired" Harry for leaving the royal family, since her grandfather persued "his own path in life . . . But it comes at a price, you have to then fund your own life." She continued, "I don't believe he nor Meghan have ever properly met granddad . . . but they are using his quotations in the documentary to draw in people and make millions without the Mandela family benefiting."