Prince Harry Has Choice Feelings About Meghan Markle's Steamy Scenes On Suits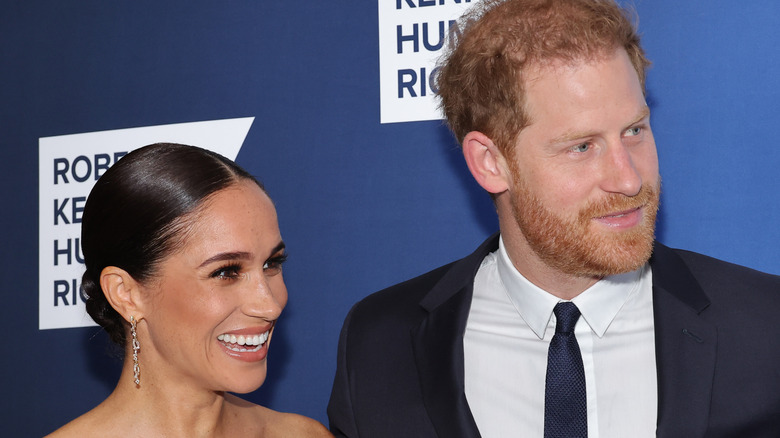 Mike Coppola/Getty Images
Before the world knew Meghan Markle as the Duchess of Sussex, she worked as an actor. She'd had brief appearances on a variety of shows, including "Castle," "90210," and "CSI: Miami." She hasn't spoken much about those roles, but Meghan did bring up her time working on "Deal or No Deal" in the mid-2000s as a briefcase girl, or suitcase model, on her podcast Archetypes. In it, she said that she felt valued there only for what she looked like. Meghan's comments about her time on "Deal or No Deal" resulted in some backlash.
A few years after her time on "Deal or No Deal," Meghan started working as Rachel Zane on the TV show "Suits," for which she was best known before becoming a royal. She was on the show for seven of its nine seasons. Her final episode on "Suits" centered on her character's wedding to Mike Ross, per the Los Angeles Times. It aired on April 25, 2018, and Meghan's real-life wedding to Prince Harry was less than a month later. In her time on the show, Meghan had a number of racy scenes, and Prince Harry has indeed watched them — and he has some thoughts.
Prince Harry realized it was a mistake to look up Meghan Markle's love scenes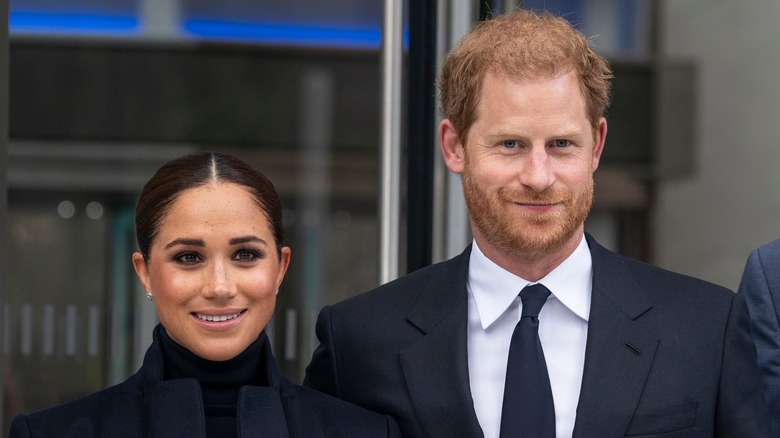 lev radin/Shutterstock
In his memoir "Spare," which is set to be published on January 10, 2023, Prince Harry revealed that when he was dating Meghan Markle, he'd specifically looked for and then watched "some of her love scenes," according to Page Six. And it turns out that was not a good idea. "I'd witnessed her and a castmate mauling each other in some sort of office or conference room. I didn't need to see such things live." Apparently, the scenes stuck in his brain for a while as Prince Harry reportedly joked that he needed electric shock therapy to clear his mind of the images of his now-wife on "Suits."
It turns out that Prince Harry wasn't the only royal who saw the steamy scenes, though probably it wasn't just those that they watched. William, Prince of Wales, and Catherine, Princess of Wales, were both "Suits" fans, per OK Magazine. So when they found out that Prince Harry was dating Meghan, they couldn't believe it. That would mean that the first time Meghan met Prince William and Kate Middleton, they already knew who she was.
Meghan Markle doesn't plan to go back to acting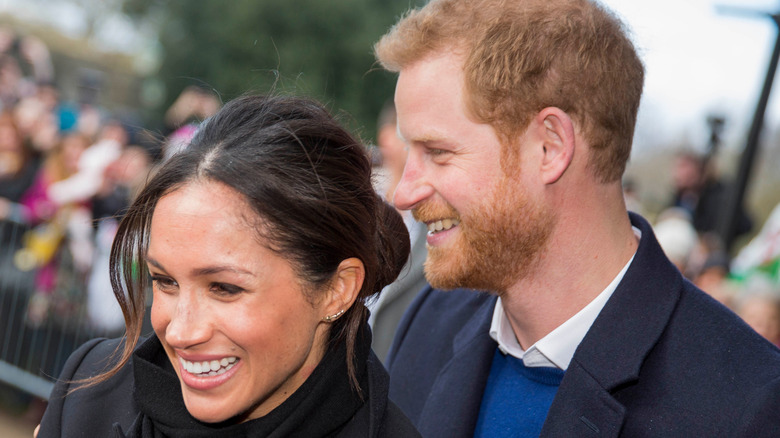 ComposedPix/Shutterstock
The first meeting that Meghan Markle had with William, Prince of Wales, and Catherine, Princess of Wales, was more formal than she had expected. In the docuseries "Harry & Meghan," Meghan explained that when meeting Prince Harry's brother and sister-in-law, "the formality on the outside carried through on the inside," per Us Weekly.
Meghan's latest television appearance was reality-based as she and Prince Harry told a part of their story about leaving the royal family in the Netflix docuseries "Harry & Meghan." She may also pop up in the docuseries "Heart of Invictus," an Archewell Productions series that follows athletes preparing for and competing in the Invictus Games held in 2022. She and Prince Harry were seen along with film crews at the games in The Hague in April, according to Express. The project is a part of the Duke and Duchess of Sussex's multimillion-dollar deal with Netflix; when they stepped down as working royals, they noted they wanted to make money on their own.
Meghan has commented on whether she'll ever be in front of the camera as an actor again, and she told Variety that when it came to acting: "I'm done. I guess never say never, but my intention is to absolutely not." It seems there won't be any more scenes that Prince Harry will need to scrub from his brain.