Prince Harry Divulges Strange Detail About Physical Fight With William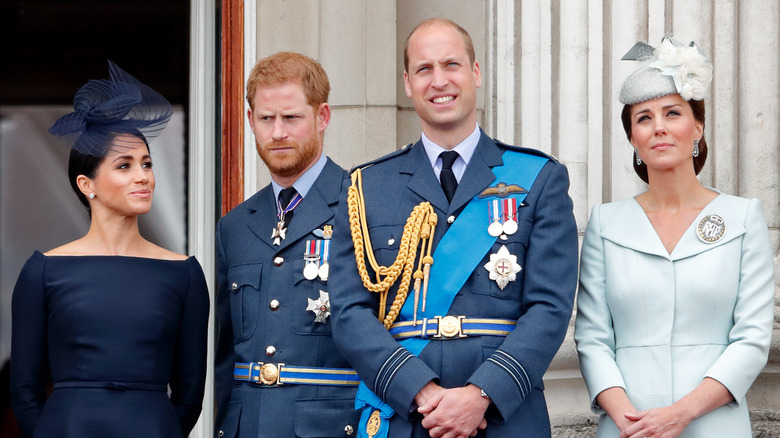 Max Mumby/indigo/Getty Images
They may be princes, but Prince William and Prince Harry are brothers first –- and brothers fight. Prince Harry and Prince William have been on the outs for a while now, with many speculating their tensions began back in 2018 when Harry confronted the royal family about their lack of inclusion towards Meghan Markle (via Cosmopolitan). Even at their grandfather Prince Philip's funeral, Harry and William were fighting – although there were reports that Harry has made attempts to resolve tensions with William. Unfortunately for the brothers, tensions seem to have only grown since the release of Prince Harry and Meghan's self-titled Netflix documentary series.
While Harry's memoir, "Spare" has not been officially released, The Guardian obtained a copy and reports that Harry makes claims of being physically attacked by his brother. According to the news outlet, Harry writes that William "grabbed me by the collar, ripping my necklace, and ... knocked me to the floor" back in 2019.
In a bombshell interview released by ITV News, Prince Harry sat down with Tom Bradby to shed light on the alleged attack, sharing some strange details about his physical altercation with his brother.
Harry recalls seeing red mist from William as they fought
NEW: Prince William was consumed by "red mist" claims Harry when they had the fight in the kitchen of his home.
"He wanted me to hit him back, but I chose not to", Harry claims in new clip from @ITV interview.
Also 'acknowledges' taking 'marijuana, magic mushrooms, cocaine'. pic.twitter.com/PTDbvWhbH0

— Chris Ship (@chrisshipitv) January 6, 2023
Royal news editor Chris Ship tweeted clips from Prince Harry's interview with Tom Bradby, where the Duke of Sussex called for "accountability" before "reconciliation" can happen. "There are two sides to every story," he said. In the interview, Harry recounted the fight with his brother in his kitchen that quickly turned violent. But the strangeness of this encounter was not so much the altercation itself, rather what Harry noticed about Prince William during the attack: "What was different here was this level of frustration... I talk about the 'red mist' that I had for so many years. And I saw this 'red mist' in him." Harry shares that he did not hit back, although William "wanted me to."
In The Guardian's report sharing leaked memoir pages, Harry wrote that the fight was caused by his brother's comments about Harry's wife, Meghan Markle, who William called "difficult", "rude", and "abrasive". This likely fueled even more fire under the tensions between princes caused by their disagreements over Meghan and her place in the royal family. William was also accused of planting stories in the press about Harry and Meghan, which the Sussexes discussed in their documentary series, per BuzzFeed News.
According to People, Prince William and his office in Kensington Palace has declined to make a comment about any allegations at this time.