Key Bath Bomb Ingredients For A Calming Soak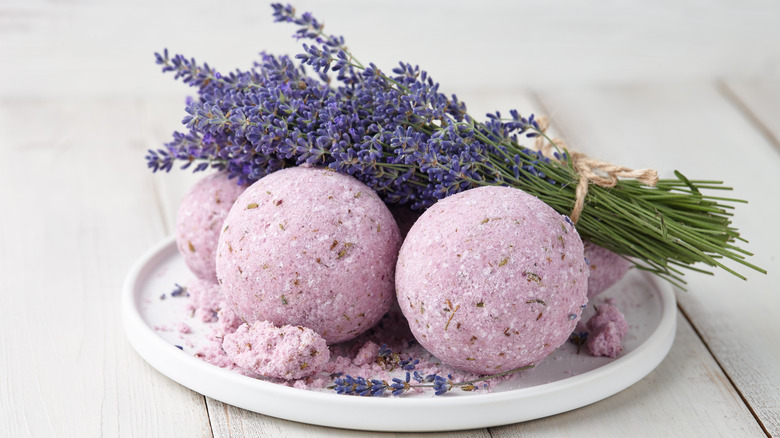 Kobeza/Getty Images
Nothing screams ultimate relaxation more than the sound of a bath bomb dissolving. After a stressful day at work, lounging in the bath for some quality me-time sounds like the holy grail of self-care. Bath and skincare brand LUSH's array of bath bombs have become cult favorites for this reason, but you don't need to drop serious cash to reap the product's benefits — chances are you already have every ingredient you need to make your own hiding in your bathroom. 
Bath bombs transform a simple bath into a self-care getaway all without leaving your house, and will leave your skin feeling soft and hydrated depending on the ingredients that are used. However, if you're unsure how to get started on making your own bath bombs and which ingredients you'll need to ensure you get the maximum rejuvenating and relaxing benefits from them, you'll need a little guidance. That's what we're here for.
Epsom salt and baking soda are key players in bath bombs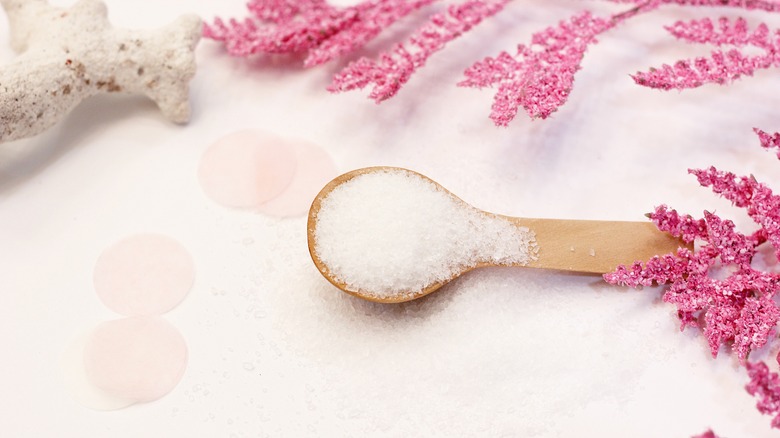 Amy Shaughnessy/Getty Images
If you ever needed a reason to use bath bombs, start with the many health benefits of Epsom salt and baking soda. Real Simple heralded Epsom salt as the magic pain reliever. Epsom salt belongs in your medicine cabinet because of its many uses, which range from stress relief to inflammation reduction. The magnesium in Epsom salt is what gives it its healing properties as it relaxes muscle aches, helps prevent soreness, and assists in getting rid of stress (per Byrdie).
Baking soda isn't only a kitchen staple. On top of the ways you can use it around the house, it's as crucial as Epsom salt in getting the ultimate relaxation experience. Baking soda is like an all-inclusive facial, considering the fact that it exfoliates your skin and gives it a natural glow, combats body odor, and minimizes your pores, as lifestyle site Be Beautiful.In pointed out.
Additionally, oat milk and rose are other common ingredients, for LUSH products in particular, that will help to "soothe troubled skin," according to Byrdie.  
Petitgrain, frankincense, and lavender essential oils have entered the chat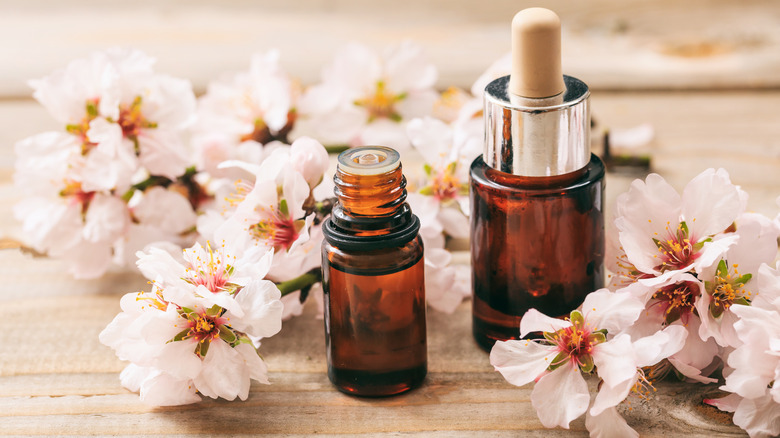 Rawf8/Getty Images
If you're carving out quality time for a nice and relaxing soak, you might as well go all of the way. Bath oils can enhance your bath bomb experience and leave your skin feeling soft. When you're deciding on a scent for your bath oil, keep in mind what effect you're going for.
Aromatherapy Associates global education and wellbeing director Christina Salcedas told Good Housekeeping that the right bath oil can elevate your at-home spa experience. "The two elements of bath oils offer far reaching benefits," she explained. "The essential oil blend helps deliver a physical and emotional change within the body, while the base oil helps to nourish and soften your skin." 
As for where to start, the aromatherapy expert recommended petitgrain and frankincense for a clear mind. If you have trouble sleeping, petitgrain's citrus aroma will help you get a good night's sleep, per Makeup and Beauty. Healthline pointed out that frankincense's anti-inflammatory qualities might combat arthritis and offer pain relief.
There's also another scent conducive to a calming soak. A 2019 study published in Science Direct revealed that the smell of lavender essential oil helped ease anxiety and stress levels in participants. Verywellmind championed lavender as a mood booster and pointed out that it can reduce some symptoms associated with panic attacks, including migraines and headaches.