The Best And Worst Bath Bombs You Can Find At LUSH
You might have seen fun videos of fizzy, colorful water all over social media and wondered what's behind the sorcery. If you want to get that effect for your next bath-time, you should consider buying some bath bombs. If you're wondering which brand to shop, The New York Times says LUSH has the best bath bombs. The writers at the news outlet tested 46 different bath bombs from 14 various companies. Calling it "a luxurious, effervescent tub treat," they liked that the bombs fizzed and changed the color of the water immediately after being dropped into the tub, as well as the scent and moisturizing oils in them. 
Listed as LUSH's overall number one bestseller out of all products, the bath bomb called "Intergalactic" is highly recommended with an average rating of 4.7 stars. According to reviews on the website, what makes this bath bomb out-of-this-world are it's divine fragrance that has peppermint, grapefruit, and cedarwood oils, as well as the cosmic-inspired water art it creates. Cosmopolitan gave it positive reviews citing a minty, citrus scent and fizzy multi-colored water.
Other bath bombs that are bomb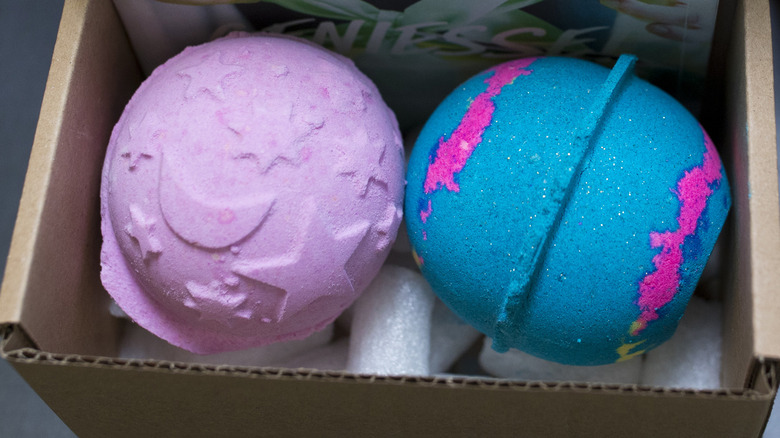 Bloomberg/Getty Images
Other recommendations from Cosmopolitan that also carry really high ratings on the LUSH website are "Dragon's Egg" and "Twilight." According to Cosmopolitan, the orange sherbet-inspired scent of "Dragon's Egg" will make you feel like Daenerys Targaryan from "Game of Thrones." With a 4.5-star average rating, one reviewer from Minneapolis said, "Love the fresh scent and the flaming hatching effect when it is dissolving, but my favorite part is the undulating tub of orange flame effect while soaking." 
"Twilight" will apparently make you feel like "a unicorn falling asleep on a cloud," per Cosmopolitan. With calming lavender oil and a soothing vanilla scent, LUSH recommends this bath bomb before a good night's rest. The bath bomb has a 4.6 average rating. Another bath bomb that looks like a "lotta" fun is "Turmeric Latte," with reviewers rating it 4.4 stars. This bath bomb has turmeric, coconut milk, and a vanilla scent. Reviewers describe it as a warm, creamy scent with a sweet and spicy kick. You can think of it like bathing in a tub of warm milk. One person from Toronto even said, "I used to think that Twilight was the best thing ever and then I fell in love with Turmeric Latte — it's wonderful, sensual, even haunting."
Reviews say to pick any other bath bomb but this one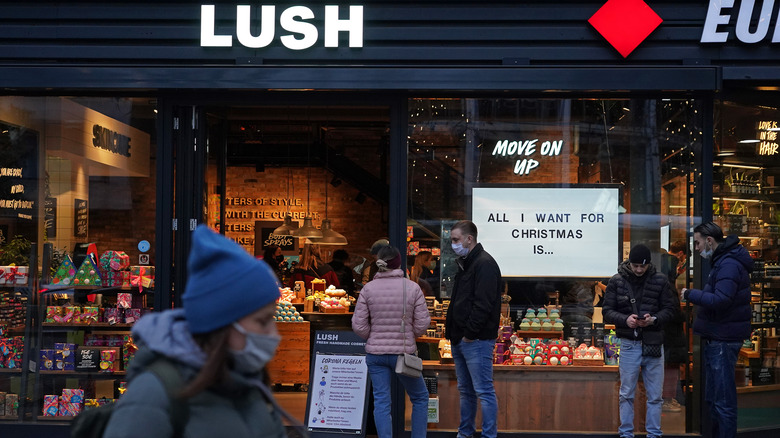 Sean Gallup/Getty Images
Usually a golden egg is a good thing, but in the case of the LUSH bath bomb — not so much. "Golden Egg" is an Easter special that made a comeback this year. According to LUSH, it is "sparkly, golden and sweet." The bath bomb has a caramel scent, but also has strong citrus notes with the key ingredients being Brazilian orange oil, bergamot oil and organic cocoa butter.
The bath bomb has an average rating of 3.2 stars on the LUSH website, which makes it the lowest-rated bath bomb. A common critique among several of the reviews was that the bath bomb ended up staining their skin and/or bathtub hot pink, but most reviewers liked the scent. One customer who called herself a "Disappointed Fan," wrote, "My skin turned red, itchy and bumpy all over." Several reviews also pointed out that this year's version seemed to be re-formulated.
According to Cosmopolitan, another bath bomb you might want to avoid is "Sakura" and reviews on the LUSH website seem to agree with an average rating of 3.6 stars. Cosmopolitan reports that "Sakura" smells vaguely peachy and doesn't have a major effect on the bathwater. There were mixed reviews on the website regarding the scent, with some loving it and others not liking it. But many of the critical reviews seemed to agree that the bath bomb did not change the color of the water, and did not fizz.