How Senior Royal Advisers Reportedly Prepared For Prince Harry's Memoir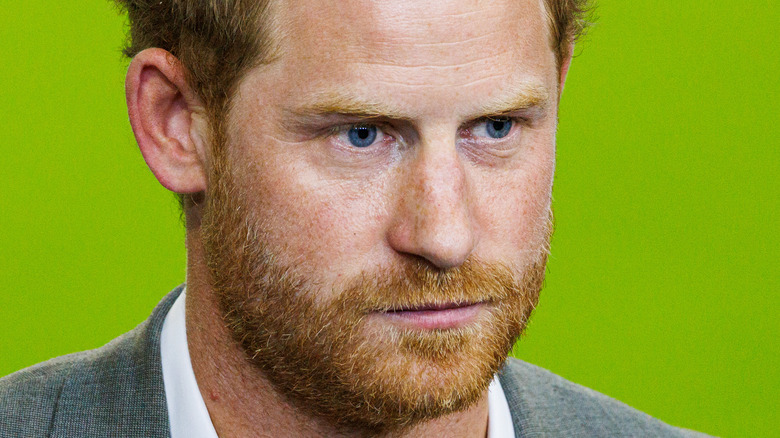 Patrick Van Katwijk/Getty Images
Prince Harry's memoir "Spare" has reportedly rocked the royal family to its very core — and it's not even out yet. In the soon-to-be-released book, the ex-royal certainly spares no one's feelings, revealing intimate details of Harry's physical fight with his older brother William, surviving their mother Princess Diana's death, and his time in the British Army. 
Thus far, the most shocking revelation concerns the brothers coming to blows over Meghan Markle, which allegedly resulted in the Duke of Sussex being injured. The Guardian received an advanced copy of the book, detailing how Harry described the fight: "[William] broke my necklace by grabbing me by the collar of my shirt ... I fell on the dog bowl, it broke under my back and the pieces scratched me." 
According to "Spare," as their hostility grew King Charles III begged his sons, "Please, boys. Don't make my final years a misery." The Firm has been worried about what Harry might reveal for months now, with a publishing insider warning Page Six, "There's a lot of new stories in there about the past that Harry has not spoken about before, about his childhood ... There is some content in there that should make his family nervous." 
As it turns out, they were anxious enough to take desperate measures in the lead-up to the book's release. 
The royal family battened down the hatches in anticipation of 'Spare'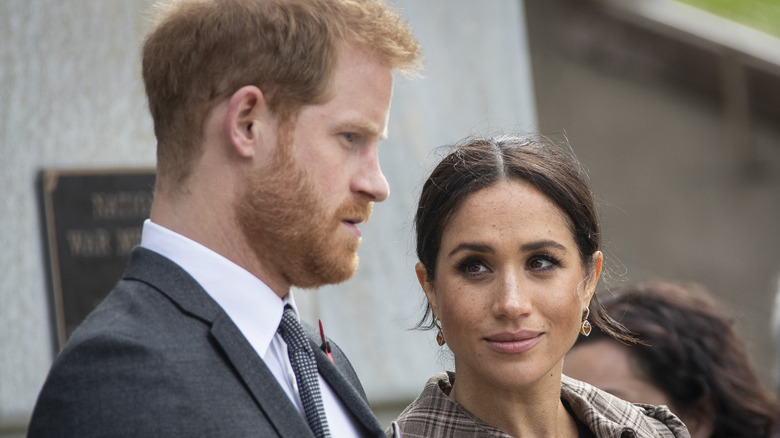 Pool/Getty Images
Page Six has revealed how seriously Buckingham Palace is taking "Spare," which will be released on January 10. As Prince Harry heads off on a press tour that includes interviews on "The Late Show with Stephen Colbert," "Good Morning America," and "60 Minutes" with Anderson Cooper, the royal family's advisors have set up what's been described by the outlet as a "war room" to respond to any revelations from the book. 
The situation was considered so pressing that it even came up during the family's Christmas celebrations in Sandringham. They're preparing for the worst, with insiders noting the royals fully expect Harry to take aim at Prince William. "There were undoubtedly fears about what Harry was going to write, and in particular they were worried about the highly personal moments of their lives being retold," a source explained. 
Although King Charles III is adamant that they shouldn't engage with whatever Harry has written, or says in his upcoming interviews, William tried to convince him it might be better to release something. Despite the scandalous stories emerging from the tome thus far, Omid Scobie, co-author of "Finding Freedom," reassured royal watchers during an appearance on the "Royally Obsessed" podcast that "Spare" isn't about settling scores. 
"I think as much as the press wants this to be a burn book and an attack on the institution, this is more just about his story," Scobie contended (via Page Six). 
Will Prince William respond to Prince Harry's tell-all?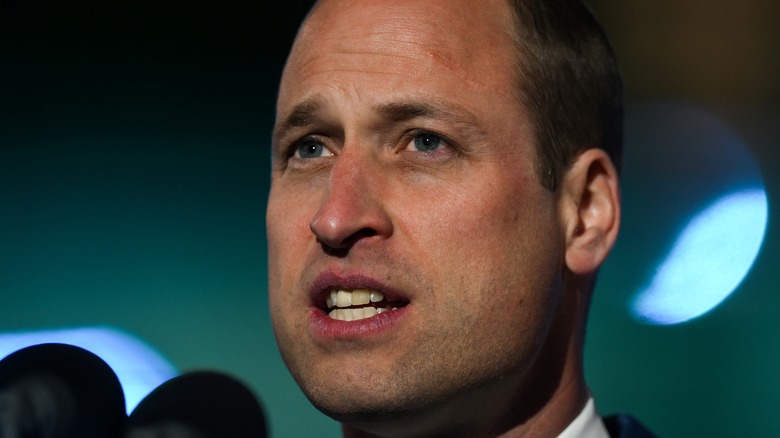 Wpa Pool/Getty Images
The British royal family is not pleased with the big claims Prince Harry made about Prince William in "Spare." Especially with Harry's book being published just months after Queen Elizabeth II's death, Buckingham Palace is on the defense. "Spare" details how Harry discovered his beloved grandmother had died from the press coverage, because he didn't make it to her bedside on time, per Us Weekly. However, it's accusations of racism, bullying, and estrangement that seem to be of most concern to The Firm. 
Despite it all, the Prince of Wales is keeping schtum, with The Sunday Times confirming that William has no plans to retaliate in the media. "He's keeping quiet for the good of his family and the country," an insider clarified. They also described the memoir as a "character assassination." Buckingham Palace has not made any official comment on the book, nor the recently released Netflix docuseries, "Harry & Meghan."
William is acutely aware the royal family must always stay quiet. As one close friend of both brothers told the outlet, "He [William] won't retaliate, he never would because he's dignified and unbelievably loyal. William is a sitting duck because Harry knows he isn't going to retaliate. How many shots can you take at a sitting duck?" 
They added, "It's cruel, cowardly and so sad for William to keep taking the punches. He's keeping quiet for the good of his family and the country."