Body Language Expert Hones In On Prince Harry's Conflicted Feelings Toward Queen Camilla - Exclusive
We may receive a commission on purchases made from links.
The dynamics between members of the royal family have always been a topic of interest in the media, especially the ones relating to Prince Harry, Prince William, Prince of Wales, and King Charles III. But one relationship not explored much is that of Prince Harry and Queen Camilla, largely because Harry has maintained that the two of them are quite solid. According to the Duke of Sussex, she was not the "evil stepmother" the tabloids usually make her out to be.
"To be honest, she's always been very close to me and William," Prince Harry said in the biography, "Harry: Conversations with the Prince," (via The Mirror). "She's not a wicked stepmother. Look at the position she's coming into. Don't feel sorry for me and William, feel sorry for her ... She's a wonderful woman and she's made our father very, very happy which is the most important thing." He even said that he and his brother "love" Camilla "to bits." But fast forward to 2023, and the release of Prince Harry's highly-anticipated memoir, "Spare," and it looks like his stance has changed. Speaking with Anderson Cooper on CBS News' "60 Minutes," the Duke of Sussex described Camilla as "dangerous," claiming she used him and his brother to "rehabilitate her image" and be more favorable in the eyes of the public. 
However, according to exclusive commentary from Jess Ponce III, body language expert, communication coach, and author of "A.W.E.S.O.M.E.," exclusively tells The List their relationship is more complex than what meets the eye.
Body language expert senses Prince Harry's detachment
As Prince Harry was explaining to Anderson Cooper how Queen Camilla was supposedly unrelenting in her quest to reinvent her reputation, Ponce says Harry seemed quite indifferent in the way he spoke about his stepmother.
According to Ponce, when Harry was illustrating Camilla's quest for redemption, he spoke "in a seemingly objective, non-personal fashion," displaying almost zero emotion. He used a tone that was "matter of fact," but a sudden switch-up happened when he referred to her as his dad's "person." In the interview, Harry divulged that he and Prince William did not want King Charles to get married to Camilla at first because they "didn't think it was necessary." After all, at the end of the day, Charles was finally able to be with Camilla openly, which his sons believed should have been enough for the then-future king.
However, Ponce notes that Harry's "pause" and "the way he looked away from the camera" speaks volumes. "He purposefully did not personalize his response and as a result objectified her. He then went back to say he wanted his dad to be happy," Ponce explains.
Still, Prince Harry might be grappling with hurt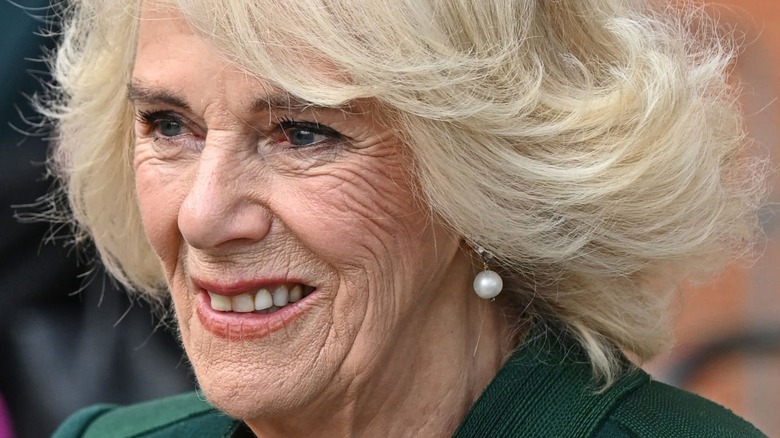 Midary/Shutterstock
While Prince Harry demonstrated feelings of indifference about Queen Camilla during the interview, body language expert Ponce believes that at one point, the younger royal appeared hurt. "When Anderson indicated that Camilla was campaigning to get married, Harry took a beat and closed his eyes. One could see at that moment he was feeling something. Was he communicating his own hurt feelings, the pain of someone trying to replace his mom in the public's eye?" Ponce questions. "Or, was he taking a moment because he knew the follow-up question about why he felt she was dangerous?" 
Whatever the case, Harry's physical reactions may drive home the fact that he sees Camilla as a "threat." And as he was explaining the painful repercussions of her actions, Ponce wonders whether it was "pain is the adult struggle of being in the public's eye or the pain of a young boy who mourns his mom." However, in an earlier ITV interview with news anchor Tom Bradby, Ponce analyzed Harry as reading "sincere" when asked whether he was happy for his dad and Camilla.
Circling back to Cooper's interview, Harry also expressed some level of understanding toward Camilla in regards to her reputation. "If you are led to believe as a member of the family that being on the front page, having positive headlines, positive stories written about you is going to improve your reputation or increase the chances of you being accepted as a monarch by the British public, then that's what you're going to do," he reasoned, per Insider.