Prince Harry's Denial He Wrote 'Scathing' Account Of Queen Camilla Has Everyone Saying Same Thing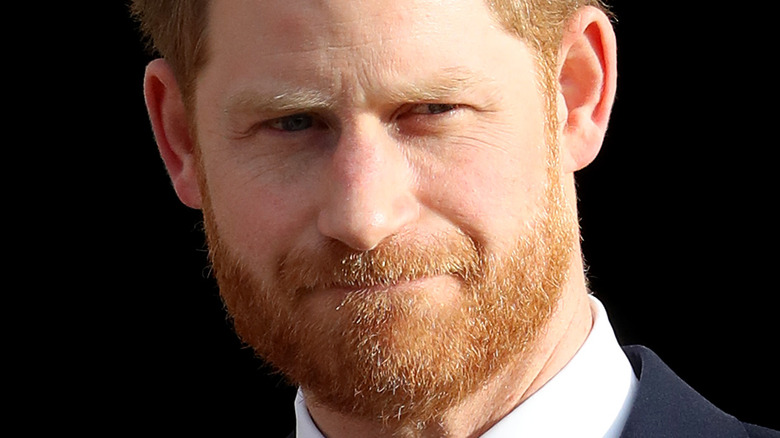 Chris Jackson/Getty Images
Prince Harry sat down with Tom Bradby of ITV on January 8, 2023 to discuss the many recent media moments relating to him and Meghan Markle, especially in regards to his memoir "Spare," due to come out on January 10. All eyes are on Harry's book because he's dropped so many juicy tidbits. Readers who were lucky enough to get sneak previews already found out that a certain comment made by Meghan put her in hot water with Catherine, Princess of Wales. In the book, Harry also claims that Prince William didn't give him a chance to say goodbye to the late Queen Elizabeth II. In his press circuit for "Spare," Harry has also given a definitive "no" to ever returning to royal life, so at least we know where that idea sits.
While chatting with Harry, Bradby pointed out that his portrayal of Camilla, Queen Consort, was "pretty consistently scathing," per the Independent, as Harry wrote that she played the "long game" in marrying King Charles III. Harry also wrote that he was "sacrificed on her PR altar." However, Harry shot back at Bradby. "Scathing?" Harry went on, "Nothing I have said has been scathing toward my family, especially not my stepmother." He also reasoned, "No institution is immune to accountability" However, he said he was "100%" happy on the pair's wedding, and he said of his step mom and dad's relationship, "The two were and remain very happy together." However, people aren't buying this reaction.
People want to see more accountability from Harry
"There's no part of any of the things that I've said are scathing towards any member of my family, especially not my stepmother.

The two of them were and remain very happy together." pic.twitter.com/nyiAeatH1x

— no context queen camilla (@nocontxtcamilla) January 8, 2023
Many folks, both fans and non-fans, believe that Prince Harry was tough on his stepmother, Camilla, Queen Consort, in his memoir "Spare." People who tuned in for Harry's interview with Tom Bradby jumped on Twitter to share their thoughts about Harry's denial that he was "scathing" towards her. "There's no part of any of the things that I've said are scathing," Harry revealed. One person responded to that, "Hmm, Harry, you need a new therapist, because self reflection and taking personal responsibility are clearly not being actioned! Also, there was no need to bite off Mr. Bradby's head when he asked you that!"
Another chimed in: "Harry DEFINITELY feels a kind of way about Camilla — and I don't think [Tom Bradby] would casually use the word 'scathing' to describe his writing about her in #Spare." Another person called for more accountability from Harry. "I'm watching his interview right now," they began. "So far, most has been ok but he's also being naïve, denying he's been scathing about Camilla and blaming his family for taking stories to the press. He doesn't take any accountability for his and his wife's bad behavior. He's like a child."
People are obviously tuned in to Harry's moment right now, both in terms of his memoir as well as his press interviews around it. Folks are willing to listen, but they want a little more from Harry and that he takes responsibility for his side of the street. Like they always say, there are two sides to every story.