Is Nail Slugging The Secret To Healthier Cuticles?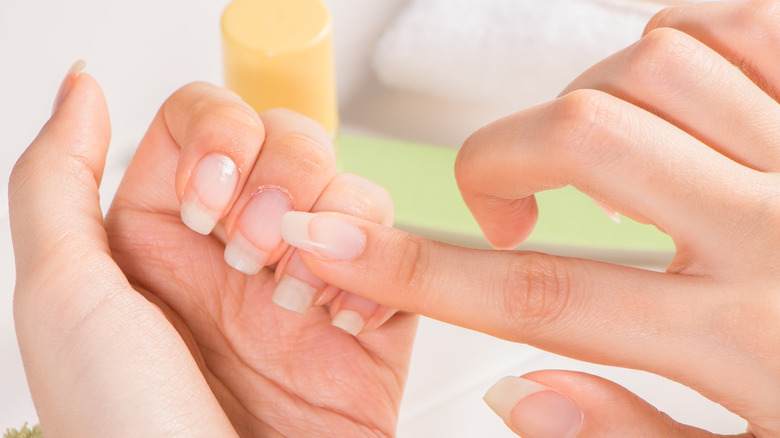 Natali Sam/Shutterstock
Social media has enabled a near-constant circulation of skincare trends: pimple patches, pore vacuums, and DIY face masks made with pantry staples. The viral skincare technique known as "slugging" is a phenomenon several years in the making. In fact, it just might be the step you're missing in your skincare routine. So, how does it work? Before you go to bed, simply cover your face with a generous helping of petroleum jelly. The sticky ointment will lock in moisture, ensuring that your creams and serums are adequately absorbed as you get your beauty sleep.
According to dermatologist Amy Kassouf, MD, products like Vaseline act as a barrier between your face and the nighttime drying air. "The retained hydration can fill the epidermis like a sponge, thickening it and making it more pliable and elastic," she explains to Cleveland Clinic, adding, "It can help prevent outside molecules from entering the skin and causing irritation or an immune reaction." 
Though, as California-based dermatologist, Dr. David Kim, warns Good Housekeeping, ​​"[slugging] is certainly not for anyone with acne-prone, oily skin or combination skin." The technique is most effective for those who lean dry — or if you've spent years damaging your skin barrier with over-exfoliation and harsh cleansers.
Ultimately, there's probably one very important place you're forgetting to slug: your nails. Next time you're prepping your skin for bed, don't forget to give your cuticles a little TLC.
Nail slugging can actually prevent infection
Though not all TikTok beauty hacks are advisable — steer clear of "sunscreen contour" — nail slugging has proven benefits. "[Cuticles] are crucial for overall nail health, as their function is to keep dirt and bacteria from getting into the nail bed and [potentially causing] an infection," Los Angeles-based nail artist, Brittney Boyce, told Allure. "When cuticles are dry, they're prone to splitting and cracking, which compromises that protective barrier and increases the chance of infections." Nobody likes an inflamed ingrown.
TikTok creator @parabellbeauty demonstrates the viral technique. She applies cuticle oil to her nails before rubbing a layer of Vaseline on top, sealing in the moisture. Refinery29 Deputy Beauty Director Jaqueline Kilikita backs up the method on TikTok, documenting the improvement in her cuticle health after just a week of slugging.
Ultimately, it's especially important to slug during the colder, dryer months. "During the winter, our cuticles get dried out like every other part of our skin," board-certified dermatologist, Dr. Angela Lamb, explained to Today. As she noted, "A thick emollient traps in moisture and prevents evaporation of water across the skin surface." However, given the stickiness of petroleum jelly, stick to cuticle oil and hand creams during the day, limiting thicker products to your pre-bedtime routine.
Don't neglect exfoliation
Slugging has its origins in Korean skincare. "It has been popularized [sic] in the West by websites like Reddit (and, of course, TikTok) and is touted by countless beauty trend articles and bloggers around the world," Skin Science Clinic founder Dr. Adil Sarwar explained to Refinery29. As @Drdananails (aka Dr. Dana Stern) shares on TikTok, you're probably missing one key slugging step: exfoliation. In the words of the dermatologist, "the original trend, which came from Korean skincare, involved three steps: exfoliation, hydration, and then occlusion." 
For starters, Dr. Stern sells a Nail Renewal System — the kit contains a glycolic acid exfoliant, a buffing wand, and a hydrating nail strengthener. Alternatively, simply apply your favorite exfoliating body scrub to your hands before rinsing, applying cuticle oil, and sealing it all in with petroleum jelly.
Remember that it's best to avoid exfoliating your nails daily or risk damage. Instead, incorporate this step into your slugging routine once a week. "I would recommend regular — but not daily — exfoliation," Ami Streets, session manicurist and nail expert told Refinery29. "As with facial exfoliation (depending on your skin type, texture and products used), daily use of exfoliants could be too frequent and can result in irritation, redness or peeling."