10 DIY Face Masks That Actually Work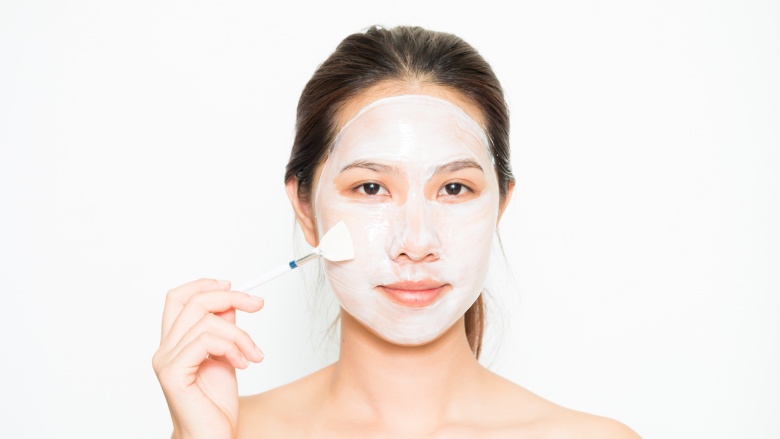 Shutterstock
It's hard not to love a good spa day, but professional facials can be spendy. The good news is, it's possible to enjoy the stress-relief and skin-soothing benefits of a professional face mask with a DIY version you can whip up at home. I spoke with board-certified dermatologist, Dr. Jessie Cheung, the Director of Jessie Cheung MD Dermatology and Laser Center, and she says, "DIY face masks should be quick, easy, and non-irritating. You should be able to raid your fridge for the ingredients and not stress too much about the proportions, since these masks are all about pampering and fun. There are no rules, just avoid adding lemon juice or too much baking soda, which can be very irritating."
Dr. Cheung's go-to simple face mask includes ground oatmeal, yogurt, and honey. "Mix a 1:1 ratio of oatmeal to yogurt, with a few drops of honey. These ingredients will soothe and soften the skin – yogurt has lactic acid, which gently exfoliates, while oatmeal has anti-inflammatory properties, and honey is naturally antibacterial and rich in antioxidants. Leave it on for 10 minutes, rinse off with warm water, then step back and enjoy the glow!"
Don't be surprised if these ingredients keep showing up in the following recipes – once you have a solid base to work from, additional ingredients simply serve to address key concerns or problems. For instance, Dr. Cheung points out that "If you want to get creative, you can add mashed avocado, which is chock-full of moisturizing fatty acids and nourishing vitamins. Or add pureed cucumber, since the juice is cooling and soothing. Likewise, adding ground coffee will help to de-puff your eye bags with natural caffeine." The possibilities are practically endless.
One egg, several solutions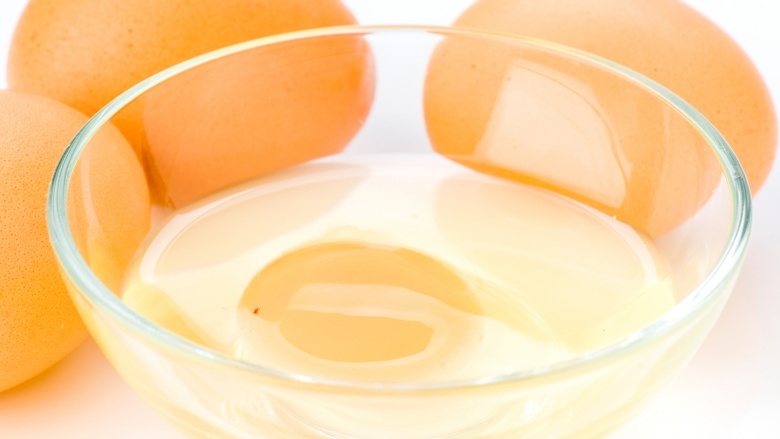 Shutterstock
Janice Rosenthal, the founder of Garden of Essences and a certified beauty therapist, points to eggs as an excellent stand-alone face mask solution for individuals with oily or normal skin. The only trick? You use different parts of the egg depending on your skin type. If you have oily skin, it's best to use the egg white. Rosenthal explained to me, "lysozyme, an enzyme in egg whites, destroys bacteria, while the albumen tightens the pores." Simply leave the egg white on for 20 minutes, then rinse away with warm water. If, however, your skin type falls into the "normal" category, skip the egg white and opt for the yolk. "Yolks are very rich in proteins, vitamins A, D, E, and K, minerals, lecithin, and lipids." These nutrients are great for your skin, and perfect for brightening normal skin that doesn't have other major concerns. Again, leave the yolk on for 20 minutes, then rinse away with warm water.
Avocado or papaya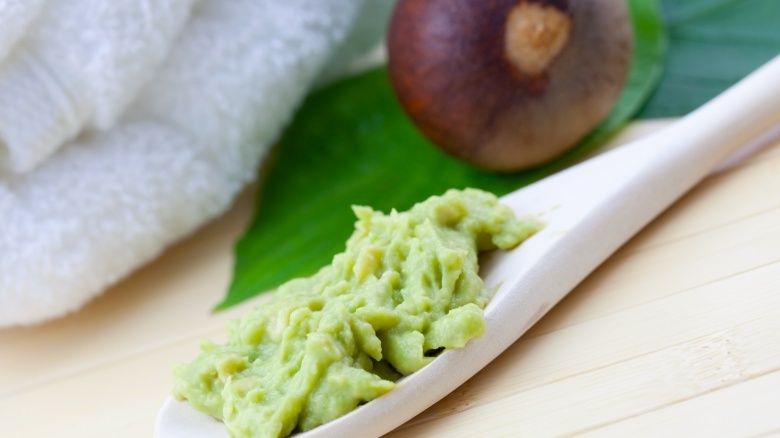 Shutterstock
If dry skin is your major concern, Rosenthal suggests a few different single-ingredient face masks to ease the flaky, itchy discomfort, which is common during cold and windy weather. "Papaya and avocado are two natural moisturizers that produce different results, so it's best to try each one individually, then experiment with combining them together." She goes on to explain, "Papaya contains the enzyme papain, which gently digests old skin cells, leaving the skin with a fresh appearance. The fact that 100-grams of papaya contains 88-grams of moisture explains why the skin is left feeling moist, a property known as a humectant. Avocado is slightly more moisturizing, as it contains 75-percent oil, mostly oleic oil, which is prized for its anti-aging properties. The carotenoids in avocado are a highly bio-available form of vitamin A, which is a skin-healing vitamin and a well-known antioxidant."
When applying papaya or avocado, mash the fruit well before applying a thick layer to the skin. Either mask can be left on for 20 minutes before rinsing with warm water.
Greek yogurt, infused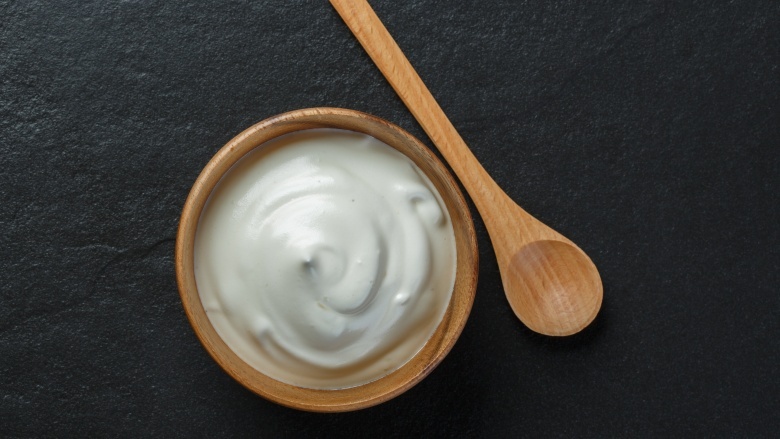 Shutterstock
If your goal is to brighten up your skin, K.D. Gates, the founder and CEO of Celsaderm Skincare, suggests using Greek yogurt as your mask base before mixing it with a number of other ingredients. Simply place a half cup of plain Greek yogurt in a clean bowl before adding a half teaspoon unflavored, powdered green tea, a half teaspoon unflavored, powdered vitamin C, one to two drops grape seed oil, and one to two drops tea tree oil. Simply mix the ingredients together and apply evenly to your clean skin, leaving it on for about 10 minutes before rinsing away with warm water.
Gates explains the brightening effects are enjoyed with daily use, and the benefits are backed by science. "Lactic acid, a natural exfoliant found in Greek yogurt works to brighten your complexion by helping remove dead and thickened skin cells from the skin's top layer. This process of exfoliation allows newer, healthier skin cells to travel to the skin's surface, resulting in smoother, brighter, tighter, and younger-looking skin. Green tea and vitamins C and A offer anti-aging benefits because they destroy free radicals, scavenging molecules capable of destroying healthy skin. Thanks to the potent polyphenols present in green tea, this ingredient also soothes inflammation and strengthens collagen and elastin, helping to tighten and firm your skin. Grape seed oil and tea tree oil are great blemish busters, helping to soothe skin, reduce adult acne, and decrease the chances of future acne breakouts."
A berry smoothie... sort of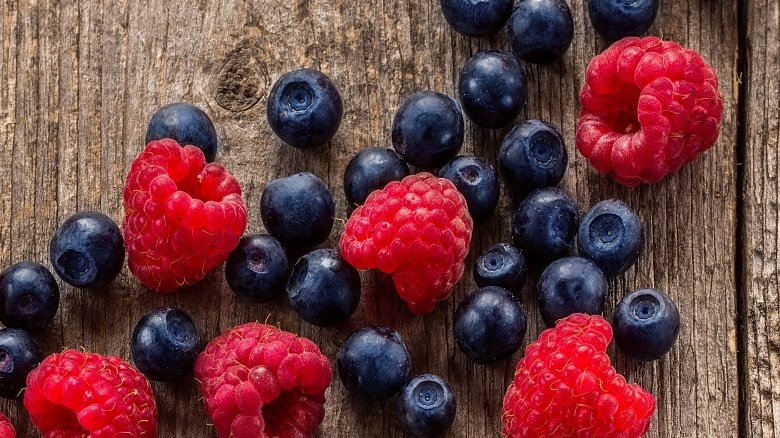 Shutterstock
If your skin is sensitive, this soothing fruit smoothie-like concoction from New York City facialist, Cecilia Wong, of Cecilia Wong Skincare, might be your best bet. It combines the mild enzymes and probiotics of Greek yogurt with the vitamins, minerals, and mild acids found in fresh berries. Simply mash two to three blueberries or raspberries in a clean bowl and mix with three teaspoons organic Greek yogurt. Apply the mixture evenly to your face and allow it to sit for 10 minutes before rinsing away with warm water.
Pumpkin spice latte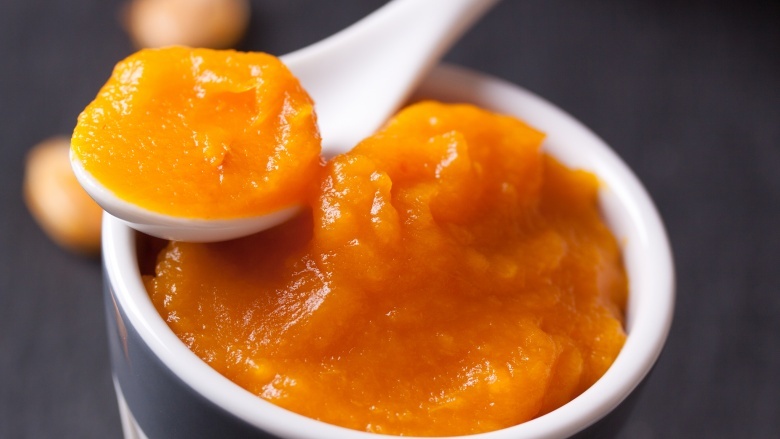 Shutterstock
Well, it's not really a pumpkin spice latte, but this pumpkin-y face mask is the perfect solution for all your fall skin woes. Wong points out that this mask contains hyaluronic acid, antioxidants, and exfoliants, making it perfect for dry, flaky, or tight skin. Simply start with two tablespoons of pumpkin puree, then mix in a pinch of cinnamon, a pinch of pumpkin spice, a pinch of vitamin C powder and two tablespoons rose serum spray or pure liquid hyaluronic acid. When the face mask is mixed, massage onto your skin for 60 seconds before allowing it to sit for 15 minutes. When the time's up, simply rinse it off with warm water.
A spicy mixture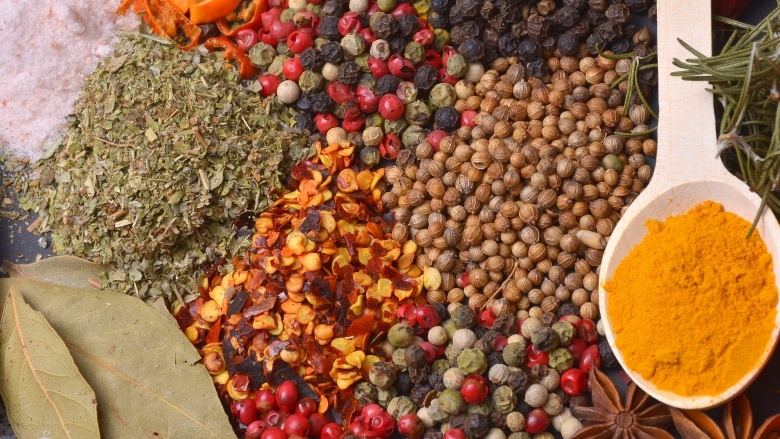 Shutterstock
Wong's final DIY face mask suggestion is ideal for individuals with oily or blemish-prone skin. According to Wong, the dry spices featured in the mask contain a host of antiseptics, antibacterials, and anti-inflammatories, making it great for quelling breakouts.
In a bowl, mix together one teaspoon each of nutmeg, turmeric powder, dried basil, and cinnamon powder. Add two teaspoons of ginger powder, a pinch of paprika, and a pinch of dead sea salt. Slowly add luke warm water to the mix until it forms a paste. Apply the paste to your face and allow it to sit for 10 to 15 minutes, or until your skin begins to warm. Rinse away with warm water.
Straight strawberries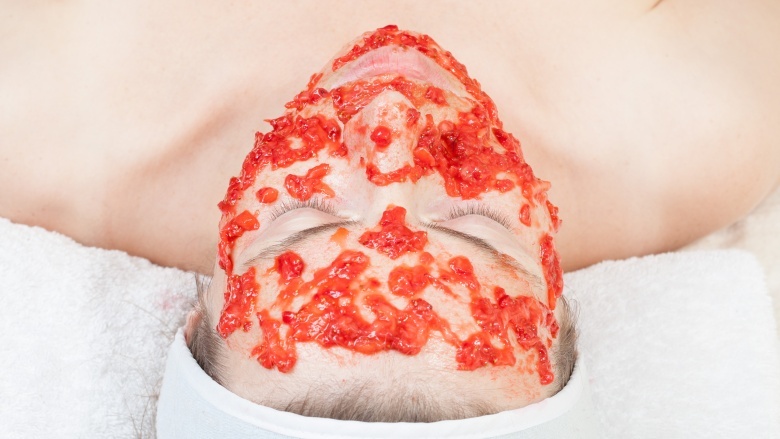 Shutterstock
Who knew there were so many single-ingredient face masks worth trying? Annie Lawless, a certified holistic health coach, creator of Blawnde.com and co-founder of the national organic juice company, Suja Juice, suggests using nothing more than mashed strawberries as an acne-clearing face mask. "Salicylic acid is one of your best weapons against breakouts and clogged pores because it works to remove dead skin cells that clog your pores, while minimizing the size of pores so your skin has a smooth, even texture. Strawberries are a great source of natural salicylic acid, and they also contain antioxidants and vitamins that help repair skin damage and calm inflammation." To make this mask, simply mash strawberries in a bowl and apply the mixture to your face. You may want to rub the berries in a circular motion around your nose, forehead, cheeks, and chin. Allow the mask to sit for three to four minutes before rinsing your skin well and patting your face dry.
Parsley and vinegar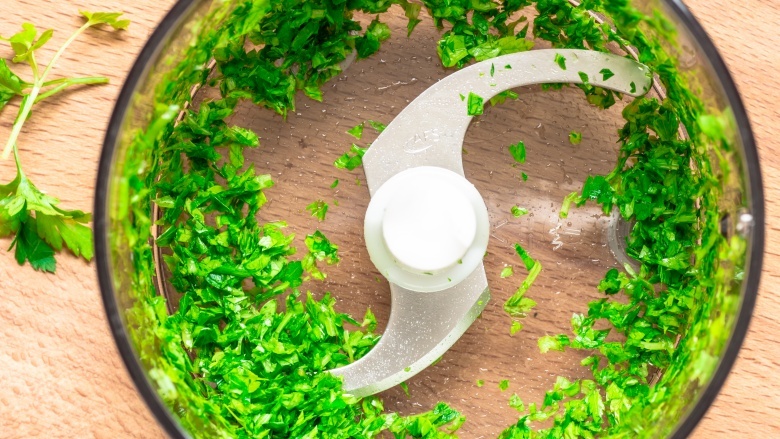 Shutterstock
When redness and inflammation are the banes of your existence, look no further than celebrity facialist Ildi Pekar's favorite DIY parsley mask, "Parsley contains an impressive amount of vitamin K which will reduce redness and promote a plump and healthy glow." Start by chopping a handful of parsley in a mini food processor, then mix the parsley with two spoonfuls of organic, unfiltered apple cider vinegar and three spoonfuls of organic plain yogurt. Apply the mask to your face and allow it to sit for 15 minutes before rinsing the mixture away.
Banana and honey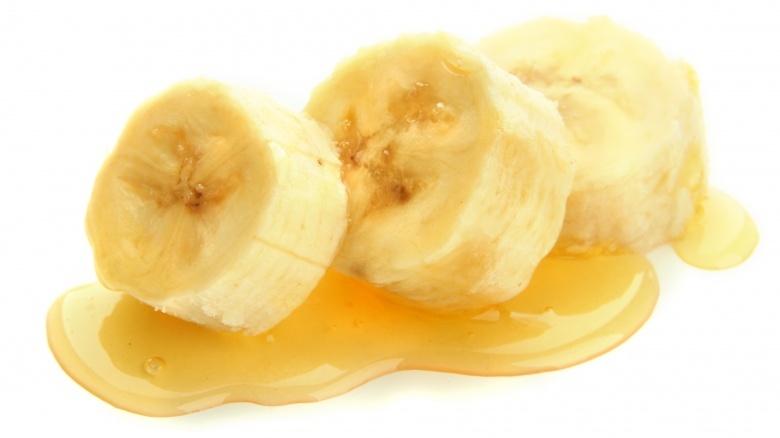 Shutterstock
Pekar also offers an anti-aging solution for dry or inflamed skin, featuring a pantry staple: honey. She says, "Another favorite of mine is 100-percent raw honey. It has various benefits to the human body, especially in healing and maintaining healthy skin of all types. It has amazing soothing effects that hydrate the skin, leaving you with a soft and radiant glow. It's also packed with antioxidants to help slow the aging process and plump up your skin, leaving you with a youthful appearance." To make this mask, smash half a banana and mix it with three teaspoons of raw honey and three teaspoons of Greek yogurt. Apply the mixture to your face and allow it to sit for 15 minutes before rinsing away.