Fans Tell The List Their Absolute Favorite Royal Wedding Dress - Exclusive Survey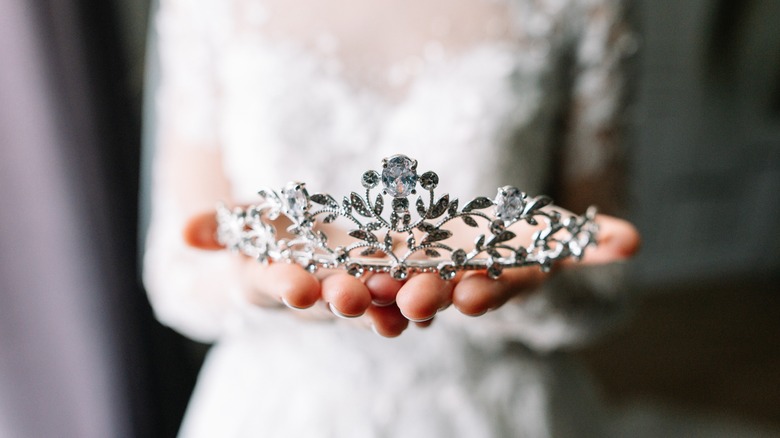 dfrolovXIII/Shutterstock
No matter where you live, you've likely tuned in to at least one royal wedding in your lifetime. In fact, royal weddings are so popular that people travel from all over the globe to get a glimpse of the action, even if they have no direct relation to the bride and groom. According to Harper's Bazaar, when Prince Harry and Meghan Markle tied the knot, the influx of visitors to London and neighboring towns was noteworthy, with over 40,000 visitors booking AirBnBs in London alone. 
But why do people love royal weddings so much? According to Brides, it's simply in our nature to be attracted to lavish things, particularly those that involve royalty. Watching a royal wedding is also comforting for many, especially Americans, who are "romantic idealists," per NBC News. Plus, with the entire thing so open to the public, people feel personally invited to witness the nuptials, and who wants to give up that coveted invite? 
Beyond that, quite possibly the biggest reason we all tune in is to see the fashion, mainly the royal wedding dress. There have been many stunners over the years, which begs the question: Which dress is best? So, The List asked fans which is their absolute favorite royal wedding dress in recent history.
Over half of fans chose this royal wedding dress as their top pick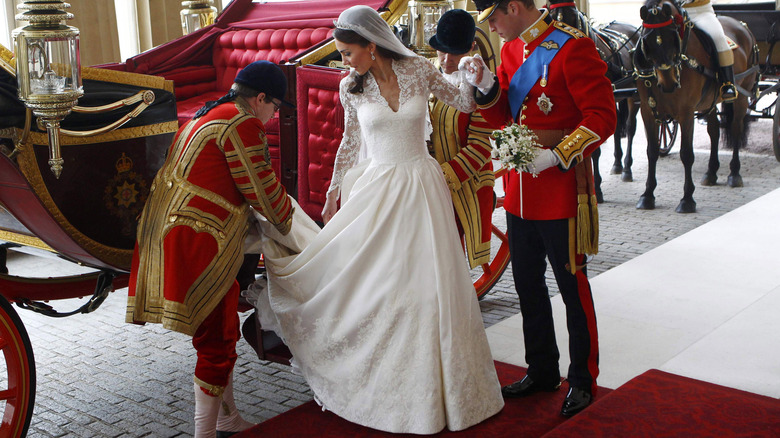 Anwar Hussein/Getty Images
In 1840, Queen Victoria bucked tradition and wore a white dress for her wedding to Prince Albert, creating a tradition that would live on for centuries, per Brides. Since then, royal brides have found a variety of ways to rock a white wedding dress, from Meghan Markle's simple Givenchy gown to Princess Eugenie's stunning number by Peter Pilotto and Christopher De Vos, per The Knot.
But, out of recent royal wedding dresses, fans told The List that their absolute favorite was Kate Middleton's, with 58% of the vote choosing her iconic dress. According to Martha Stewart Weddings, the Princess of Wales wore a gown designed by Sara Burton for Alexander McQueen to marry Prince William. The full satin skirt was accompanied by handmade lace sleeves, a classic veil, and a Cartier tiara (borrowed from Queen Elizabeth), per Hello!
Since Kate walked down the aisle, brides everywhere have recreated her wedding style. But she isn't the only royal who influenced a host of new brides on her big day.
Fans also loved these royal wedding dresses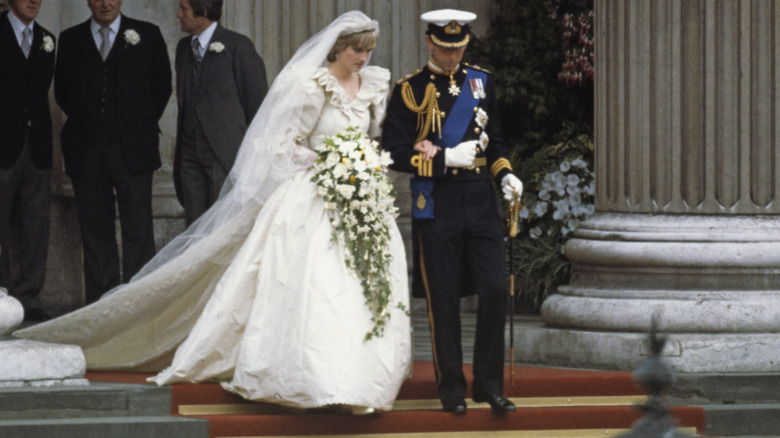 Hulton Archive/Getty Images
While Kate Middleton took more than half the vote, fans still loved other royal wedding gowns. Coming in second place was Princess Diana's dress, which got 26% of the vote. According to Brides, the former Princess of Wales walked down the aisle in 1981, wearing a dress made of silk and taffeta, featuring more than 10,000 hand-embroidered pearls and a 25-foot train. Meghan Markle's wedding day look got 10% of the vote, while Princess Beatrice and Princess Eugenie each only got 3% for their frocks. 
Fans were quick to voice their opinions. One commenter on YouTube stated: "Kate was always my favorite, but Eugenie's was a close second for me, very elegant and a gorgeous tiara." Another agreed, calling Eugenie's dress "classically beautiful and yet so simple." 
Beatrice had her share of fans as well, with commenters saying her gown was "pretty, youthful, great cuts and shape, like a fairytale wedding dress but modernized, and unique," with another fan calling her dress "so underrated." 
No matter which royal wedding dress you deem the winner, they will all go down in history and influence brides for years — and possibly centuries — to come.