France's Former First Lady Carla Bruni Incites Backlash Over Jab At Harry And Meghan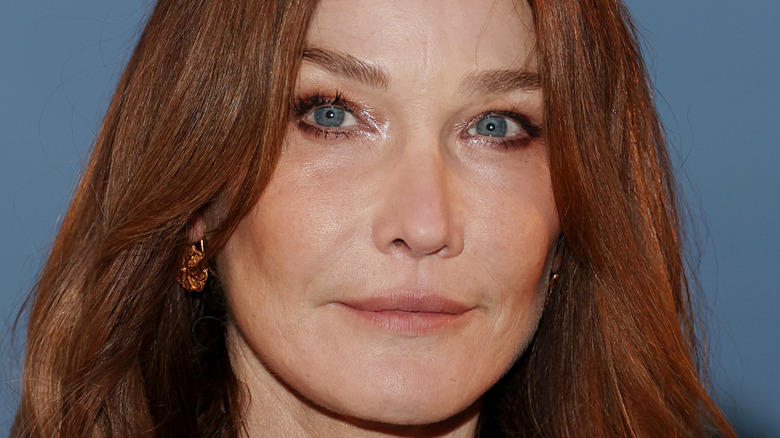 Pascal Le Segretain/Getty Images
From the many surprising revelations in Netflix's "Harry & Meghan" docuseries to the bombshell-filled press junket leading up to the release of Prince Harry's new memoir, "Spare," the Duke and Duchess of Sussex certainly aren't afraid of a little controversy as of late. As a result, plenty of stars have had a lot to say about the royal couple's statements, ranging from harsh criticism to praise and support, per Us Weekly.
As we might have expected, the other members of the royal family have steered clear of responding to the commentary and allegations against them from the notoriously independent pair (via TIME). According to the "Vanity Fair" royals correspondent and author of "The New Royals," Katie Nicholl, "Dignified silence is a tried and tested format. The palace is reluctant to engage at any level because once they do, it just fuels the narrative, and Harry has made so many allegations it's almost impossible to address every one."
While the royal family may feel it best to stay out of the line of fire, that doesn't stop other folks with political involvement from commenting on the controversy. France's former First Lady, Carla Bruni, made her feelings known with a very strange and since-deleted Instagram post, which garnered plenty of attention.
Carla Bruni's Instagram post
On January 9, surely not coincidentally on the eve of the release of Prince Harry's memoir, "Spare," musician and former First Lady of France, Carla Bruni took to Instagram to make a statement about the goings on with the British royals (via Rolling Stone). The post in question featured a photo of Prince Harry and Meghan Markle from their engagement photo shoot. In this photoshopped version, however, Meghan Markle's head was replaced with an image of artist and activist Yoko Ono. The post's caption features lyrics from The Beatles' 1967 hit, "All You Need Is Love." The message behind the post seems to be a comparison between Meghan's role in Harry's life to Yoko's marriage to John Lennon, which has widely been portrayed as the cause of The Beatles' breakup.
In 2023, most have abandoned previous accusations that Yoko Ono was single-handedly responsible for the breakup of The Beatles, and therefore, the post's somewhat insidious sexism-fueled undertones aren't lost on many (via Tidal). Still, the post earned over 33,000 likes in one day, proving that the public's views on the royal rift are just as split as the royal family itself. However, the backlash Bruni received about the post is likely what prompted her to remove it.