Prince Harry Pokes Fun At Royal Pageantry With Tom Hanks' Help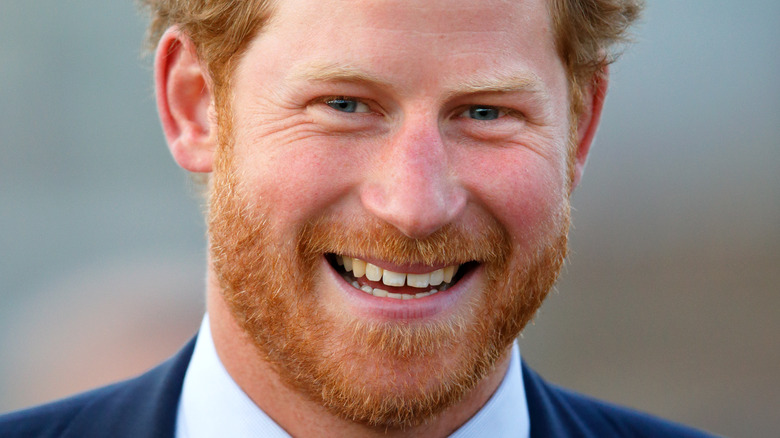 Max Mumby/indigo/Getty Images
In the wake of plenty of drama and quite a few massive revelations, it seems that the Duke of Sussex is certainly having the last laugh as of late. With the highly-anticipated release of Prince Harry's new memoir, "Spare," as well as the Duke and Duchess of Sussex's history-making Netflix docuseries, "Harry & Meghan," plenty of things we never knew about Prince Harry and the rest of the royal family are coming to light. 
Many fans have rallied behind Meghan and Harry as the celebrity couple goes public with their struggles in the spotlight, while others have criticized them for airing out The Firm's dirty laundry and leveling accusations against Prince William and Kate Middleton, among others. It seems that all of the duke's moves over the course of the past few months have sparked controversy, and per the Daily Mail, the latest addition to his contentious TV appearances is a visit to "The Late Show with Stephen Colbert." 
As is to be expected on a talk show hosted by a comedian, the royal defector took part in a funny sketch. While the skit itself may have seemed fairly innocent, Harry's presence on the show has still managed to ruffle a few feathers. 
Prince Harry's appearance on The Late Show had everyone cracking up
On January 10, 2023, Prince Harry appeared on "The Late Show with Stephen Colbert" to promote his freshly-released memoir, "Spare" (via Town & Country). According to Express, the episode kicked off with a lively sketch featuring the Duke of Sussex accompanied by none other than beloved actor Tom Hanks. Host Stephen Colbert is seen waiting backstage flanked by two trumpeters in royal garb. 
The trumpeters begin to play a triumphant fanfare as Harry appears, but the Duke of Sussex notes that while he appreciates the gesture, it's not necessary, to which Stephen Colbert replies, "What are you talking about? This isn't for you! Get out of the way; he's coming!" The 'he' in question turns out to be Hanks, who comes around the corner and says "I'm back! Where's my fanfare?" as the trumpeters play.
Harry gets into the spirit too, throwing rose petals at his feet. While it was abundantly clear that the skit was all in good fun and that the prince was more than willing to make a few jokes at his own expense, royal watchers still criticized Harry for not showing up to the live taping in front of a studio audience for "security reasons." Clearly, there's little he can do to get them onside at this point.