What The Kardashians Really Eat In A Day
Love them or hate them, the Kardashians (or Kardashian-Jenners, if you will) are doing something right. With their reality show, beauty brand empires, and meme-able moments, this ever-growing family has the collective attention of Americans everywhere. It's totally normal to be curious about all things Kardashian — after all, Keeping Up with the Kardashians is the name of the game. And with those killer Kardashian bods, you probably want to discover the Kardashian way of eating well and looking even better. 
Luckily for inquiring minds, this mega-famous family is pretty open to sharing at least some of their secrets. Between each sister's app, personal blog, as well as matriarch Kris Jenner's cookbook, anyone can eat like a Kardashian. The best part? These ladies know the beauty of balance. Popeyes Chicken, nutrient-packed shakes, chocolate cookies, and fresh leafy greens are all part of a balanced Kardashian. Keep up and keep reading to discover what the Kardashians really eat in a day. 
Breakfast of (reality television) champions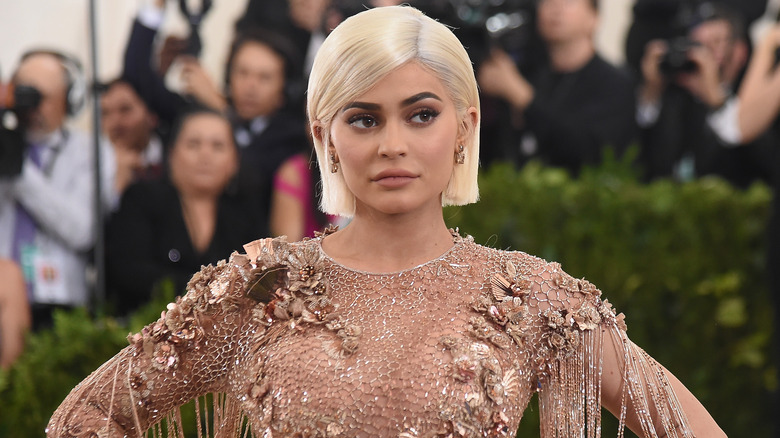 Getty Images
No one knows how essential a healthy breakfast is more than the Kardashian-Jenner clan. The mega-famous reality television stars/insanely successful entrepreneurs are constantly on-the-go, meaning they absolutely need the right nutrition to kickstart their mornings while keeping them satisfied and energized until lunchtime. But celebrities don't have all the time in the world, so it's important that a Kardashian-Jenner breakfast be both healthy and easy. Even normal, non-famous folks don't have time to whip up a breakfast feast every day, either. Luckily, Kylie Jenner has the solution to all of your breakfast-time woes — and you probably have all the ingredients in your refrigerator right now! 
In a post on her website titled "My Breakfast of Champions," Jenner blessed the internet with possibly the simplest and most delicious breakfast recipe. You'll need turkey-sausage patties, pre-cooked rice, eggs, and about 15 minutes. Badda bing, badda boom — you're basically a reality star now.
Shake it up!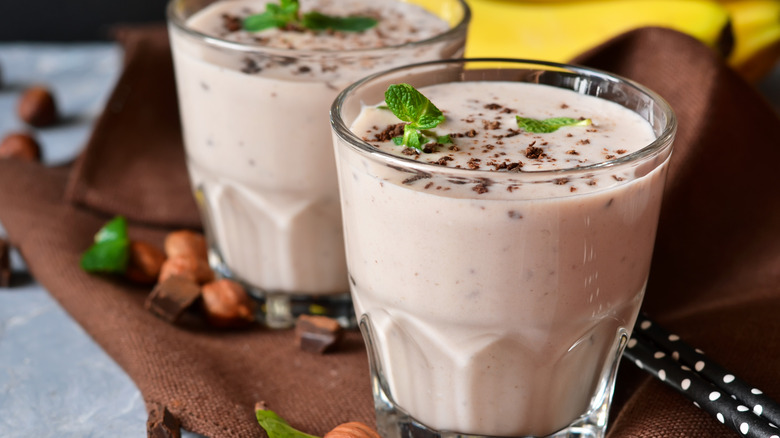 Shutterstock
Remember that time Khloe Kardashian went from being absolutely beautiful to being absolutely beautiful and in the best shape of her life? If you've ever found yourself wondering how in the world she made such a killer transformation, you'll be happy to hear that the answer is really quite simple — the girl knows how to shake it. Literally. 
Kardashian's nutritionist, Dr. Philip Goglia, spilled the star's secret to maintaining a healthy figure — or as Kardashian calls it, her revenge body — to Healthista. According to Dr. Goglia, the youngest of the three Kardashian sisters starts each day with a nutrition-packed breakfast shake consisting of whey protein, almond butter, a fruit of choice, plus ice and water. Minimal effort and maximum results? Yes, please! 
Khloe isn't the only Kardashian sister known for shaking things up. Kim Kardashian-West also knows a thing or two about the shake game — her Instagram is basically a subtle advertisement for various meal-replacement shakes. The supermom even demonstrated her shake slurping skills on The Late Late Show with James Corden — thankfully, there's no recipe available for that one. 
Water, water everywhere
Everyone knows that water is essential to health, but not everyone quite enjoys the taste — or lack thereof. Fortunately, Khloe Kardashian knows that struggle and has concocted a solution for all your water woes. 
In a 2015 Facebook post, Khloe shared her tip for spicing up that boring ol' water and ensuring your body gets all the hydration it needs with a little added nutrition. "My current obsession is infused waters," the star wrote, noting that she tries to drink five to six liters of water a day. "Infused water can generally be any combination of fruits, vegetables, and herbs immersed in cold water." 
Kourtney Kardashian also adds some flavor to her water so she can down her daily dose. According to a post on her app (via People), the eldest Kardashian sister's detox water is infused with fresh lemon, mint, and ginger. "When I make this water, the fresh flavors taste so good that I end up drinking even more throughout my day," Kourtney wrote. 
Ladies who lunch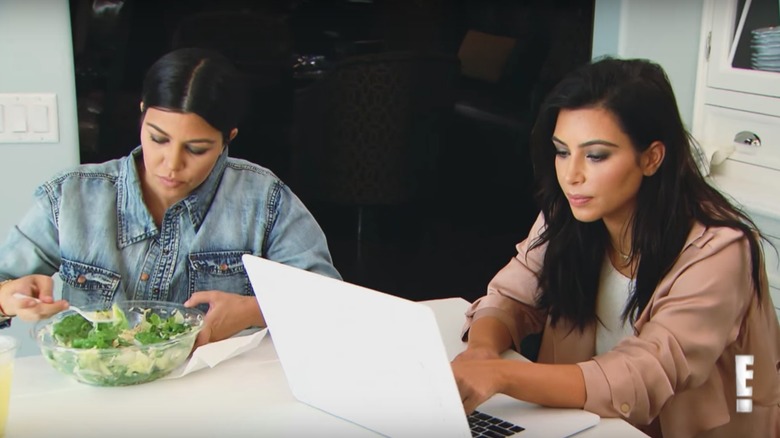 The only things getting more screen time than Kim's impressive cry-faces on Keeping Up with the Kardashians are those mystery salad bowls the sisters are always lunching on. Luckily, the internet is always up for a challenge, and the salad mystery has been solved. Hold on to your hats, because you're about to be served a big, nondescript bowl of answers for all your Kardashian salad-related questions.
According to Kim Kardashian-West herself, the infamous salads are from a California restaurant by the name of Health Nut. The KUWTK star even went a step further in 2017 and revealed each sister's go-to salad order in a blog post on her website (via People). 
According to Kardashian-West, she and Khloe both opt for the Chinese Chicken Salad with extra avocado, Kendall and Kylie order the Deluxe salad (no mozzarella cheese or tomatoes for Kylie), and Kourtney keeps it simple with a classic Chef Salad (also sans cheese and tomatoes). The more you know! 
Everything in moderation
Kim Kardashian-West is famous for a lot of things — most notably, her curvaceous figure. But if you think being incredibly fit and voluptuous comes naturally for the star, you'd better think again. According to Kardashian-West's trainer, Melissa Alcantara, the reality star means business when it comes to her bod. "She's committed! She knows what it takes," Alcantara told People. "She's focused and she has a goal in mind." 
Kardashian-West certainly had a goal in mind during a November 2017 episode of Keeping Up with the Kardashians, and that goal was pizza. Along with sister Khloe and good friend Jonathan Cheban, the beauty mogul went out for an extra cheesy and delicious "Last Supper" before her diet and exercise regimen began, wolfing down two giant slices of pizza and a massive chocolate ice cream cone — with sprinkles, of course. 
Kim's not the only Kardashian who knows how to throw down on junk food. According to the eldest sister's Instagram, Kourtney Kardashian is apparently a sucker for a good, greasy cheat. Her weapon of choice: Popeyes Chicken. Girl, yes. 
An apple a day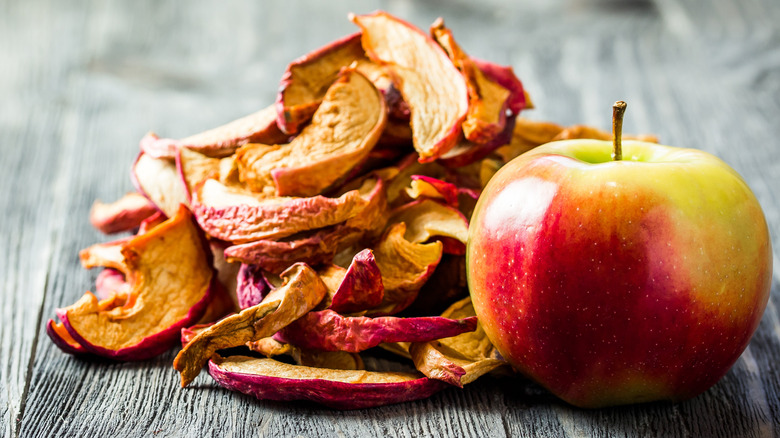 Shutterstock
You've heard an apple a day keeps the doctor away, but do you know the science behind the saying? Fear not: Kourtney Kardashian has you covered. Kind of. 
The reality star took to her app (via E! News) to give fans the low-down on everything she eats in a day, starting from the moment she wakes up. According to Kourtney, she takes collagen supplements every morning, followed by one tablespoon of organic apple cider vinegar 20 minutes later. "Both of these habits have a ton of health benefits that affect everything from your skin to the way your body processes nutrients," says Kardashian. 
But hey, if you're not a spoonful of vinegar type of person, don't worry. Kourtney has a tastier, crunchier alternative for your apple fix — apple chips! According to her app (via People), Kardashian bakes her apple chips in a weekly batch, using thinly sliced apples and a sprinkle of cinnamon. 
Winner winner, chicken dinner
In March 2018, a very pregnant — and very hungry — Khloe Kardashian hit Twitter. "I am starving! I sort of want Popeyes... the struggle is real," she wrote. Later, the reality star delivered a long-awaited update to adoring fans, tweeting, "Ok that fulfilled every craving I've been having for Popeyes over the past couple days," before adding, "I feel guilty but GREAT." 
Don't feel guilty, girl! Pregnancy is one of nature's gifts, partly because you can eat whatever you want and not feel bad. When baby comes, there's no doubt the mom-to-be will return to her revenge body diet. Luckily for Khloe, that diet also includes chicken — unluckily, however, it's not exactly Popeyes. 
As it turns out, Kourtney Kardashian also loves a good chicken dinner as much as the next Kardashian sister. When she's not chowing down on Popeyes, she makes kitchen chicken magic happen and shares her favorite recipes on her blog. Her gluten-free coconut chicken tenders look  delicious, and they only take 30 minutes!
Kardashian comfort foods
If you've ever found yourself pondering Kardashian-Jenner family favorites, you should run to your nearest bookstore and pick up a copy of In the Kitchen with Kris: A Kollection of Kardashian-Jenner Family Favorites. Yep, the Kardashian-Jenner matriarch took it upon herself to compile the family's most beloved recipes, and this book is filled with comfort food favorites — or should that be komfort food?
Kris Jenner dropped by Today in 2014 to whip up the cure for chilly nights and cold symptoms — hearty chicken soup. According to In the Kitchen with Kris, this is a go-to for much of the Kardashian-Jenner clan. 
"This chicken soup recipe is absolutely my favorite go-to recipe," writes Jenner. "Kendall, Kylie, and Rob always request this soup when they are feeling sick." Mama Jenner recommends using a rotisserie chicken to save time, because if anyone could use a little extra downtime, it's definitely Kris Jenner. 
Lotsa pasta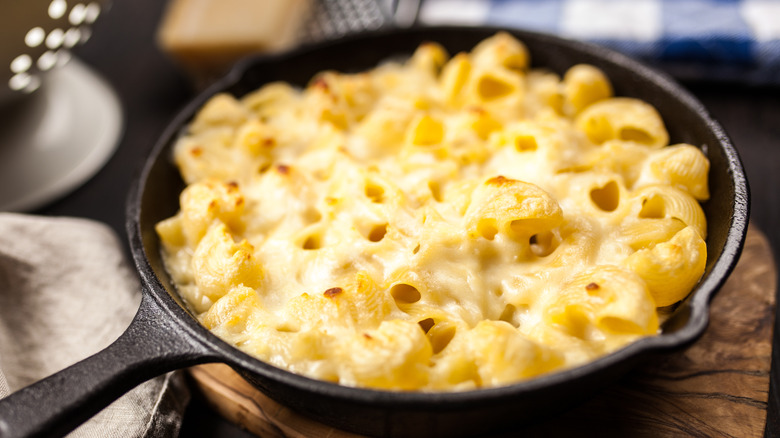 Shutterstock
Martha Stewart has held the title of America's top domestic goddess for years, but you'd be a fool to underestimate Kris Jenner's pasta power. Stewart's recipe is complete with an "iconic" buttery bread topping, while Jenner's recipe is inspired by Kim Kardashian-West's and contains six different types of cheese. Though she might not be famous for her mac n' cheese yet, Jenner's recipe won the Delish taste test with flying, cheesy colors. If your stomach is grumbling right now, you're not alone.
Don't have six different types of cheeses in your fridge right now? Thankfully, Kendall Jenner knows the struggle of wanting to eat a delicious meal without making a grocery store run for ingredients you just never seem to have. In a post on her app titled "The Dish I Cook for Dinner Better Than Anyone Else," (via People), the supermodel shares her secret to whipping up the world's easiest pasta dish. Dig out that box of pasta that's been hiding in your pantry, and grab that bag of frozen peas. It's dinnertime.
Nothing wrong with a sweet treat!
In a YouTube video titled "6 Steps to Eating a Kit Kat," Kourtney Kardashian breaks down the science behind not eating, but savoring a Kit Kat. Sure, you'd probably save time by going about it the old fashioned way and devouring the entire thing in six bites. But life moves pretty fast, and if you don't stop to eat the chocolate from the edges of a Kit Kat bar, you could miss it. 
If Kit Kats aren't your thing, Kourtney has you covered with a cookie recipe from your most chocolatey-delicious dreams. Though she can't take credit for the cookie creation, Kourtney was sugary-sweet enough to share Karma Baker's secret Chocolate Cookie recipe on her blog. The Karma Baker cookies basically look like homemade Double Stuf Oreos, only bigger. But wait, there's more! According to Kourtney, the cookies are gluten and dairy free. That's nice and all, but you had us at "chocolate cookies."