Prince Harry Opens Up About Meghan Markle's Miscarriage In Heartbreaking New Detail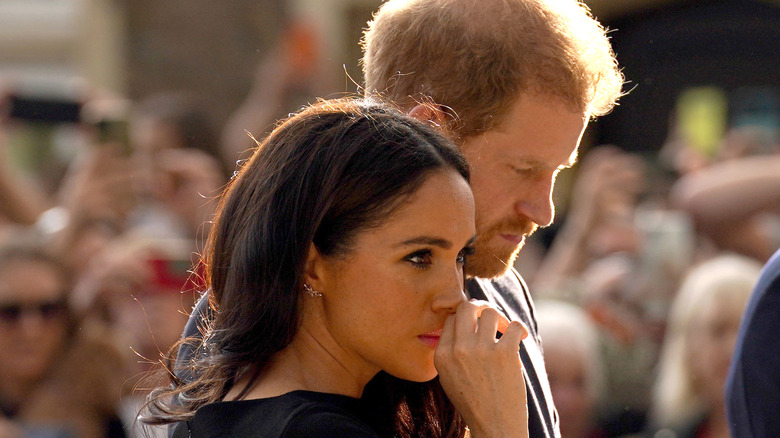 Wpa Pool/Getty Images
"Spare," Prince Harry, Duke of Sussex's much-talked-about memoir, is now available in bookstores and online, and royal family fans can finally read the book for themselves. The startling revelations from "Spare" have already generated much debate, particularly the knockdown fight between Harry and Prince William and an account of the brothers begging King Charles not to marry Queen Consort Camilla, per BBC.
Time noted that early media coverage focused on the more salacious aspects of the book while excluding the more emotional ones. They commended J.R. Moehringer, the book's ghostwriter, on his ability to capture Harry's feelings through prose. The LA Times had a similar assessment and described the book as being more poignant than shocking. They cited parts of the book where Harry delves into some of his most difficult moments, particularly his grief over the tragic death of his mother, Princess Diana.
Speaking to People, Harry called the book "a raw account of my life — the good, the bad and everything in between." He added, "My hope has been to turn my pain into purpose, so if sharing my experience makes a positive difference in someone's life, well, I can't think of anything more rewarding than that!" To that end, besides discussing his grief surrounding his mother's death, Prince Harry also writes about Meghan Markle's miscarriage with heartbreaking detail.
Prince Harry felt hopeless after Meghan's miscarriage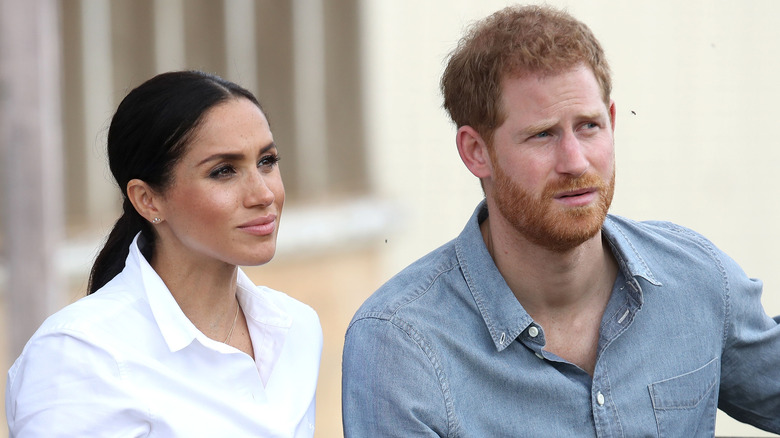 Chris Jackson/Getty Images
In chapter 82 of his memoir, "Spare," Prince Harry, Duke of Sussex, talks about the day Meghan Markle, Duchess of Sussex had a miscarriage, per Express. Harry notes that this experience was only one of four times in his life that he had felt hopeless. After Meghan experienced a sharp cramp in July 2020, the couple went to the hospital and confirmed the miscarriage. Afterwards, Harry and Meghan went home with their unborn baby and held a private burial service. Harry described the heartbreaking scene, writing, "Under a spreading banyan tree, while Meg wept, I dug a hole with my hands and set the tiny package softly in the ground," (via People).
Previously, in November 2020, Meghan wrote about her miscarriage in The New York Times. "Sitting in a hospital bed, watching my husband's heart break as he tried to hold the shattered pieces of mine, I realized that the only way to begin to heal is to first ask, 'Are you OK?'" She wrote, "Losing a child means carrying an almost unbearable grief, experienced by many but talked about by few." The duchess advocated talking about miscarriage to help people feel comfortable discussing their pregnancy losses.
Meghan was praised for her efforts at raising awareness. "Her honesty and openness has sent a powerful message to anyone who loses a baby: This may feel incredibly lonely, but you are not alone," Sophie King, midwife for the pregnancy charity Tommy's, told Harper's Bazaar.
Harry believes stress was a factor in Meghan's miscarriage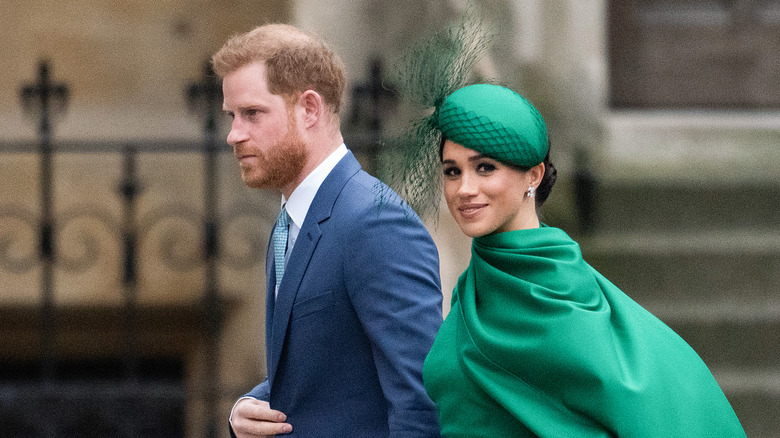 Gareth Cattermole/Getty Images
Prince Harry and Meghan Markle, Duke and Duchess of Sussex, also mentioned Meghan's pregnancy loss during the Netflix docuseries, "Harry & Meghan." Meghan reaffirmed her decision to discuss her experience, saying, "I could make the choice to never talk about those things or I could make the choice to say, 'With all the bad that comes with this, the good is being able to help other people,'" per Us Weekly.
The couple also shared that the miscarriage happened during a particularly stressful time in their lives. While Harry commented they would never know the exact reason for the miscarriage, he asserted that media coverage of a personal letter from Thomas Markle, Meghan's estranged father, was a factor. "Bearing in mind the stress that that caused, the lack of sleep, and the timing of the pregnancy, how many weeks in she was, I can say, from what I saw, that miscarriage was created by what they were trying to do to her," per CNN.
Healthline notes that stress is thought to affect "many physiological processes that could disrupt the health of a pregnancy." However, research involving stress's impact on pregnancy loss has not yielded conclusive results. "The issue of whether maternal stress can 'cause' miscarriage is unclear," Neena Modi, professor of neonatal medicine at Imperial College London, told The Telegraph. She noted that while both were associated, "unrecognized factors might be responsible for both stress and miscarriage."