The TikTok Eyeliner Trick Professional Makeup Artists Have Thoughts About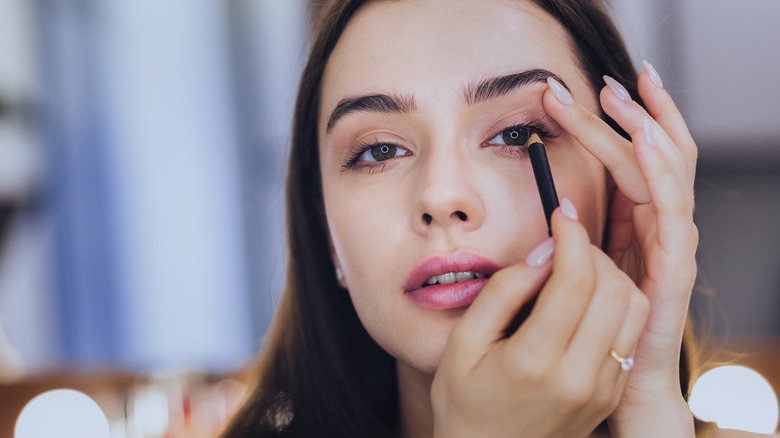 Zinkevych/Getty Images
While glamorous Hollywood makeup looks are always bold and fun, some celebrities are known for more minimalist, "natural" cosmetics. Stars like Gigi Hadid, Karlie Kloss, and Zoë Kravitz have mastered subtle looks featuring soft brows, clear skin, and barely-there eyeliner (per Allure).
This lived-in, smudged eyeliner look even inspired a recent TikTok trend. With the clean girl aesthetic, also referred to as the "model-off-duty" look, having been super popular in the last year, it makes sense that this slightly edgy take on the style is coming into the spotlight. This edginess is likely related to the apparent resurgence of the "indie sleaze" movement which is inspired by the grunge and hipster styles of the late 2000s and early 2010s coming back (per Radio X).
As this eyeliner look has become more popular, you may wonder how to achieve it yourself and what professionals have to say about the trending application hack.
TikTok's eyeliner hack explained
The TikTok hack for achieving the barely-there eyeliner look is fairly simple. According to Byrdie, user Nykita Joy, or @neoitgirl, introduced the trick in a "get ready with me" TikTok. In the video, which depicts her getting ready to take modeling digitals, Joy messily applies black eyeliner before washing her face off-screen to achieve a faded look.
This is just one step in the entire no-makeup makeup routine featured in the video, but it's the aspect that other viewers latched onto. Users have since posted their own experiments with the trick, with the TikTok from @jessmclements receiving over 9 million views and being featured on the Huda Beauty page.
While many users pinpoint the off-duty model look as inspiration for this eyeliner trend, others have been quick to note its similarity to an existing form look popular in South Asian and Middle Eastern cultures. This can be seen in the video from @lookwhoshira, who explains that kajal, also known as kohl, is a type of eyeliner with both practical and superstitious applications in South Asia.
As mentioned in the TikTok from @morefromminaa, the application of kohl provides a similar look as the washed-off eyeliner and avoids the extra step of having to wash your face. They recommend supporting a Middle Eastern or South Asian store by purchasing kohl and saving yourself the hassle of washing your makeup off.
Professional makeup artists offer alternatives
TikTok users aren't the only ones discussing no-makeup makeup looks and how to achieve them. Professional makeup artist and YouTuber Robert Welsh responded to the Twitter trend, linking it to the heroin chic aesthetic and mentioning an alternative eyeliner technique.
He writes, "You don't have to waste product like that and wash your face a million times... If you want the effect of 'day after eyeliner' just apply your liner on the lash line at the root of the lash... get a really dense, short flat brush and blend it" (via Twitter). He mentions that a silicone-based clear powder can be applied beforehand to achieve a messy look.
Similarly, celebrity glam artist Sandy Linter shared with Byrdie her method for achieving barely-there eyeliner, which doesn't include facewash. Linter explains that she uses short strokes to line the eye in sections rather than using one long stroke along the entire length of the lash line. If necessary, she then takes a pointed Q-tip, dabs the tiniest pinch of moisturizer on it, and thins out the line.
So, if you're going for a no-makeup makeup look, you have many eyeliner techniques to choose from. While you're welcome to try out the TikTok hack, you can also be assured that beauty experts have other application options you can choose from.